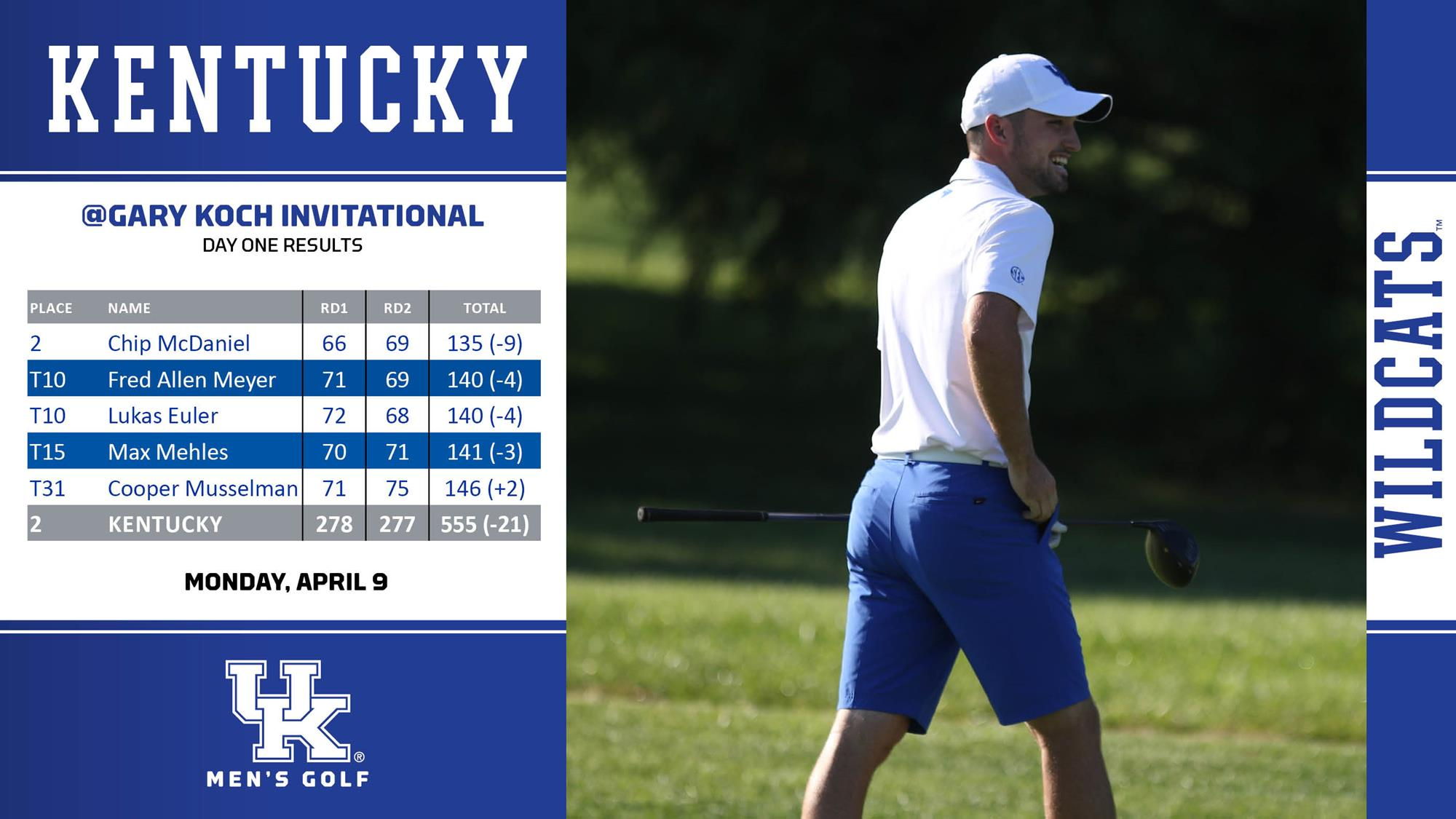 McDaniel Leads Six Players in Top 15, Wildcats Sit in Second
Day One Results
 
LEXINGTON, Ky. – Behind a 9-under par combined day through 36 holes of action, senior Chip McDaniel leads six Kentucky men's golfers inside the top 15 on the individual leaderboard following the opening day of play at the Gary Koch Invitational. The Wildcats are second overall with a 21-under score.
 
"Our boys had a nice day today," UK head coach Brian Craig said. "It was fun making a few birdies. Chip McDaniel was fantastic today. He has been working hard and it was great to see it pay off today. We have our work cut out for us tomorrow, but we definitely have a chance."
 
Auburn raced out to a six-stroke lead for the tournament lead heading into the final round. But, as is often heard in Kentucky, it's a two-horse race. The Cats lead Florida State, who sits in third, by 17 strokes.
 
That's in large part to McDaniel's play which was simply magnificent.
 
The Manchester, Kentucky, native put together the best two rounds of his spring season with an opening-round 6-under-par 66, followed by a 3-under score during the second 18 holes. He sits three shots back of the leader heading into the final round.
 
A season ago, McDaniel scored the lowest round of his collegiate career during the final round at the Gary Koch Invitational with a 65 to surge into the top 10 on the leaderboard. McDaniel combined for 14 birdies on the course today.
 
McDaniel was far from the only Wildcat to enjoy an impressive day on a course that challenges the best putters in the world. Including McDaniel, six Wildcats sit inside the top 15 of the leaderboard, while two others carded sub-par scores.
 
Senior Evan Cox is tied for sixth through two rounds with a combined 5-under score. Cox, playing as an individual, shot rounds of 68 and 71. The 68 was the lowest round of his career donning the Blue and White. He opened the day with back-to-back birdies on the first and second and capped the front nine with another red number on the par-four ninth. He then finished his round with birdies on the No. 13, No. 15 and No. 18. Round two was more of the same with a pair of birdies on both the front and back nines as he searches for second top-10 finish of the season.
 
Juniors Fred Allen Meyer and Lukas Euler are both tied for 10th heading into the final day. Meyer boasted rounds of 69 and 71, while Euler extended his prolific run of par-or-better rounds with two more today. Euler shot an even-par 72 to open the day, before a 4-under, 68, moved him into the top 10 on the leaderboard. Euler has carded eight consecutive rounds of par or better. Meyer dazzled with a 2-under score on the back nine to head into Tuesday's round with momentum as he looks to remain in the top 10 for the first time this season.
 
Sophomore Matt Liston is tied for 15th after registering a 73 to begin the day followed a 4-under, 68, in the second round. The 68 ties a career-low mark for the Louisville, Kentucky, native. He's in position to earn the second top-15 finish of his career.
 
Senior Cooper Musselman is tied for 31st at 2-over par. He fired a 1-under, 71, during the first round before logging a 75 during the second round. Junior Fadhli Soetarso is tied for 42nd at 4-over par. He logged a career-low 2-under-par 70 to begin the day.
 
The final round begins tomorrow morning at 8 a.m. ET. Follow along at golfstat.com. 
The Tournament Setup 
Teams: Auburn, Coastal Carolina, Florida State, Gardner-Webb, Georgia Southern, Jacksonville, Jacksonville State, Kentucky, Lamar, Louisiana-Monroe, Ole Miss, Virginia, Western Carolina
 
Course Details: The 18-hole "Gaston" course at the Gaston Country Club facility in Gastonia, North Carolina features 7,042 yards of golf from the longest tees for a par of 72. The course rating is 74.4 and it has a slope rating of 135 on Bermuda grass.  Designed by Ellis Maples, the Gaston golf course opened in 1958. 
 
Format: Two-day, 54-hole event. Count top four scores each day.
 
Schedule of Play: Players will a final 18 holes on Tuesday
 
Live Look: Live stats are available via golfstat.com.
 
Forecast: Tuesday (partly cloudy and a high of 68) 
Agate
2 – Kentucky (278, 277 – 555, -21)
2 – Chip McDaniel (66, 69 – 135, -9)
T10 – Fred Allen Meyer (71, 69 – 140, -4)
T10 – Lukas Euler (72, 68 – 140, -4)
T15 – Max Mehles (70, 71 – 141, -3)
T31 – Cooper Musselman (71, 75 – 146, +2)
 
Individuals
T6 – Evan Cox (68, 71 – 139, -5)
T15 – Matt Liston (73, 68 – 141, -3)
T42 – Fadhli Soetarso (70, 78 – 148, +4)
 
For the latest on the Kentucky men's golf team, follow @UKMensGolf on Twitter and on the web at UKathletics.com.