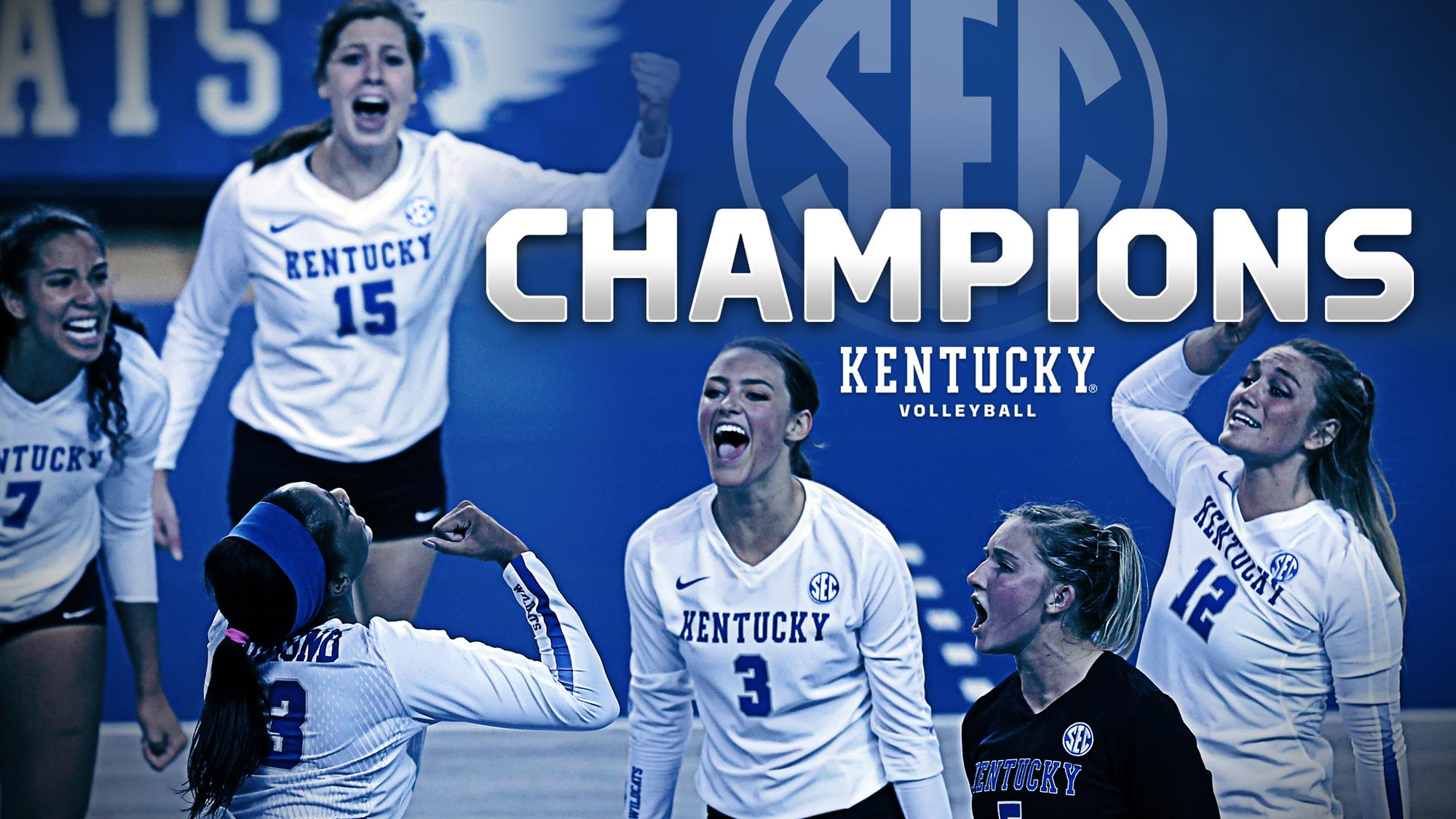 November 24, 2017 - 06:57 PM
SEC Champions!
ATHENS, Ga. – For the sixth time in program history and the first since 1988, the Kentucky volleyball team will take home the Southeastern Conference title after earning a 3-0 sweep (25-21, 25-21, 25-14) at Georgia on Friday night.
 
It was a total team effort – just as it has been all season – for the Wildcats, who completed the best regular-season under 13th-year head coach Craig Skinner with a 26-3 overall record and a 17-1 mark against SEC foes. The win secures at least a share of the SEC championship with Florida playing its final regular-season match of the season tomorrow at Missouri.
 
"Seniors. Toughness. Will. Resiliency. January starting to work and prepare for it and I'm just really proud of these guys," Skinner said in describing what it took to win the title. "How tough were we in set one? I mean, Georgia had it going, we responded and made a couple of big blocks, and then Leah (Edmond) had a great serving run. So, toughness like that is what got it done for us."
 
Kentucky will await its fate for the NCAA Tournament with the selection show airing on ESPNU on Sunday at 9 p.m. ET.
 
Sophomore Leah Edmond paced the Wildcat attack with a match-high 15 kills on a .389 hitting percentage. She also chipped in with 11 digs to aid the winning cause. Freshman Avery Skinner added 11 kills on a .308 clip.
 
SEC Freshman of the Year Madison Lilley dished out 36 assists and helped UK amass 47 kills on a .336 attacking percentage in the win. Senior Kaz Brown added eight kills on a .438 attacking clip to go along with a pair of blocks. Classmate Emily Franklin had seven kills, while junior Brooke Morgan added four.
 
SEC Libero of the Year Ashley Dusek once again made her presence felt with a match-high 20 digs. Junior McKenzie Watson had four and freshman Gabby Curry added three.
 
Kentucky rebounded late in the opening frame to come back with a 25-21 win, while with an SEC Championship in sight the Cats put together a 14-4 run to make a close 10-9 score a 24-13 margin.
 
SET RECAPS
 
Set One
Georgia claimed a quick two points to open the match before UK's defense forced back-to-back-to-back hitting errors to get on the board and a take a lead of its own. Brown continued the run with UK's first kill of the match, followed by a deep hammer from Edmond and then Skinner followed suit to push the run to 6-0 and a 6-2 edge. After Georgia pulled back to within three at 8-5, Brown smashed one into the middle of the defense to snap the spurt. Georgia continued to fight back and eventually recaptured a lead at 12-11 behind a 5-0 run. Kentucky opted for a timeout. After the break, the Bulldogs scored three more points to push the run to 8-0 and get a 15-11 edge. Skinner finally stopped the run with a kill. An ace from Curry combined with a block from Brown and Skinner helped Kentucky pull to within 17-16. Franklin and Edmond then teamed up for a rejection to tie the score at 17 apiece. The teams swapped points until Georgia put together two straight for a 20-18 lead. Edmond immediately fired back with a kill and then the home team committed another attacking error to tie things once again. Skinner and Franklin teamed up for a rejection to give UK a 21-20 lead. Georgia decided to take a timeout. Out of the break, Franklin converted an overpass to push UK's lead to two. Edmond then had an ace and Kentucky's lead grew to three. Georgia opted to use its final timeout and Edmond came out with another ace following the timeout. The set's clinching point came on a Skinner kill for a 25-21 win.
 
Set Two
Lilley called her own name to open the scoring in the second set before Georgia immediately fired back with a kill of its own. The teams exchanged points until Kentucky was able to shake loose for two straight capped by a kill from Skinner for a 9-7 lead. Georgia wasted little time in firing back with a 2-0 spurt of its own knot the score. Lilley won the joust to lift Kentucky to a two-point lead at 12-10. Franklin converted off a slide out of a UGA timeout to increase UK's lead to three. Morgan came up with a kill and the Bulldogs took their second timeout down 15-11. Skinner's finish helped the Wildcats increase the lead to 18-13. It was all the more breathing room the Cats would need en route to a comfortable 25-21 second victory.
 
Set Three
Georgia began the scoring in the third stanza, but Brown fired back with a quick kill. Edmond then took advantage of an overpass to lift Kentucky to an early advantage. The Bulldogs answered and the teams swapped points until Edmond posted consecutive kills for a 6-4 lead. Franklin helped push the lead to three at 8-5 with a kill of her own. Georgia pulled back to within one at 10-9, but Brown was able to get a tip kill to once again give Kentucky a multi-point lead. Brown combined with Edmond for a huge Big Blue block to increase the lead to four at 13-9 and the home team chose to take its first timeout. Edmond laced a rocket to the backrow for a 16-10 Kentucky lead and Georgia chose to take its final timeout. Out of the break, Kentucky scored three more points to better the score to 19-10. Morgan and Franklin teamed up for a block to push UK's run to 14-4 and a 24-11 lead. The Bulldogs were able to save match point three times before a Bulldog error clinched the title at 25-15 win.