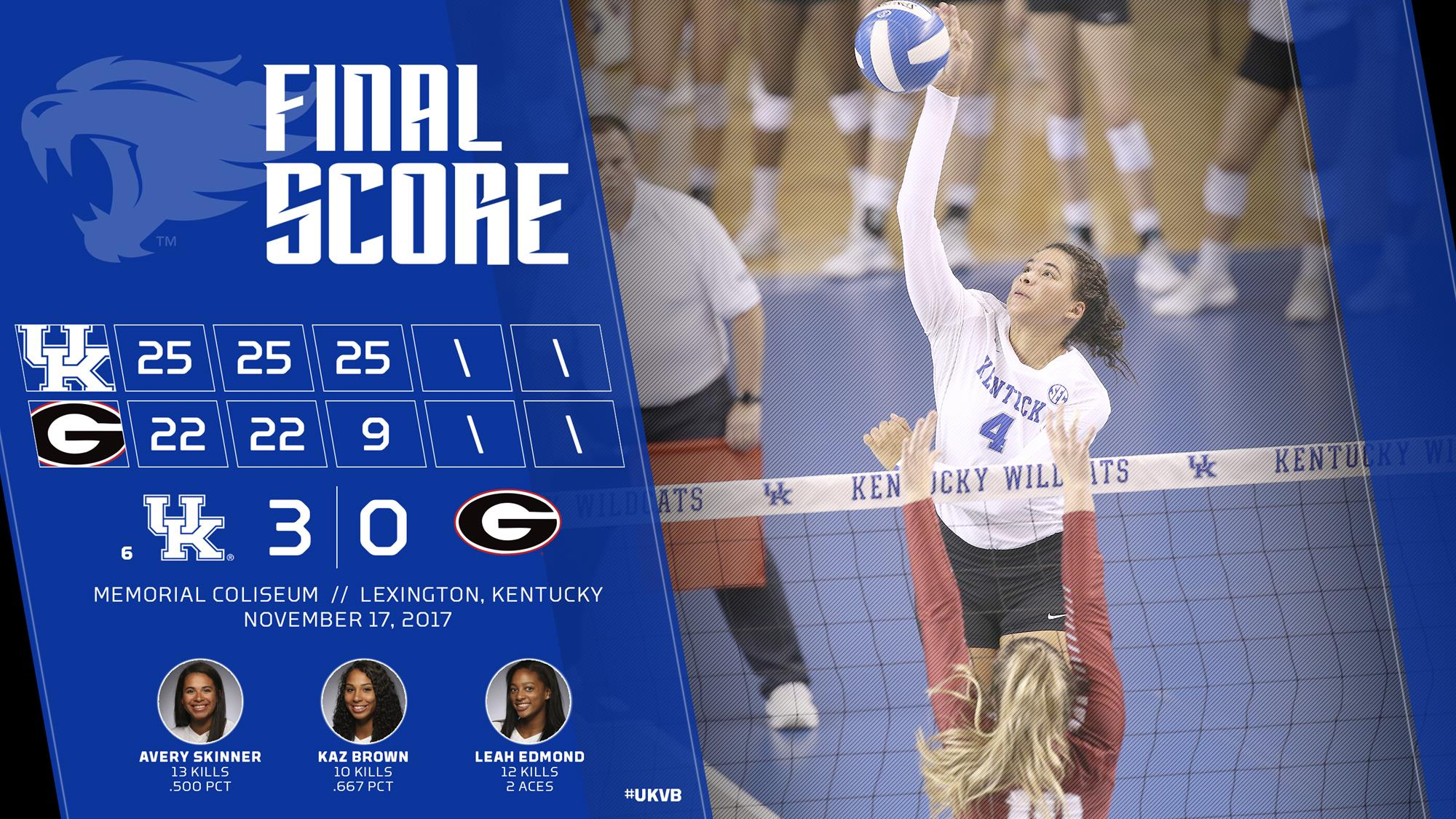 November 17, 2017 - 10:16 PM
No. 6 Kentucky Shuts Down Georgia, 3-0
LEXINGTON, Ky. – The No. 6 Kentucky volleyball team shut down the Georgia offense and swept the Bulldogs, 3-0 (25-22, 25-22, 25-9), inside Memorial Coliseum on Friday night. UK held UGA to a .182 attacking clip and allowed just nine Bulldog points in the final set.
 
"When you play against a team that runs a fast offense it takes time to adjust," head coach Craig Skinner said. "You need to get a feel for the timing. As we got into the match, I thought we did a much better job. Having balance and being able to terminate the ball at all points across the net is really important, especially against good teams. Georgia is a good team."
 
UK improved to 23-3 overall and 14-1 in the Southeastern Conference. Georgia fell to 18-10 and 8-7 in the league. Kentucky will play its final regular season home match on Sunday when UK takes on Ole Miss. First serve is set for 2 p.m., and Kentucky will honor its five seniors prior to the match. The match will also air live on the SEC Network.
 
The Wildcats were led by freshman Avery Skinner, who recorded a match-high 13 kills on just 22 swings, good for a .500 attacking clip. Skinner has hit above .500 in three matches this season, and now has 15 career double-digit kill totals.
 
"Avery was big tonight," Skinner added. "She was fresh. She hit really smart shots. She hit across court, down the line, to the corner, a variety of offensive options for her and she was really effective tonight."
 
Sophomore Leah Edmond trailed closely behind with 12 kills, while senior Kaz Brown contributed 10 in the win. Edmond now has 51 career matches in double-digits, the fifth most in the 25-point rally scoring era. Freshman Madison Lilley posted five hammers on just seven swings, while senior Emily Franklin had five. Senior Darian Mack recorded two kills, while junior Merideth Jewell and freshman Kendyl Paris had one apiece.
 
Lilley helped the team record 49 terminations and hit .387 with 38 assists. She was a threat in all aspects on the court, recording five digs and two blocks as well.
 
Senior Ashley Dusek recorded her third-straight match with 20 or more digs after posting a match-high 20 in the win. Edmond chipped in with four scoops, while junior McKenzie Watson had three. Freshman Gabby Curry helped with two and Franklin had one.
 
Kentucky did not record a block in the first set, but went on to have seven team blocks. Brown had a match-high four stuffs, including one solo block. Franklin had three blocks and one solo. Lilley and Skinner each recorded two blocks, and Mack had one.
 
UK had three aces as a team, with Edmond chipping in two. Curry recorded the other ace.
 
Set 1
Kentucky won the first point of the set after a Skinner kill. Play rocked back-and-forth until UK jumped out to a 5-3 advantage after kills from Franklin and Mack. Georgia answered, but UK then went on a four-point run that forced UGA to use a timeout down 9-4. Play would seesaw until the score was 14-8, when UGA would trim the lead with a three-point run to 14-11. UK responded with a Franklin kill and an Edmond ace to take a 16-11 lead and the Bulldogs used their last timeout. Georgia trimmed the lead to 16-13 out of the timeout, and the lead stayed at three until 18-15, when UK would go on a four-point run, capped by a Brown kill. The Bulldogs were able to get the lead down to 23-19 and 24-22, but an Edmond kill won the first set, 25-22.
 
Set 2
An attack error from Georgia won UK the first point of the set. Georgia answered with two points, before a Brown kill, attack error and an Edmond hammer gave UK a 4-2 lead. UK would go up 6-3 after another Edmond kill. After Georgia scored, UK rattled off three straight with the help of a Franklin kill and block that forced Georgia to burn its first timeout at 9-4. Kentucky would maintain that five-point lead until it was able to extend the lead on a Brown kill at 16-9. Teams traded points until Georgia cut the set to 23-21. UK won 25-22 on an Edmond kill.
 
Set 3
Kentucky scored the first three points of the set with a Brown kill and two attack errors. Up 5-3, UK went on a five-point run that had an Edmond ace and kills from Franklin and Skinner to go up 10-3. After Georgia stopped the run, UK scored three more points after two kills from Skinner and a block from Skinner and Brown to take a 14-3 advantage. At 13-5, Kentucky went on an 8-1 run to go up 21-6 after a block from Lilley and Brown. Teams traded points until 23-9, when UK took the last two on a kill from Paris and an attack error.
 
Follow along with the Wildcats on Twitter, Facebook and Instagram, and on the web at UKathletics.com.