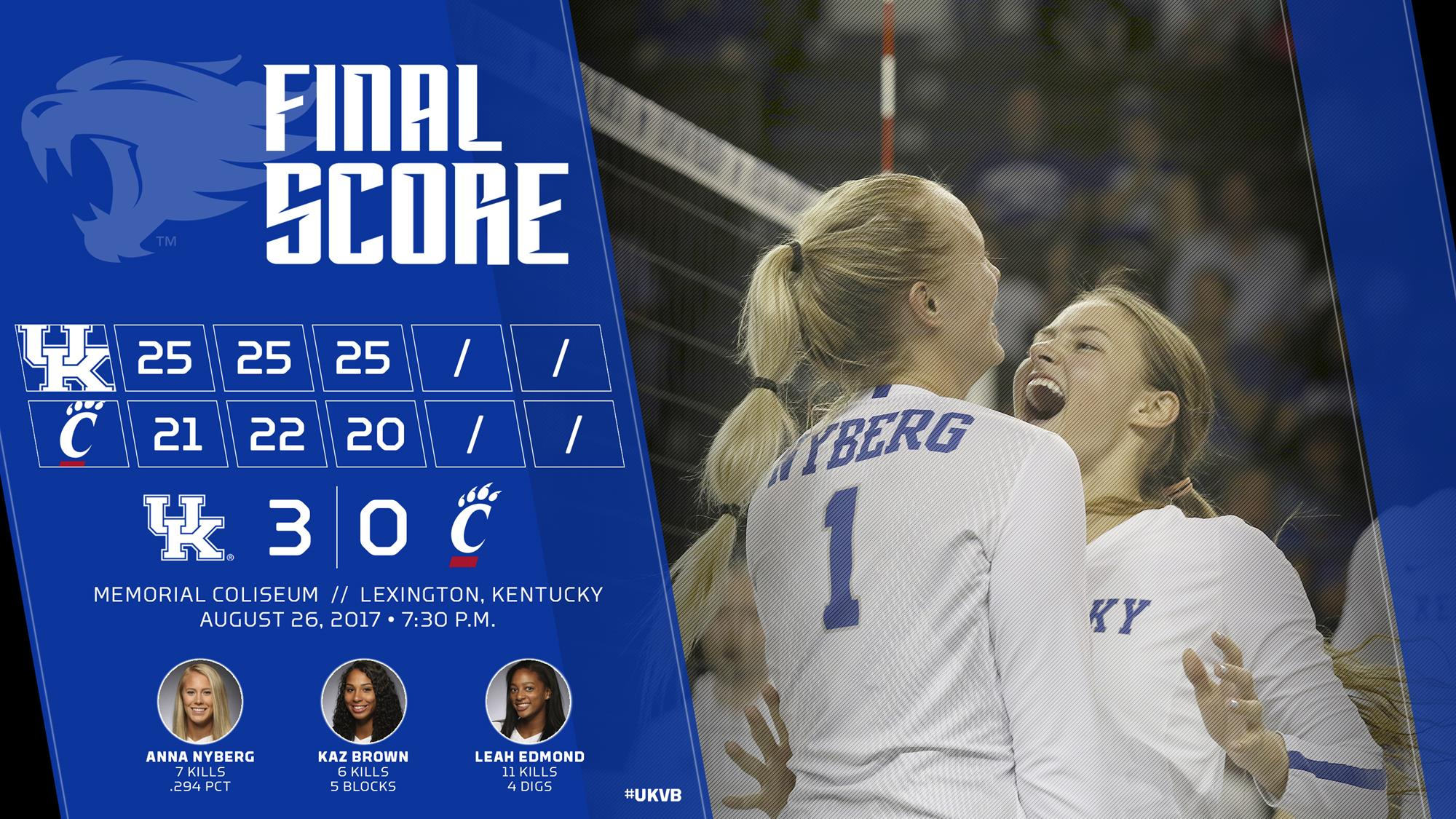 August 26, 2017 - 10:25 PM
Kentucky Wins Bluegrass Battle After Sweep of Cincinnati
LEXINGTON, Ky. – The No. 14 Kentucky volleyball team took home the Bluegrass Battle championship after sweeping Cincinnati (25-21, 25-22, 25-20) to remain perfect after opening weekend. Sophomore Leah Edmond registered 12 kills, while junior Anna Nyberg put up seven.
 
"We learned we have a lot of options this weekend," head coach Craig Skinner said. "We learned we have a lot of offensive firepower, and we learned if things aren't clicking smoothly we can find a way to still come out on top. We definitely have a lot of tools in the toolbox to figure out what is best."
 
The Wildcats improve to 3-0 on the year, while Cincinnati drops to 0-3. UK will return to action at the Bluejay Invitiational in Omaha, Nebraska, where they will square off with No. 9 Creighton, Northern Iowa and Southern California. The Trojans are also receiving votes in the American Volleyball Coaches' Association's preseason top-25 poll.
Edmond was named the most valuable player of the tournament, and she was joined on the all-tournament team by junior McKenzie Watson and senior Kaz Brown. Edmond hit double-digit termination totals in each match of the Bluegrass Battle, including 12 against Cincinnati tonight. Watson posted 24 digs over the three-match span, including 10 against UC for her second double-digit scoop total of the young season. Brown posted 21 kills and 16 blocks during the tournament, with six kills and five blocks coming against the Bearcats.
 
After having nine kills in 2016, Nyberg impressed with seven kills in the match on 17 swings. The Tomahawk, Wisconsin, native also added a service ace and a dig in the win.
 
"Anna's earned it," Skinner said on Nyberg. "She's been really good in practice. She has great focus and a great attitude about her. She earned the right to go in there and change the way we were playing. Her attacking has gotten significantly better over the last two weeks of practice. We know she has a great serve and she's a great blocker. I'm happy for Anna."
 
Freshman Madison Lilley shined for the third match in a row, adding 32 assists while racking up three kills, three blocks and four digs. Earning the start at libero once again, freshman Gabby Curry registered 16 scoops, coming just short of her total in the five-set match against Utah last night. She also dished out two helpers in the win.
 
SET RECAPS
 
Set 1
Kentucky started the match off with a Big Blue block from Avery Skinner and Emily Franklin to earn the first point of the match. UC gained an early 4-2 lead before Kentucky rattled off three straight points, sparked by an Edmond kill and helped with a Franklin ace.  Play went back-and-forth until 8-8 where UK put up four-straight points, forcing a Cincinnati timeout. After the timeout, the Bearcats responded with a four of their own, causing Kentucky to burn a timeout. UC ended up going up a point, but Franklin and Darian Mack went back-to-back with blocks to give UK a 14-13 lead. Neither team gained ground until Nyberg put up three-straight kills which gave Kentucky a 23-18 advantage. Mack earned the set winner to finish the frame, 25-21. Nyberg, Edmond and Mack all posted three kills. The Cats held Cincinnati to a .000 hitting percentage, and limited UC's production to just eight kills.
 
Set 2
The Wildcats earned an early 2-0 lead with a service error and an Edmond kill. Kentucky wasn't able to extend its lead until kills from Mack and Nyberg, both assisted by Lilley put UK up 8-4. UC erased the deficit at 13-13. Cincy went up 19-16, which forced a Kentucky timeout. Out of the timeout, Kentucky scored two of its own after a service error and a Franklin ace, causing UC to use its first timeout at 19-18. Brown delivered with a kill to give Kentucky a 21-20 advantage. UK allowed just one more point and won the set 25-22. Kentucky racked up three blocks in the set, with Brown in on all three. Edmond paced the Cats with five second-set kills on 11 swings.
 
Set 3
UC gained an early 2-0 lead with the help of an ace, but Kentucky responded and tied up the set at 3-3 after a Franklin ace. Play seesawed until Nyberg's ace sparked a three-point run. At the media timeout, UK was up 15-12. A solo stuff from Lilley was part of a 3-1 mini-run that extended the Wildcat advantage. The Bearcats were able to cut the lead to 22-20, but Kentucky won the set 25-20 on a block from Brown and Lilley. Nyberg, Edmond and Brown all had three terminations in the third set, while Lilley dished out 12 assists, helping the team hit .440.
 
BY THE NUMBERS
8 – Players with at least one block
3 – Number of All-Tournament Team players from Kentucky (Brown, Edmond, Watson)
2 – Consecutive double-digit dig matches from McKenzie Watson
.440 – Third-set attacking percentage from Kentucky
 
Follow along with the Cats on Twitter, Facebook and Instagram, and on the web at UKathletics.com.