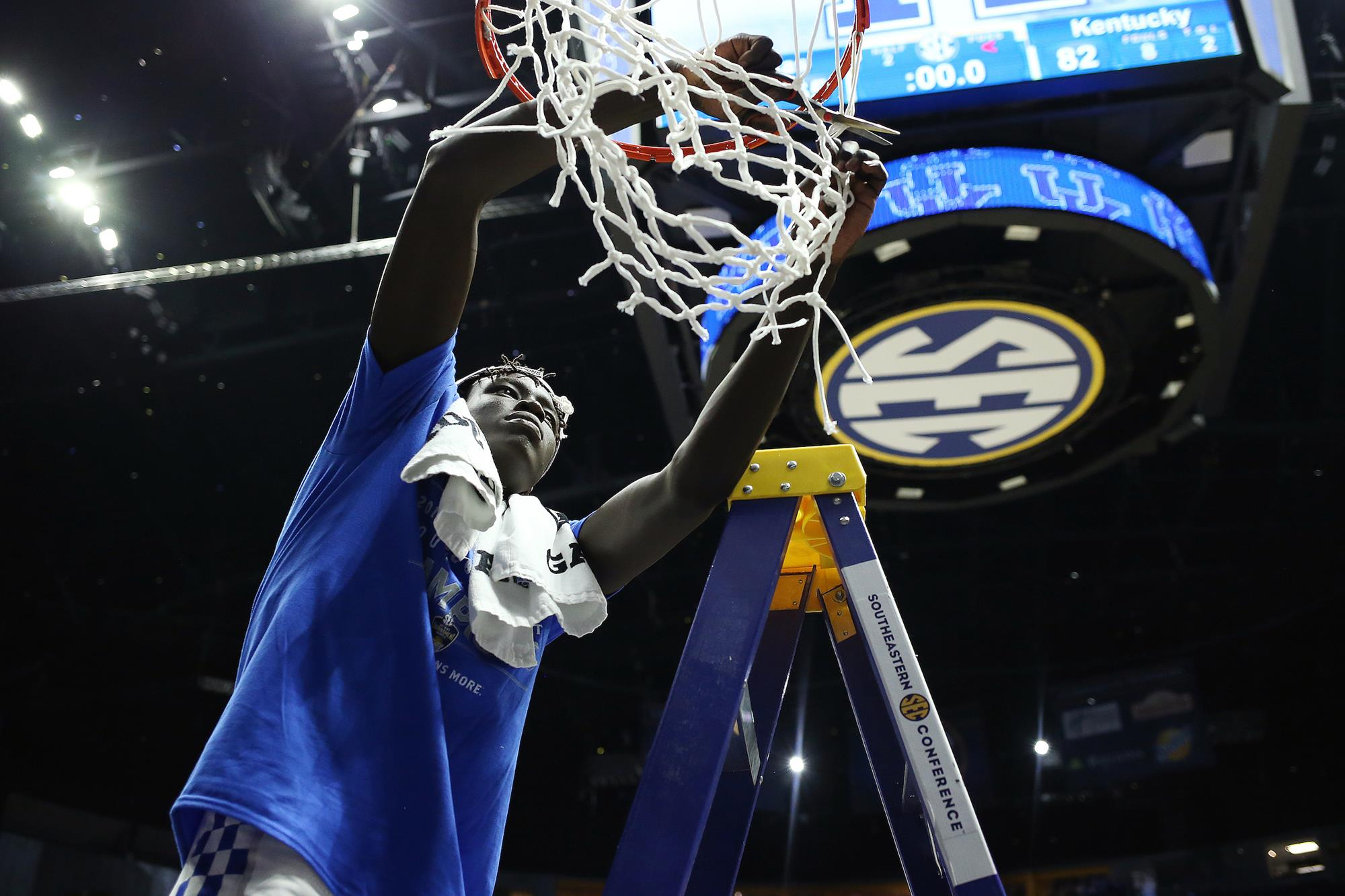 August 24, 2017 - 02:00 PM
SEC Slate Completes 2017-18 Men's Basketball Schedule
BIRMINGHAM, Ala. – The 2017-18 Kentucky men's basketball schedule is now complete as the league office announced the upcoming conference slate Thursday. The Wildcats are seeking their fourth consecutive regular-season league crown and sixth under ninth-year head coach John Calipari.
 
The 18-game Southeastern Conference schedule features all 13 teams in the league at least once. Kentucky has home-and-home dates with Missouri and Texas A&M, and permanent home-and-home opponents Florida, Tennessee and Vanderbilt.
 
UK's schedule is balanced with no road trip or stretch of home games lasting more than two in a row (which includes the Big/12 SEC Challenge). Kentucky tips off the SEC season vs. Georgia on Dec. 31 in Rupp Arena.
 
Following the league lid-lifter, UK will hit the road for four of its next five games, including two in a row. Up first on that list will be LSU on Jan. 3, followed by the always-difficult trip to Knoxville, Tennessee, to play the Volunteers on Jan. 6. UK has dropped three of its last four games at Thompson-Boling Arena.
 
Sandwiched in between another two-game road trip is a home date with Texas A&M on Jan. 9 before road tilts at Vanderbilt on Jan. 13 and at South Carolina on Jan. 16. Vanderbilt and South Carolina have proven to be two of the most difficult games to play on the road during the Calipari era.
 
Kentucky's next three league games will all be at home with Florida on Jan. 20, Mississippi State on Jan. 23 and Vanderbilt on Jan. 30. In between those conference games will be the annual Big 12/SEC Challenge. The Wildcats will travel to West Virginia to play the Mountaineers on Jan. 27. It will be UK's first game in Morgantown, West Virginia, since Dec. 7, 1970.
 
February will start with a trip to Missouri on Feb. 3. The Tigers are expected to be a team on the rise this season with one of the nation's top-ranked recruiting classes. Tennessee will then return the trip to Lexington on Feb. 6 before Kentucky's second game against Texas A&M on Feb. 10, in College Station, Texas.
 
UK's lone meeting with Auburn this season will be on the road Feb. 14. Then the Wildcats will get a Feb. 17 matchup in Rupp Arena with Alabama, which is expected to be a league title contender this season with key returners and a highly regarded recruiting class.
 
Kentucky will travel to Fayetteville, Arkansas, on Feb. 20 to face the Razorbacks after getting the team's first win there in the Calipari era in 2016. The Wildcats will round out the home schedule with Missouri on Feb. 24 and Ole Miss on Feb. 28.
 
The regular season wraps up at Florida on March 3. The SEC Tournament will be played west of the Mississippi River for the first time ever when it heads to the Scottrade Center in St. Louis, March 7-11.
 
The SEC is expected to continue its recent ascent among the nation's best basketball conferences this season. Nine of the league's 14 teams have recruiting classes ranked among the top 31 of ESPN's RecruitingNation class rankings for 2017. That's after three teams, including UK, made the Elite Eight in 2017.
 
UK announced its nonconference schedule earlier this summer. Twelve of UK's 13 nonconference opponents in the upcoming season made a postseason tournament in 2017, including eight that made the NCAA Tournament. Three of those advanced to the Sweet 16 or further.
 
Complete television information and tip times will be announced a later date.
 
For the latest on the Kentucky men's basketball team, follow @KentuckyMBB on Twitter, Facebook, Instagram, Snapchat and on the web at UKathletics.com. 
Download Lock-Screen Graphics for Your Phone