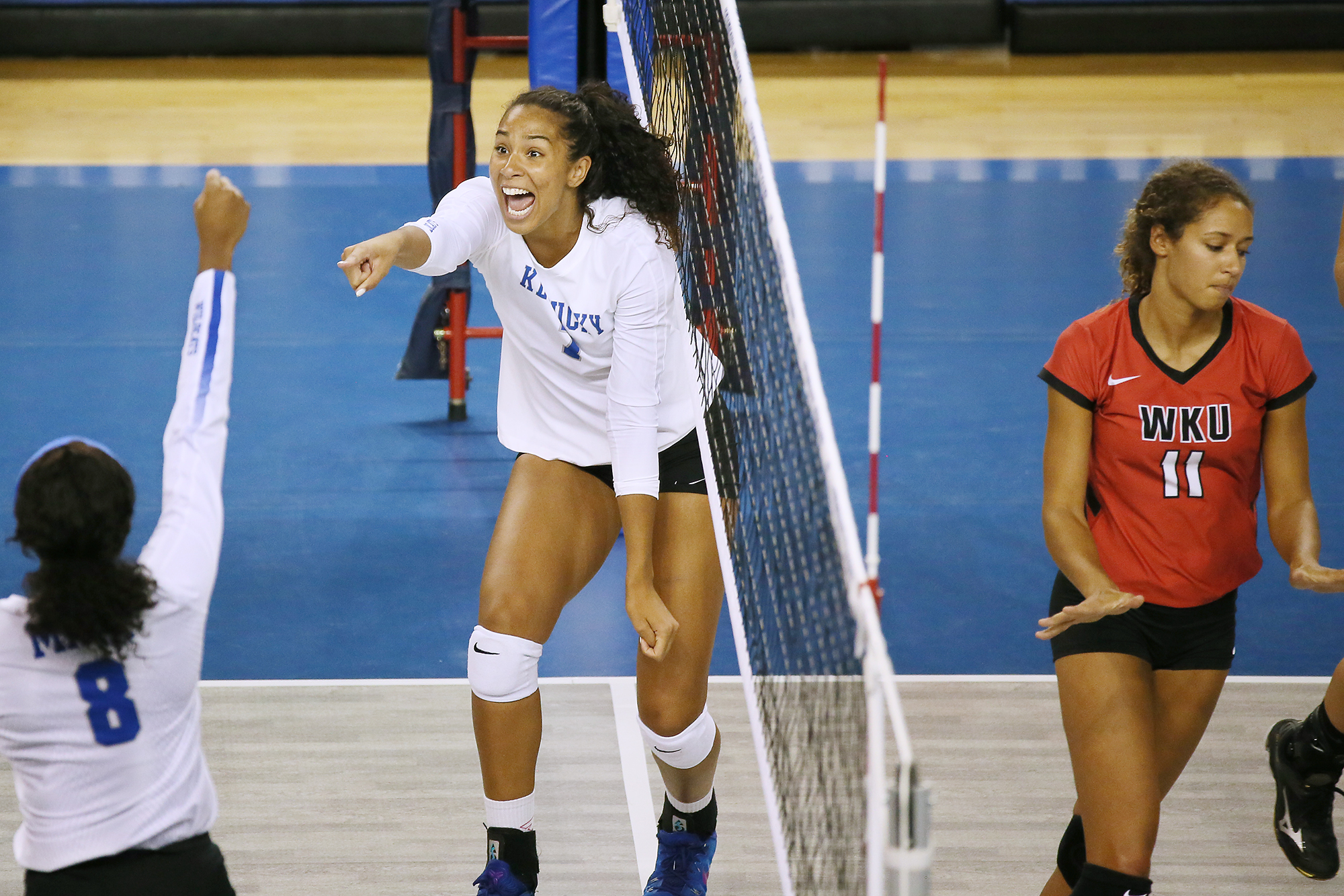 August 22, 2017 - 11:56 AM
Brown Prepared to Lead UK Volleyball to New Heights
Throughout her Kentucky volleyball career, Kaz Brown has never been one to hide her emotions on the court. After a big kill or a huge block, Brown lets everyone in the gym know that she is fired up about the play she just made.
Every team seems to have at least one player who shows a ton of emotion, and Brown fulfills that role for the UK volleyball team. But head coach Craig Skinner is most impressed with how Brown has transformed from an emotional player to an emotional leader.
"She wants to impact the game physically, which she does," Skinner said of Brown. "She also has grown in an area of impacting the game intangibly. Her IQ of the game has gotten better. She realizes her presence makes a difference on the court. We need her to impact the game as much intangibly as she does physically."
The 6-4 senior from Waterloo, Iowa, has already had a major impact on the game, and the UK record book, during her first three years in Lexington. In her first season, she was named to the SEC All-Freshman team. She was named to the All-SEC and AVCA All-Southeastern Region teams in each of the last two seasons. 
As a sophomore in 2015, Brown set UK single-season records, during the 25-point rally scoring era, with 160 block assists and 180 total blocks. She followed that with 151 blocks last season, which is good for second place on that same list.
Brown hopes that her impact on the program, both emotionally and physically, will be felt for years to come.
"I want my name to be as high as it can in the Kentucky record book," Brown said. "I want to leave my imprint on this program because it has done so much for me."
Brown and her fellow seniors are far from satisfied with their results during their time at UK. After early-round exits from the NCAA Tournament in each of the last three seasons, UK's five seniors are setting much higher goals this season.
"Those of us who have been here and have gone through it all," Brown said. "We know the best type of measureable, realistic goals to set for ourselves, goals that are really high. We want to be SEC Champions, of course, NCAA Champions, of course. We want to do something that has never been done before. I think this is the team that can get it done."
Skinner has seen Brown grow, both mentally and physically, during her time in Lexington.
"She has matured an unbelievable amount in four years," Skinner said. "Her perspective as a person and a human being has really gone to a different level. Part of that is her international travel, going to China, going to Thailand and going to Panama this summer. She's really a great person."
And Skinner knows that Brown is not afraid to call out a teammate when she needs to do so.
"You need to have people to say things other people aren't willing to say," Skinner said. "She's not afraid to do that. She has always been able to ask more of Brooke Morgan because they've known each other their whole lives. Now, she's asking more of all of her teammates and she should. As a senior, you want more from it."
And what Brown, and the senior class, want is to move the UK program forward another step this seasons. If that happens, Brown might show more emotion that she ever has before.