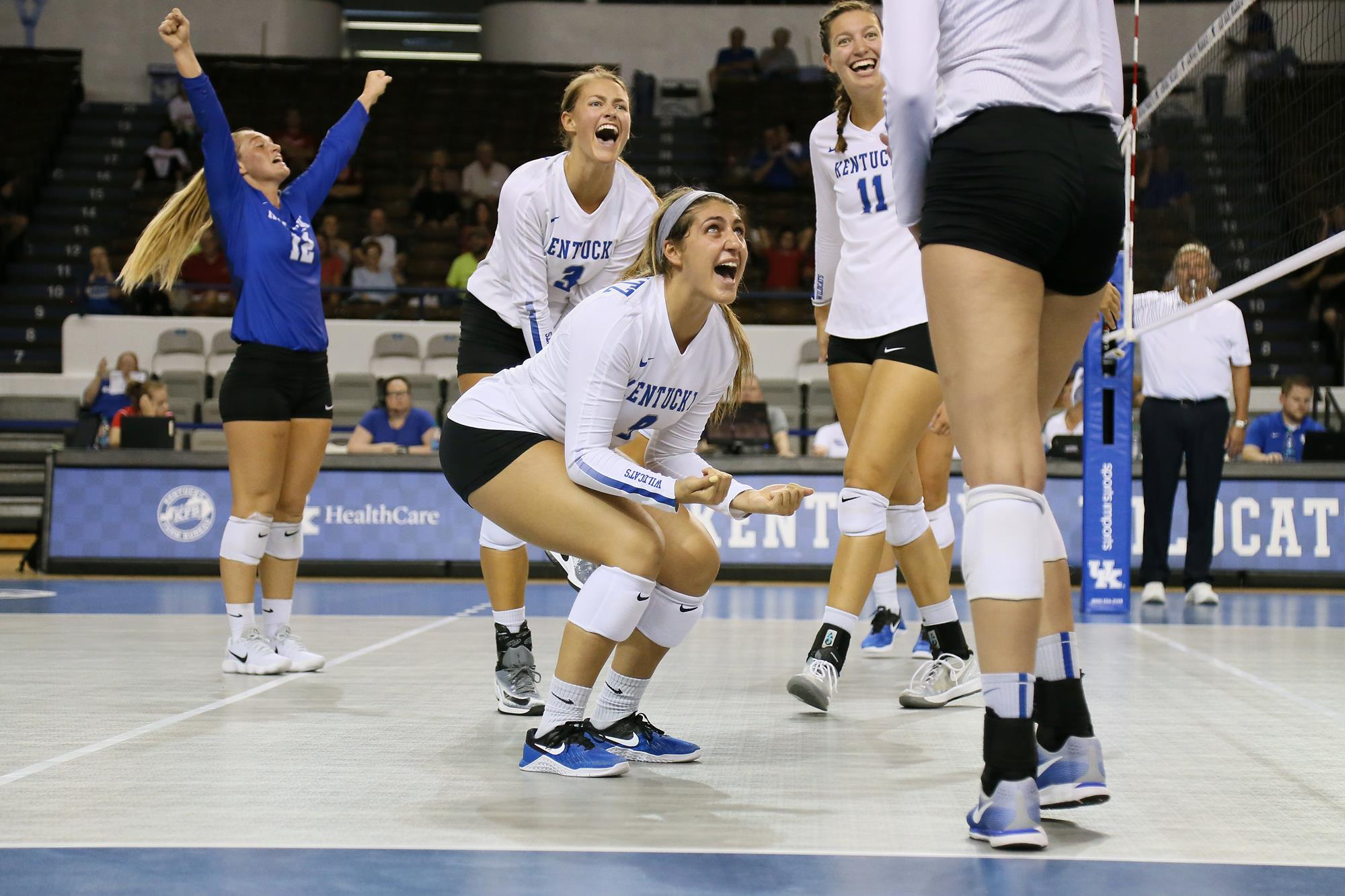 August 16, 2017 - 07:19 PM
Wildcats Impressive in Exhibition vs. Western Kentucky
LEXINGTON, Ky. – The 2017 edition of the Kentucky Wildcats officially made its debut on Wednesday in the program's first-ever exhibition match. The Hilltoppers and Wildcats participated in a friendly two-hour match in Memorial Coliseum emulating real-time situations in the lone tune-up prior to the season beginning on Aug. 25 for both teams.
 
"It was such a great opportunity to play a lot of people in different lineups and experience match type scenarios," head coach Craig Skinner said. "I was pleased with our focus and serving throughout. Everyone contributed in one way or another and that's really what we wanted to get out of tonight and we certainly accomplished that."
 
WKU is the preseason favorite to win the Conference-USA, while Alyssa Cavanaugh was the Preseason Player of the Year in the league. The Hilltoppers won the C-USA with a 30-3 overall record and went a perfect 14-0 in league play to win their sixth straight conference championship. The Lady Toppers advanced to the NCAA Tournament where they lost to Boise State in the first round.
 
The Wildcats will begin the regular season with the annual Bluegrass Battle, beginning Aug. 25. UK will open the season with Arkansas State at 11 a.m. and will face No. 23 Utah at 9 p.m., both in Memorial Coliseum. The next day, UK will face Cincinnati at 7:30 p.m. to wrap up the tournament.
 
"I feel like there's been so much build up and it was great to finally play with everyone," freshman Avery Skinner said. "The exhibition was really good for us, we could kind of feel things out and get ready for our matches coming up."
 
Kentucky is slated to return 91.9 percent of its leading kill production, including its top-five terminators in Leah Edmond, Kaz Brown, Darian Mack, Emily Franklin and Brooke Morgan. Defensively, UK returns 97.8 percent of its blocking numbers and 84.5 percent of its dig production. Brown, who already holds numerous 25-point rally scoring era records, is UK's leading returning blocker with 151 rejections a season ago. Ashley Dusek has posted more than 200 digs in all three seasons with the Cats.
 
Wednesday's exhibition saw the program's highest rated recruiting class make its collective debut. The No. 5 class in the nation includes No. 4 Madison Lilley, No. 32 Avery Skinner, No. 46 Gabby Curry and No. 81 Kendyl Paris.
 
"It felt good to finally get on the court and have a different opponent other than ourselves," freshman Madison Lilley said. "We have this upcoming week to iron out the wrinkles and we have some pretty big matches coming. We're looking forward to it."
Noteworthy:
Freshman Avery Skinner boasted a match-high 15 kills on a blistering .520 hitting percentage.
Olivia Dailey and Madison Lilley split time at setter and combined for 49 assists, 12 digs, five aces and two blocks.
Gabby Curry corralled a match-high 23 digs. Eleven players had at least one dig.
Eleven different players registered at least one kill, while six players hit .417 or better with at least five attempts.
Kentucky's serving was a highlight as the Wildcats posted 15 aces. Lilley had a match-high four to lead the team, while the 2016 leader, McKenzie Watson, added three.
Kaz Brown and Kendyl Paris led the way defensively at the net with four rejections apiece.
Follow along with the Cats on Twitter, Facebook and Instagram, and on the web at UKathletics.com.