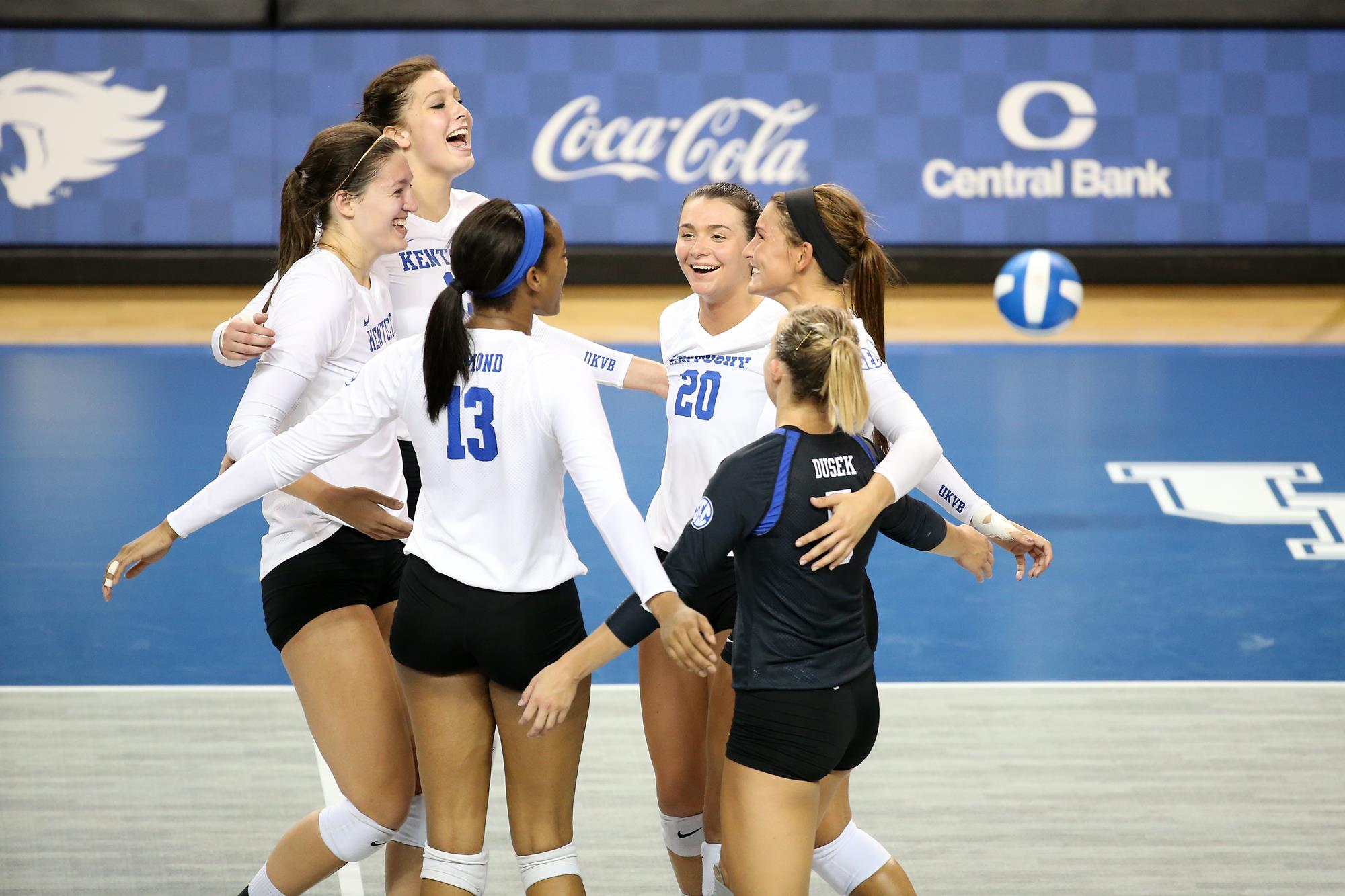 August 15, 2017 - 01:17 PM
Kentucky Opens Season With Exhibition Against WKU
LEXINGTON, Ky. – For the first time in program history, the Kentucky volleyball program will host an exhibition match. UK will welcome Western Kentucky to Memorial Coliseum Wednesday at 5 p.m. The match is free to the public.  
 
"I'm thrilled with the fact that we are able to do an exhibition for the first time," head coach Craig Skinner said.  "It's a great opportunity to compete and evaluate where we are during our training camp.  It will provide us a chance to look at different lineups and options which will help prepare us for the opening weekend.  A big thanks to Western for making the trip and we will look forward to returning in 2018."
 
This will be the first match for the highest-ranked recruiting class in program history. The No. 5 class in the nation includes No. 4 Madison Lilley, No. 32 Avery Skinner, No. 46 Gabby Curry and No. 81 Kendyl Paris. Transfer Merideth Jewell from Morehead State will also be in action. Curry and Jewell competed in the spring for the Wildcats.
 
WKU is the preseason favorite to win the Conference-USA, while Alyssa Cavanaugh was the Preseason Player of the Year in the league. The Hilltoppers won the C-USA with a 30-3 overall record and went a perfect 14-0 in league play to win their sixth straight conference championship. The Lady Toppers advanced to the NCAA Tournament where they lost to Boise State in the first round.
 
The Wildcats will begin the regular season with the annual Bluegrass Battle, beginning Aug. 25. UK will open the season with Arkansas State at 11 a.m. and will face No. 23 Utah at 9 p.m., both in Memorial Coliseum. The next day, UK will face Cincinnati at 7:30 p.m. to wrap up the tournament.
 
Kentucky is slated to return 91.9 percent of its leading kill production, including its top-five terminators in Leah Edmond, Kaz Brown, Darian Mack, Emily Franklin and Brooke Morgan. Defensively, UK returns 97.8 percent of its blocking numbers and 84.5 percent of its dig production. Brown, who already holds numerous 25-point rally scoring era records, is UK's leading returning blocker with 151 rejections a season ago. Ashley Dusek has posted more than 200 digs in all three seasons with the Cats.
 
MATCH DAY INFORMATION
Doors will open one hours prior to first serve. Fans are encouraged to arrive early and travel light for quicker entry.
Kentucky Athletics is excited to introduce ticket scanning at Memorial Coliseum this season. Season and single-game volleyball tickets will now be barcoded and scanned for validity at each entrance. By barcoding tickets, fans will soon have access to more ticket management features than ever before!
Bags entering Memorial Coliseum may not exceed 12″ x 6″ x 12″. All bags are subject to visual inspection upon entry. An exception will be made for medically necessary items, after proper inspection.
Please note, backpacks are not permitted inside Memorial Coliseum, regardless of size.
Complete match day information can be found at our game day site by clicking here.
PARKING INFO
All E-lots surrounding Memorial Coliseum including the North Craft, High Street, Rose Street, and Linden Walk employee lots are available for event parking beginning three hours prior to first serve. Additionally, the South Limestone Garage (PS#5) and the Rose Street Garage (PS#2) are available two hours prior to first serve. 
 
Disabled parking is available in the North Craft lot. Spaces are limited and provided on a first come, first served basis with a valid, state-issued disabled parking hangtag.
 
SHUTTLE INFO
A shuttle is available free of charge from the South Limestone Garage (Parking Structure #5). The pick-up/drop-off point at the South Limestone Garage is located on Administration Drive. We ask that all patrons access this pick-up/drop-off location by the sky bridge, accessible from level 3 of the parking structure. The shuttle pick-up/drop-off location at Memorial Coliseum is located at the front of the Coliseum on Avenue of Champions.
 
Shuttle services begin two hours pre-match and will continue 20 minutes after the first serve and will resume post-match for one hour.
 
Follow along with the Cats on Twitter, Facebook and Instagram, and on the web at UKathletics.com.