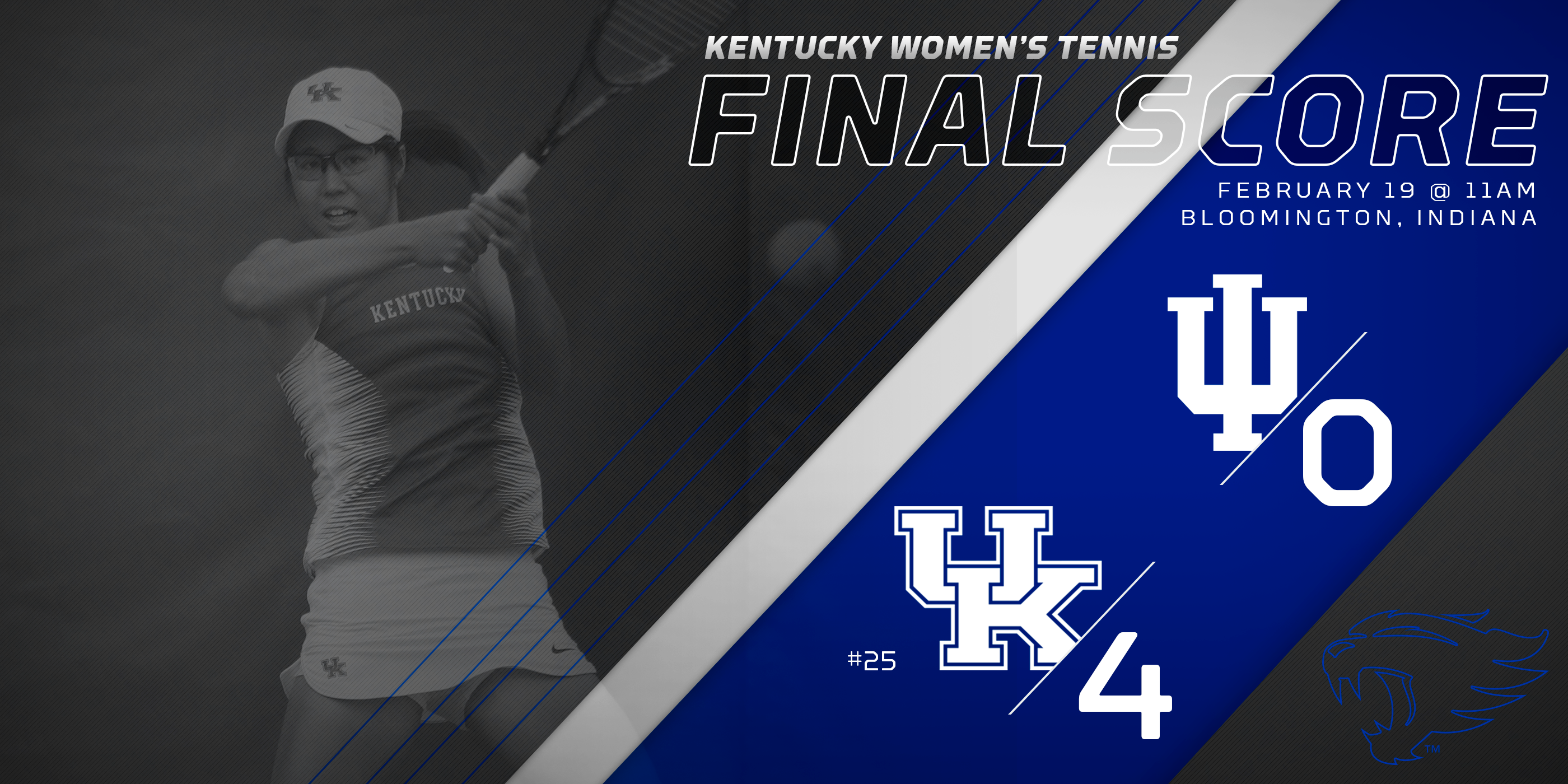 February 19, 2017 - 06:32 PM
Kentucky Downs Indiana 4-0 on the Road
BLOOMINGTON, Ind. – The No. 25 Kentucky women's tennis team extended its win streak to three on Sunday afternoon, blanking Big Ten foe Indiana 4-0 at the IU Tennis Center. With the victory, the Wildcats advance to 6-1 in the spring campaign, while the Hoosiers fall to 5-5.
Despite dropping the No. 1 doubles match, UK put together two wins in doubles to take the first point. To start things off, sophomore Justina Mikulskyte and junior Emily Fanning teamed up to defeat IU's duo of Caitlin Bernard and Emma Love, 6-2. The UK pair is now 4-0 in dual matches this season, all played at the No. 3 spot.
Kentucky's No. 2 doubles team of Morgan Chumney and Akvile Paražinskaite followed suit, picking up a 6-3 victory over Hoosiers Paula Gutierrez and Pauline Jahren to clinch the point. Chumney and Paražinskaite rise to 3-2 in dual matches this season.
In singles, Chumney and Mikulskyte quickly lengthened Kentucky's lead to 3-0 by posting matching 6-1, 6-1 triumphs on courts five and six. Junior Mami Adachi sealed the victory, downing Bernard in straight sets on court three.
The Wildcats will be back in action this weekend as they return to the friendly confines of the Boone Tennis Center to face a pair of Ivy League opponents. Kentucky will face Columbia on Friday and Princeton on Sunday. In both matches, first serve is set for noon ET. 
Agate
#25 Kentucky 4, Indiana 0
IU Tennis Center – Bloomington, Ind.
Feb. 19, 2017
Doubles (Order of Finish: 3-2-1)
1 – Madison Appel/Kim Schmider (IND) def. No. 1 Aldila Sutjiadi/Mami Adachi (UK), 6-4
2 – Morgan Chumney/ Akvile Paražinskaite (UK) def. Paula Gutierrez/Pauline Jahren (IND), 6-3
3 – Justina Mikulskyte/Emily Fanning (UK) def. Caitlin Bernard/Emma Love (IND), 6-2
Singles (Order of Finish: 5-2-3)
1 – Madison Appel (IND) vs. No. 11 Aldila Sutjiadi (UK), 6-3, 2-6, unfinished
2 – Paula Gutierrez (IND) vs. No. 117 Akvile Paražinskaite (UK), 6-2, 3-6, unfinished
3 – Mami Adachi (UK) def. Caitlin Bernard (IND) 6-3, 6-3
4 – Kim Schmider (IND) vs. Emily Fanning (UK), 7-6 (7-1), 0-2, unfinished
5 – Justina Mikulskyte (UK) def. Pauline Jahren (IND), 6-1, 6-1
6 – Morgan Chumney (UK) def. Emma Love (IND), 6-1, 6-1