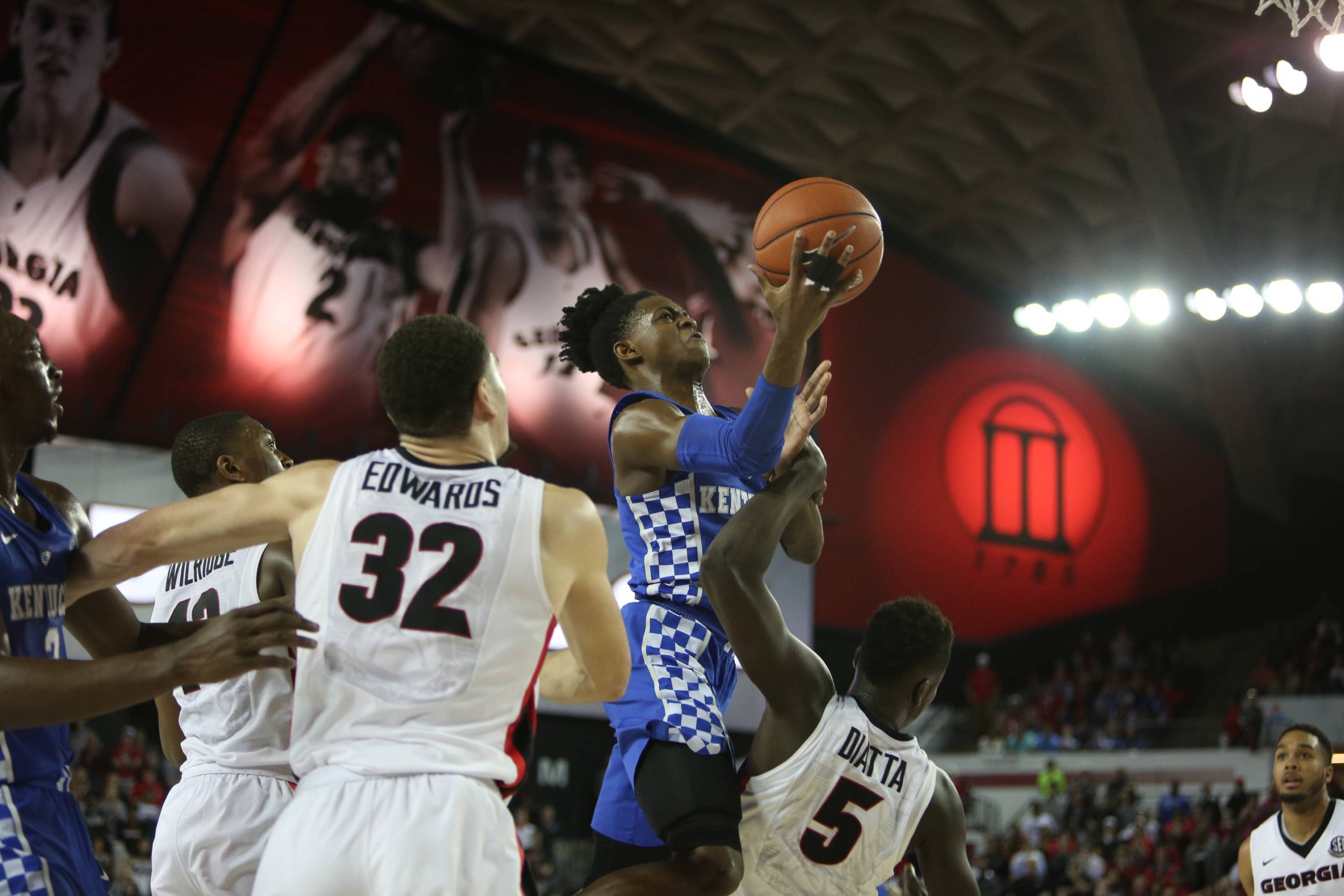 February 18, 2017 - 10:05 PM
Fox Takes Turn Delivering in Clutch
Malik Monk and Isaiah Briscoe have taken their turns delivering down the stretch for Kentucky.
Saturday was De'Aaron Fox's turn to show he can take over and get the job done when it matters most.
"I just want people to know I can step up in the big moments," Fox said. "Like I've said before, it's been different guys stepping up in those moments. Today it was me."
With Monk struggling to find his range, Briscoe on the bench with five fouls and J.J. Frazier starring for a Georgia team desperate for a quality win, Fox stepped up and made the final five minutes his own. Surviving a back-and-forth battle thanks to Fox's clutch play, No. 13/11 UK (22-5, 12-2 SEC) took down home-standing Georgia (15-12, 6-8 SEC), 82-77.
"And we go on the road and win a road game in our league," John Calipari said. "I'm ecstatic. I'd rather learn from a close win than a loss. So I'm going to go watch the tape and we'll try to fix some stuff."
Things looked fairly bleak for the Wildcats with a little less than five minutes to go. Pape Diatta had just hit a 3-pointer – just his sixth of the season – to give Georgia a 64-61 lead and Briscoe committed his fifth foul after grabbing an offensive rebound.
Not even Fox was shooting well at that point, so what was his solution? Attack, attack, attack.
First Fox stemmed the tide by drawing a foul and calmly draining two free throws. A minute later, his driving layup gave UK a 67-66 lead to answer another score by Frazier, who scored 36 points to nearly overcome the loss of star Georgia big man Yante Maten to an early-game knee injury.
"I had two points like (35) minutes into the game," Fox said. "I think we ran something, I got a bucket, and then I realized the plays they were calling they wanted to keep the ball in my hands, so I was like, even though I haven't been playing well in this game I have to do something. I just made plays in the big moments. I think that's what people are going to look at with this game."
Fox saved his best for the final 90 seconds.
After Frazier had given Georgia a 73-71 lead, Fox had another driving layup to tie with 1:12 left, which Frazier again answered. Next up, Fox created three straight foul-shooting opportunities and hit all six free throws. 
"Fox did a great job penetrating," said Derek Willis, who delivered in his own way with seven points and 12 rebounds. "I mean, he did a lot of things that factored in the game. I think with the ball screens we set for him it was just like an open lane for him. I was open too. He had every option and he played well. He played great."
So, to recap, Fox scored 14 of his 16 points in the final five minutes. To make that even more impressive, Fox rebounded from back-to-back missed free throws with the Cats down two with 7:15 left to do it.
"I like the fact that De'Aaron missed two free throws and then came back and made eight in a row," Calipari said.
Calipari talked postgame about missed free throws leading to more missed free throws, so it speaks to Fox's mental toughness that he was able to recover.
"After that, I stepped up with confidence even when the crowd was getting loud," Fox said. "That kind of plays into the part where he says I'm so nonchalant and things like that. I'm not listening to the crowd. All that is, is me and the goal and I don't hear any of that."