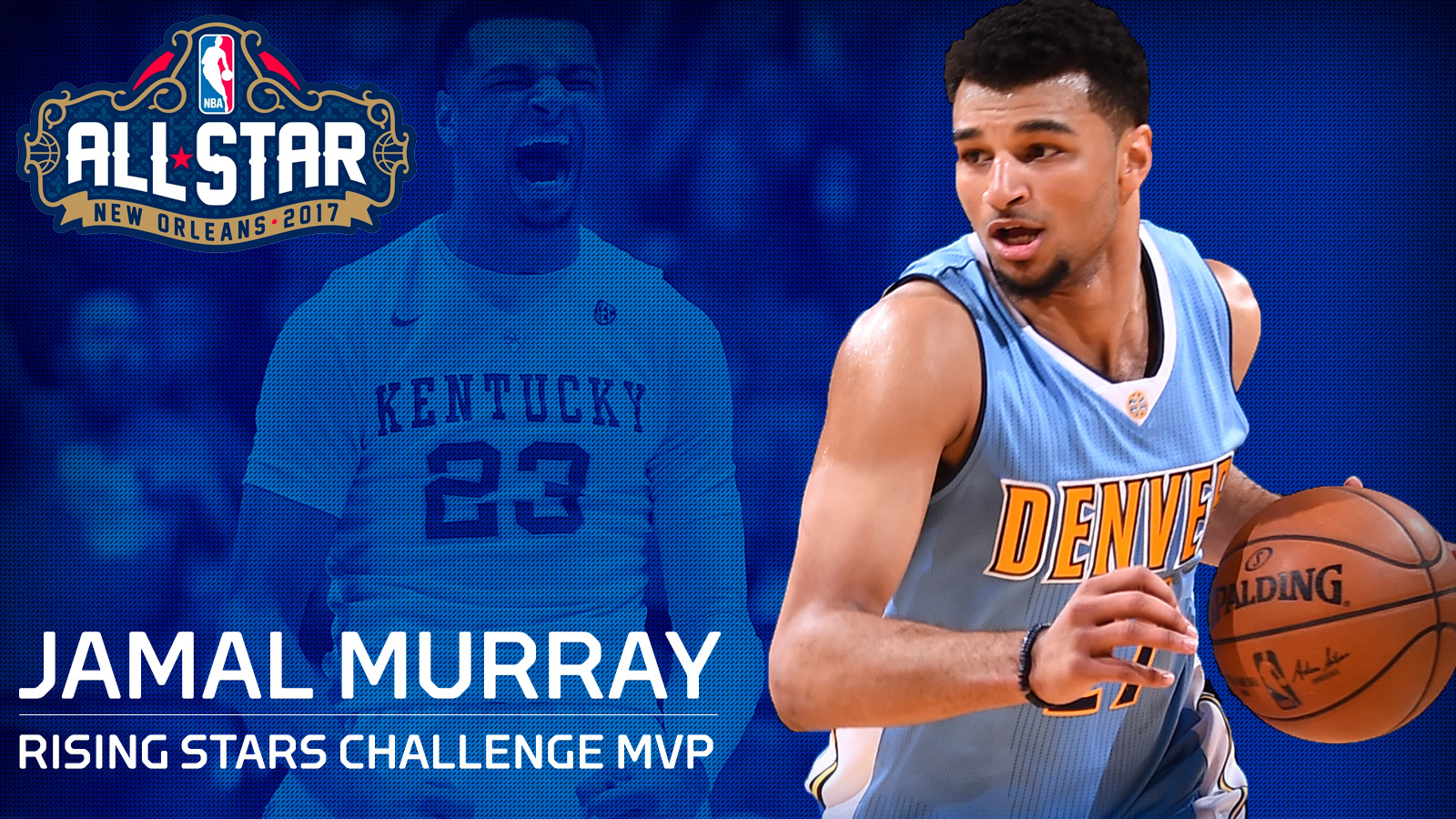 February 17, 2017 - 11:44 PM
Murray Wins MVP of Rising Stars Challenge to Kick Off All-Star Weekend
Game Info: 
Box Score, Video Highlights
NEW ORLEANS – If there's one thing Kentucky fans learned from Jamal Murray's one year in Lexington, it's that he can score. Well, the legion of NBA fans that watched Friday night's BBVA Rising Stars Challenge know that now as well. 
Murray went off for a game-high 36 points en route to winning Most Valuable Player honors to kick off NBA All-Star Weekend for nine former Wildcats in style. 
Murray's 36 points were the fourth-most points scored in the Rising Stars Challenge by any player in the game's history. 
Murray was 13 of 19 from the field, including going 9 of 14 from behind the arc in just 20 minutes. He also contributed 11 assists, four rebounds and a steal. Murray did most of his damage after halftime in helping the World Team down Team USA, 150-134.
UK's former All-American scored 27 points after the break, including a stretch where he knocked down nine points over a 1:25 minute span of game clock. The run, which was capped by a traditional and-one, lifted the World to a comfortable 133-112 advantage. 
Murray was one of four Wildcats to take part in the Rising Stars Challenge. He was joined on the World Team by Trey Lyles. Karl-Anthony Towns and Devin Booker highlighted Team USA. 
Lyles had seven points, two assists and a rebound. Towns, the 2016 NBA Rookie of the Year, posted 24 points, 11 rebounds and a pair of assists. Booker contributed 17 points and six assists.
The star of the night was Murray, who showcased his natural shooting ability and crafty playmaking skills. 
The 6-foot-4 guard was one of the nation's best scorers in his lone season with the Wildcats in 2015-16. He averaged 20.0 points per game, which was the highest individual scoring average at Kentucky in the John Calipari era. He earned a plethora of postseason accolades, including Associated Press Third Team All-America honors as well as All-Southeastern Conference First Team recognition by both the AP and the league's coaches. He was tabbed a freshman All-American by Sporting News and the U.S. Basketball Writers Association.
With 720 points a season ago, he owns the school's freshman single-season scoring record, surpassing Brandon Knight (657 points in 2010-11). That mark is also good for eighth all-time among all players in UK history. 
He was drafted seventh overall by the Denver Nuggets in June. Prior to the All-Star break he had scored in double figures in eight of the last 11 games. Murray is averaging 8.9 points, 2.5 rebounds, 1.8 assists in 19.9 minutes of action in his first season in the Mile High City. 
Murray's MVP honor is just the beginning to what is sure to be a fun-filled weekend for Kentucky fans. Saturday's slate of activity includes the NBA D-League All-Star Game and the Taco Bell Skills Challenge which is made up of 50 percent of the field having been former Wildcats. 
NBA All-Star Weekend Events 
Saturday, Feb. 18
NBA D-League All-Star Game (2:30 p.m. ET | NBA TV) – Johnson, Poythress
Taco Bell Skills Challenge (8 p.m. ET | TNT) – Booker, Cousins, Davis, Wall
Sunday, Feb. 19
NBA All-Star Game (8 p.m. ET | TNT) – Cousins, Davis, Wall