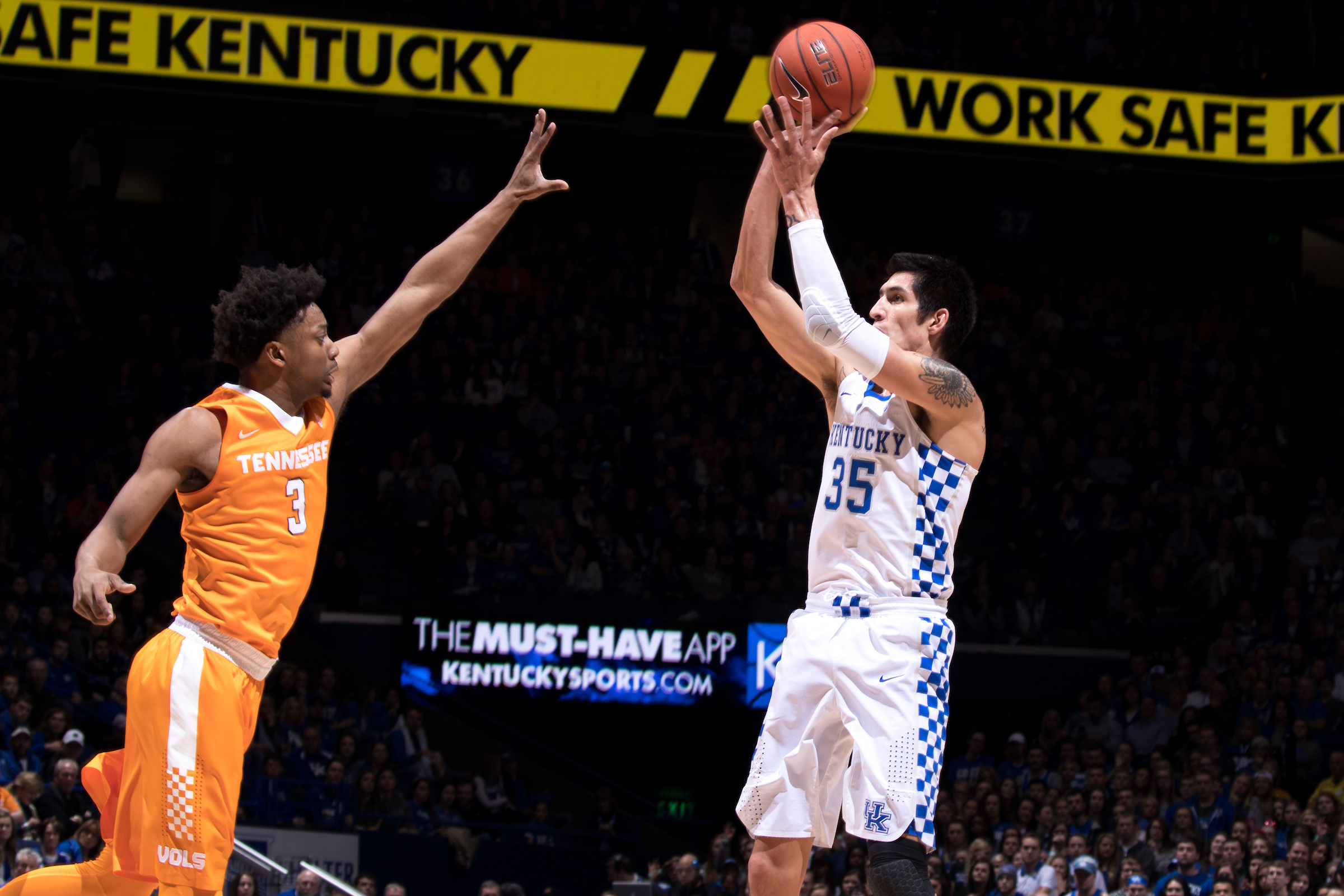 February 17, 2017 - 04:54 PM
Calipari Looking for More Consistency out of the 4
It's been an up-and-down ride for Kentucky's four men all season, so head coach John Calipari is pitting them against each other in practice to see if that can bring about more consistency.
The idea began during Kentucky's highly publicized reboot, and after three games the results have once again been mixed.
"We have good games and bad games," freshman forward Wenyen Gabriel said of he and teammate Derek Willis' play at the four. "We're just trying to figure out how to be more consistent. That's one of the main things we've been working on."
The good news for Calipari is that Gabriel starred in one of three games in the reboot and Willis in another. It wasn't long ago that Coach Cal was just looking for one of the two 6-foot-9 forwards to emerge.
Against Georgia on Jan. 31, Gabriel and Willis combined for 10 points and 11 rebounds. One game later, at Florida, they combined for seven points and 10 rebounds.
"There's a lot of things we have to deal with, but we can't have a bunch of guys – right now the four position is back to where it was at the beginning of the year," Calipari said after the loss to the Gators. "We have to get that guy back."
One game later, the first game of the reboot, Gabriel scored a season-high 23 points on 7-of-11 shooting and grabbed eight rebounds against LSU. Most recently, Willis knocked down four 3-pointers against Tennessee, finished with 16 points and was called the key to the game by Vols head coach Rick Barnes.
"One thing we did, we go back to our game at Knoxville, (Willis) and Gabriel were nonfactors and we talked about it all week," Barnes said. "That's what we can't allow happen and we let it happen. Give them credit."
Gabriel has knocked down 14 of his 32 3-pointers this season in Southeastern Conference action, and is tied for second on the team in rebounding against SEC foes. As a freshman, Gabriel's ups and downs have been a little more understandable in that he doesn't have the experience of Willis. Perhaps that's why over the past three games Gabriel has seen his playing time fluctuate from as many as 31 minutes against LSU, a season high, to 10 against Tennessee, a season low.
By pitting the two fours against each other in practice, Calipari's message is being received loud and clear.
"It brings out more of our competitive spirit," Gabriel said. "Going against him, we know that we sub in for each other. Kind of earn your playing time during practice."
In Willis, Calipari has a fourth-year player who emerged as a starter last season. His minutes have also fluctuated this season, but as a senior Coach Cal seems to know what he's getting from the Kentucky native far more quickly.
"(Willis is) a guy that you put in and if he's really on, you leave him in there. And if he's really not, you'll know right away and you're out," Calipari said Friday. "Like yesterday, he did some stuff and I'm like, 'You can't do this to your team. They have to know that they can count on you. You cannot do what you're doing right here.' And so, sometimes he goes in and out. You know, I'd like him to be more consistent but at some point you gotta say, 'Here's who he is.'  Now, how do we do this? How do we get the best out of him being this is who he is?"
Kentucky's reboot enters game No. 4 Saturday with a road game at Georgia (15-11, 6-7 SEC) in Stegeman Coliseum (6 p.m. on ESPN). The Wildcats were able to come out with a 90-81 overtime victory in Rupp Arena over the Bulldogs on Jan. 31, thanks in part to a game-high 37 points from Malik Monk.
The No. 13/11 Wildcats (21-5, 11-2 SEC) have gotten progressively better during the reboot but there's still plenty of work to do, as Calipari has so often said. One of the keys for Kentucky to reach its peak could be for both Gabriel and Willis to click at the same time.
"It motivates me, but I love to see my teammate do good," Gabriel said of Willis' big game against Tennessee. "It was his game that game, but I still think that's my position as well. It'll be great if we both play good the same game."