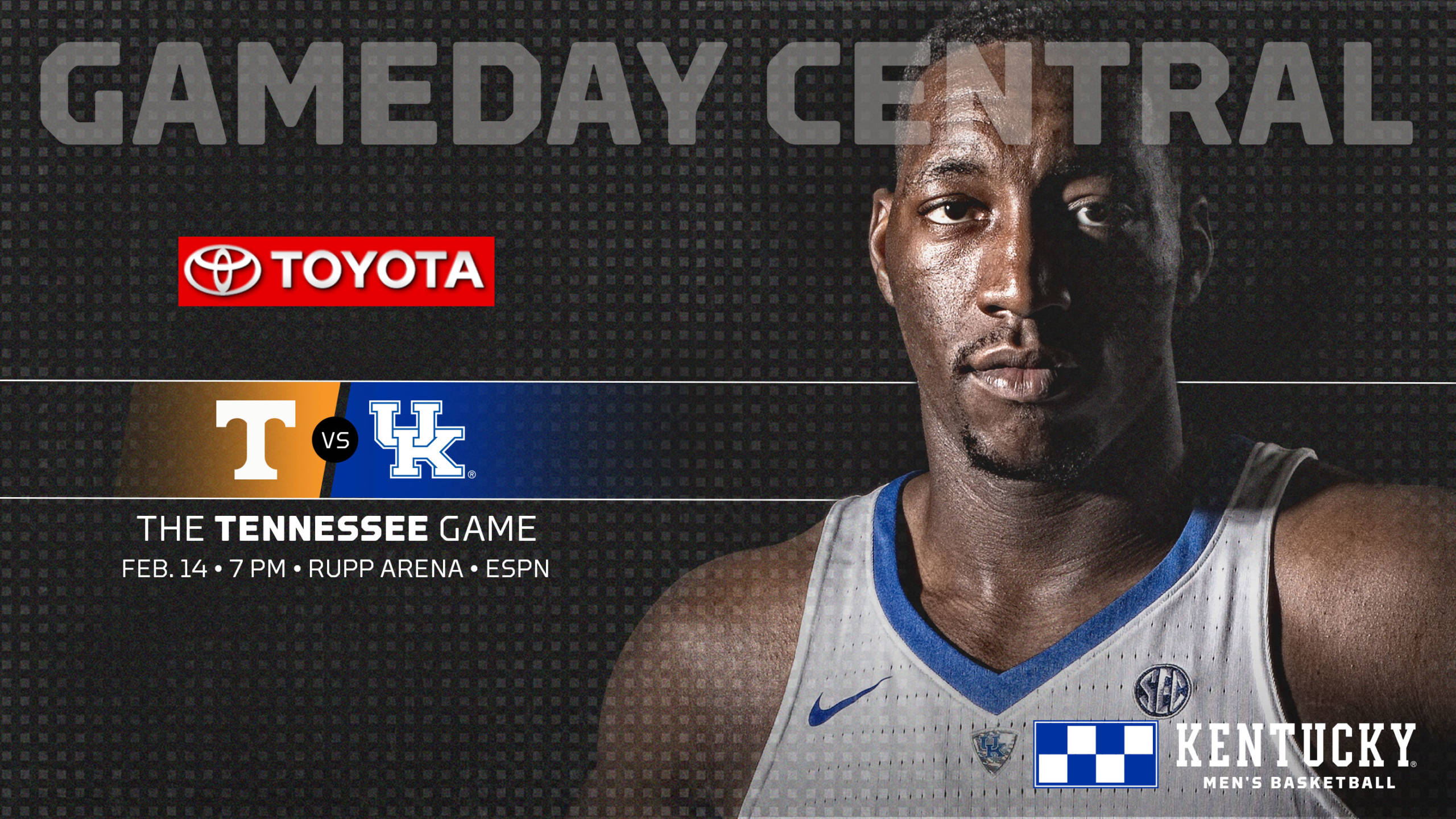 February 13, 2017 - 08:40 PM
Kentucky Looks to Avenge Loss to Tennessee
Kentucky was riding high. It had lost just two games all season and everything seemed to be working. Then, on Jan. 24, it got a harsh dose of reality.
Kentucky vs. Tennessee

Tue., Feb. 14 – 7 p.m. ET
Rupp Arena
Lexington, Ky.
Game Notes: UK | UT
Gameday App

Coverage

TV: ESPN
Radio: UK Sports Network
Watch ESPN
Live Audio
Live Stats
Digital Gameday Guide
Text Updates

UK
2016-17 Team Stats
UT
20-5
Record
14-11
10-2
Conference Record
6-6
89.3
PPG
77.0
73.7
Opp PPG
73.1
.485
FG%
.440
.430
Opp FG%
.380
40.3
RPG
38.0
.353
3PT FG%
.340
.320
Opp 3PT FG%
.345
.689
FT%
.718
16.8
APG
14.7
6.4
SPG
5.8
5.8
BPG
4.7
Then-No. 4/4 Kentucky was coming off a 16-point win over South Carolina despite only getting eight minutes from starting point guard De'Aaron Fox, who had gone down with an ankle injury. The Wildcats were getting set to take on a young Tennessee team that was just 3-4 in Southeastern Conference action.
Kentucky proceeded to commit 14 turnovers, shoot less than 50 percent for the first time all season in SEC play and give up 42 points in the paint despite the Volunteers having just two healthy players standing 6-foot-7 or taller.
"I told them after: You'll continue to lose," head coach John Calipari said following UK's loss in Knoxville, Tennessee. "I've done this 30 years. You cannot do the stuff they're doing and win basketball games."
He was right. Kentucky lost two of its next three games, including a 22-point shellacking at Florida in which it was outrebounded by 25, the most ever in the Calipari era. The Wildcats' one win was at home against Georgia in a game where Malik Monk had to hit a game-tying jumper to send it to overtime and finished with 37 points, the second-highest total by a freshman in school history.
The four-game stretch prompted Calipari to give the team a day off so he and the staff could crack down on just what was going on with the team. What transpired was a "reboot" to try to get the team back to where it once was.
Two games later, the Wildcats (20-5, 10-2 SEC) have won games against LSU and Alabama. There is plenty of work still to be done, but the reboot appears to be off to a positive start.
"I feel like we're getting closer and closer every day to being able to fight for 40 minutes," senior guard Mychal Mulder said. "Right now, if you watched the last game, I think we're probably at about 30 (minutes). Games before that, maybe 25 (minutes)."
Fighting, figuratively speaking, is one of the keys to the reboot. Other areas of emphasis appear to be more ball movement, especially in half-court sets, and a commitment to defense and rebounding.
In the first game against Tennessee, Kentucky struggled with shot selection and creativity on offense. The Wildcats quickly took ill-advised 3-pointers (24 total) despite freshman forward Bam Adebayo dominating the undersized Vols in the paint.
Adebayo scored 21 points in the two teams' first meeting, his second-highest total of the season, on 7-of-8 shooting. At one point in the game, he walked over to Calipari and said simply, "You may want to tell them to throw me the ball."
"We've been working on, obviously, scoring through our offense and not just rushing a shot and stuff like that," sophomore forward Isaac Humphries said. "So, I think that was a big thing in the Tennessee game a couple weeks ago. We were just kind of taking shots and not running our offense and not getting shots through the offense. We've obviously been practicing that so it should be a lot better."
Defensively, No. 13/11 Kentucky couldn't get a stop in crucial situations to get over the proverbial hump during its second-half comeback bid. The Vols shot 53.3 percent over the final 20 minutes, outscored the Cats by 14 in the paint despite their lack of size, and lost the rebounding battle by just one.
"Pick-and-roll defense is something that we have to figure out and we've been working on that a lot over the past week," Humphries said. "And rebounding. Offensive rebounding, defensive rebounding."
Tennessee (14-11, 6-6 SEC), after starting the conference slate 1-3, has won five of its past eight SEC games, and also defeated Kansas State by 12 in the annual SEC/Big 12 Challenge. Most recently, the Vols lost a heartbreaker at home to Georgia in which it led by 14 points with just over 15 minutes to play.
"Well, they're good," Calipari said. "I watched the Georgia game. They should've won that game, too. They're running their stuff, they're a matchup problem for everybody. Rick (Barnes) has doing an unbelievable job, which he always does, getting his teams ready to battle and play. Whether you play him man or zone he's got a good answer."
Barnes said he expects Kentucky to run some different things on Tuesday (7 p.m. on ESPN), and noted how the circumstances in this game are entirely different. On Jan. 24, Tennessee was coming off a 15-point win over Mississippi State and hosting UK. Now, the Volunteers are coming off a loss to Georgia and are headed to venerable Rupp Arena.
Kentucky is hoping the different circumstances, plus its continued work in the reboot, is enough to avenge its first conference loss and keep pace with Florida and South Carolina in the SEC race.
"That was a moment of growth for us, I feel like," Mulder said of the Tennessee loss. "Something we learned from and some experience for us. I feel like we're ready this time around."
Wildcats Grind Out Defensive Victory at Alabama
Kentucky went from a shootout to a defensive grinder this week and won both ways. Isaiah Briscoe had 11 points, 11 rebounds and four assists to help Kentucky weather one of its lowest scoring outputs and beat Alabama 67-58 on Saturday.
The Wildcats (20-5, 10-2 Southeastern Conference), fresh off a 92-85 shootout win over LSU, found a way to win at a much different tempo after dropping three of their last five games. Malik Monk added 17 points against the Crimson Tide (14-10, 7-5 SEC), who were coming off a quadruple-overtime road upset of No. 19 South Carolina.
Monk's free throws in the final seconds put Kentucky above its season low of 66 points in a loss to No. 17 Florida a week earlier. The Wildcats came in ranked third nationally in scoring at 90.2 points a game.
Bam Adebayo scored 14 points before fouling out with 6:02 left and Kentucky leading 50-39. Briscoe scored nine points after the half, including key baskets down the stretch.
Briscoe answered with baskets the first two times Alabama closed within seven points in the final minutes. The third time, the Wildcats took over after Braxton Key's basket with 1:05 left cut it to 57-51.
Derek Willis buried a 3-pointer, Monk made a layup and De'Aaron Fox punctuated the decisive swing with a dunk.
The Wildcats held Alabama without a field goal the final four minutes of the first half and carried that dominance back from the locker room, too. Kentucky pushed its run to 20-5 and its lead to 18 points early in the second half.
Additional notes:
• The victory was UK's 20th win of the season. Kentucky has won at least 20 games for nine straight seasons, eight of which have come under the direction of John Calipari. It was Calipari's 23rd consecutive 20-win season, more than any other active coach
• UK has won seven in a row in the series
• Monk's 3-pointer from the right wing at the 15:26 mark in the first half extended UK's streak of consecutive games with a triple to 1,000. The Wildcats just beat UNLV by a few hours to become the first school to 1,000
• UK held Alabama to 20 points in the first half, the fewest points in any half this season
• The Wildcats improved to 140-5 when limiting the opponent to 63 points or less under Calipari
• Monk has scored in double figures in all 25 games this season
• Kentucky held Alabama to 58 points, tying Texas A&M for the second fewest by a UK opponent this season
• It was Briscoe's fourth double-double of the season and sixth of his career. It was UK's first double-double at Coleman Coliseum since Perry Stevenson recorded 16 points and 12 rebounds on Jan. 24, 2009
• Kentucky has held Alabama to 61 points or less in eight straight games
Three is Better Than Two … 1,000 Times
Kentucky and UNLV have gone back and forth all season long for the claim of having the longest active streak of consecutive games with a made 3-pointer. Fittingly, both schools reached a historic milestone — 1,000 straight games — within a few hours of each other.
UK just beat out the Runnin' Rebels by mere hours, becoming the first school ever to hit a 3-pointer in 1,000 straight games with a trey at Alabama on Feb. 11. Freshman guard Malik Monk, fittingly UK's leader in 3-point field goals this season, got the Wildcats to 1,000 straight games with a 3-pointer from the right wing with 15:26 to go in the first half. UNLV would match it later in the day.
The Wildcats record during the 1,000-game streak with a made 3-pointer is 771-229.
Kentucky passed UNLV for the nation's longest active streak of consecutive games with a made 3-pointer in its final game of 2015-16.
With UNLV having played one more game than UK this season, the two are tied for the national lead (through games on Feb. 11).
The Cats' last game without a made 3-pointer came against Seton Hall on Nov. 26, 1988 a "three-point" loss in the Great Alaska Shootout. The streak began on Nov. 28, 1998, in an 89-71 win vs. California.
Calipari Notches 23rd Consecutive 20-Win Season
With a road win at Alabama, Kentucky secured its 20th win of the season, its eighth straight 20-win season under John Calipari. Calipari as a collegiate head coach has posted 23 consecutive seasons of 20 or more on-court wins. He leads all active coaches with that streak, ahead of Mike Krzyzewski of Duke (21), Bill Self (19) and Jim Boeheim (17).
More impressive, Calipari has nine seasons with 30 or more on-court wins. Only Mike Krzyzewski (13) and Roy Williams (10) have more. Calipari is the first coach in NCAA Division I history to record five straight on-court 30-win seasons, notching 30 straight in consecutive seasons from 2005-06 to 2009-10.