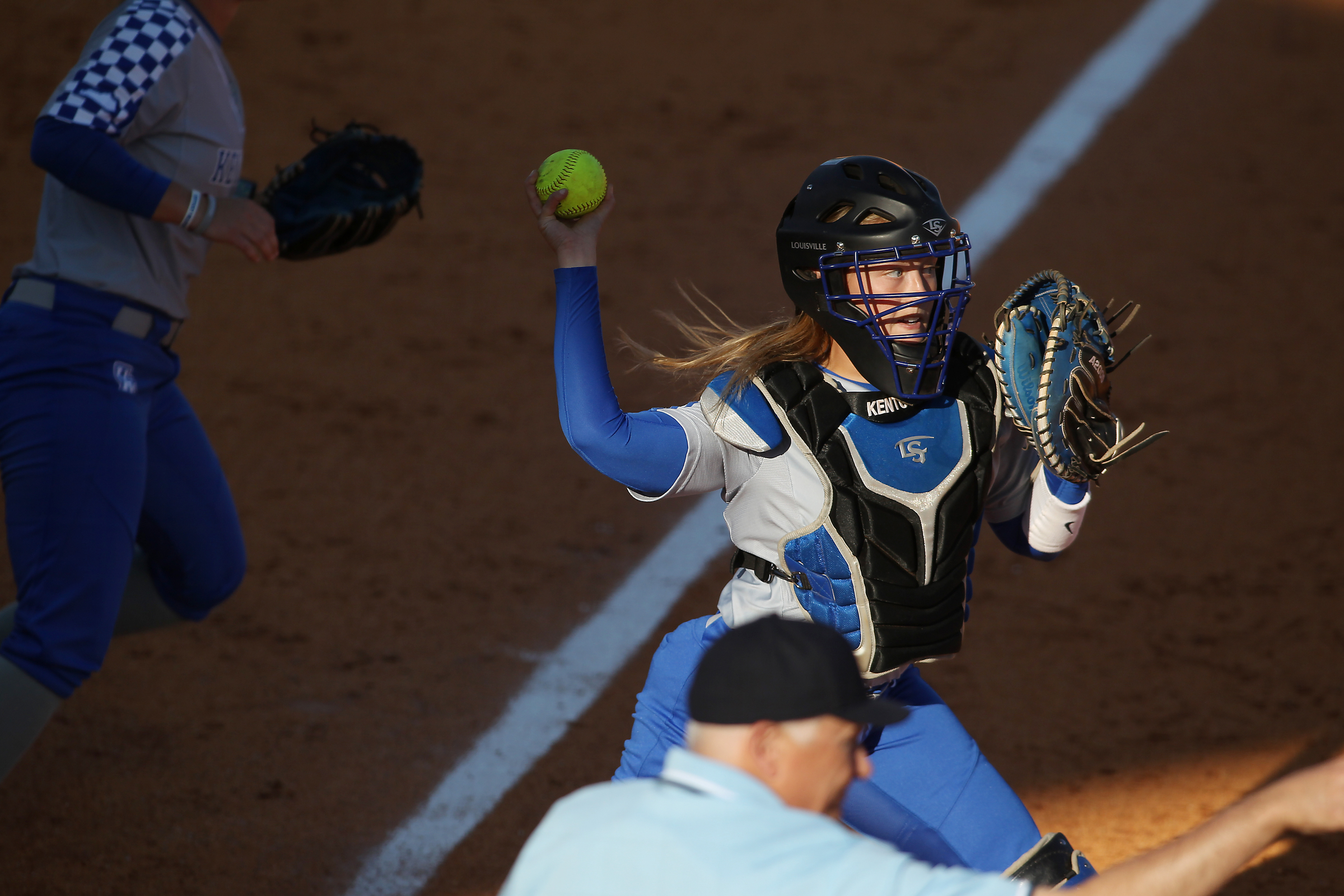 **UPDATE** – UK and UCLA will now play a doubleheader on Wednesday beginning at 7:30 p.m. ET and game two directly after.**
LEXINGTON, Ky. – After wrapping up the opening weekend of the 2017 season on a two-game winning streak – the No. 20 Kentucky softball team will jump right back into action beginning its west-coast swing Wednesday night, traveling west to face the No. 8 UCLA Bruins in Westwood, California in a 10 p.m. ET game. 
The game can be heard through a live audio broadcast on UCLABruins.com – and can be followed through live stats on the same site. In addition, fans can follow @UKSoftball on Twitter and Instagram for updates throughout the game. 
Wednesday's matchup is the first of five games in a row for the Wildcats on the pacific coast. UK will participate in the Mary Nutter Collegiate Classic over the weekend, facing UCLA for a second time, No. 6 Oregon, UC-Davis and Cal State Northridge in Palm Springs. All of these games are part of UK's 18-game road trip to open the 2017 season. 
Kentucky finished opening weekend with a 3-2 record at the Central Florida Knights Invitational down in Orlando. UK got two wins over Florida A&M University to bookend the tournament – with a 6-3 win over the host Knights sprinkled in. The Wildcats got starts from four different pitchers in the circle over the weekend with the highlight coming as a 6.2 inning gem from freshman Larissa Spellman on Sunday morning – in which she was perfect through four innings and faced the minimum through five innings. 
Senior Meagan Prince then came on to get the save, her first of the season, just 12 hours after picking up her first win of the season over UCF in UK's second game on Saturday.
UK had a lot of young talent in the lineups over the weekend that had major contributions including freshman Bailey Vick. The Kentucky native (Paducah) had five hits, scored one run and stole two bases with her lightning speed. In addition, freshman Kierston Moore belted a three-run home run over UCF to score the eventual game-winning runs – and freshman Alex Martens started every game at second base for the Wildcats. Martens began her career with a bang on Friday morning, blasting a walk-off two-run home run in the bottom of the seventh in the first game of the season to give UK a 4-2 win over Florida A&M after the Wildcats entered the inning trailing by a run. 
Kentucky as a team is hitting over .300 through the opening weekend, and jacked six home runs in the first five games, getting long balls from Moore, Martens, Jenny Schaper, Abbey Cheek and Rachael Metzger. 
In the circle, Larissa Spellman leads UK with a 0.00 ERA in her four appearances, with Meagan Prince sitting at 1-1 on the season in her two starts. She also has a save. Shannon Smith, who got the start and win on Opening Day, has 13 strikeouts in her 7.2 innings of work and has allowed just five hits on the season. 
The UCLA Bruins enter Wednesday's matchup in Westwood 5-0 on the season, after winning the Stacy Winsberg Memorial Tournament over the weekend. The Bruins picked up wins over South Dakota, San Diego State, Weber State (twice) and No. 22 Notre Dame on their way to a 5-0 weekend. The Bruins put up 48 runs in those five games, including 22 in a single game against Weber State. 
UCLA pitching did not allow more than one run in any of the five games. Delaney Spaulding leads the UCLA offense, hitting .706 through opening weekend with 12 hits, eight runs, two homers and six RBIs. The Bruins pitching staff had three players earn a start, and currently have two pitchers, Rachel Garcia and Paige McDuffey, who are sporting a 0.00 ERA. 
GAME CENTER
No. 20 Kentucky at No. 8 UCLA
10 p.m. ET – Easton Stadium – Los Angeles
For the latest on the Kentucky softball team, follow @UKSoftball on Twitter, Instagram and Facebook, as well as on the web at UKathletics.com.