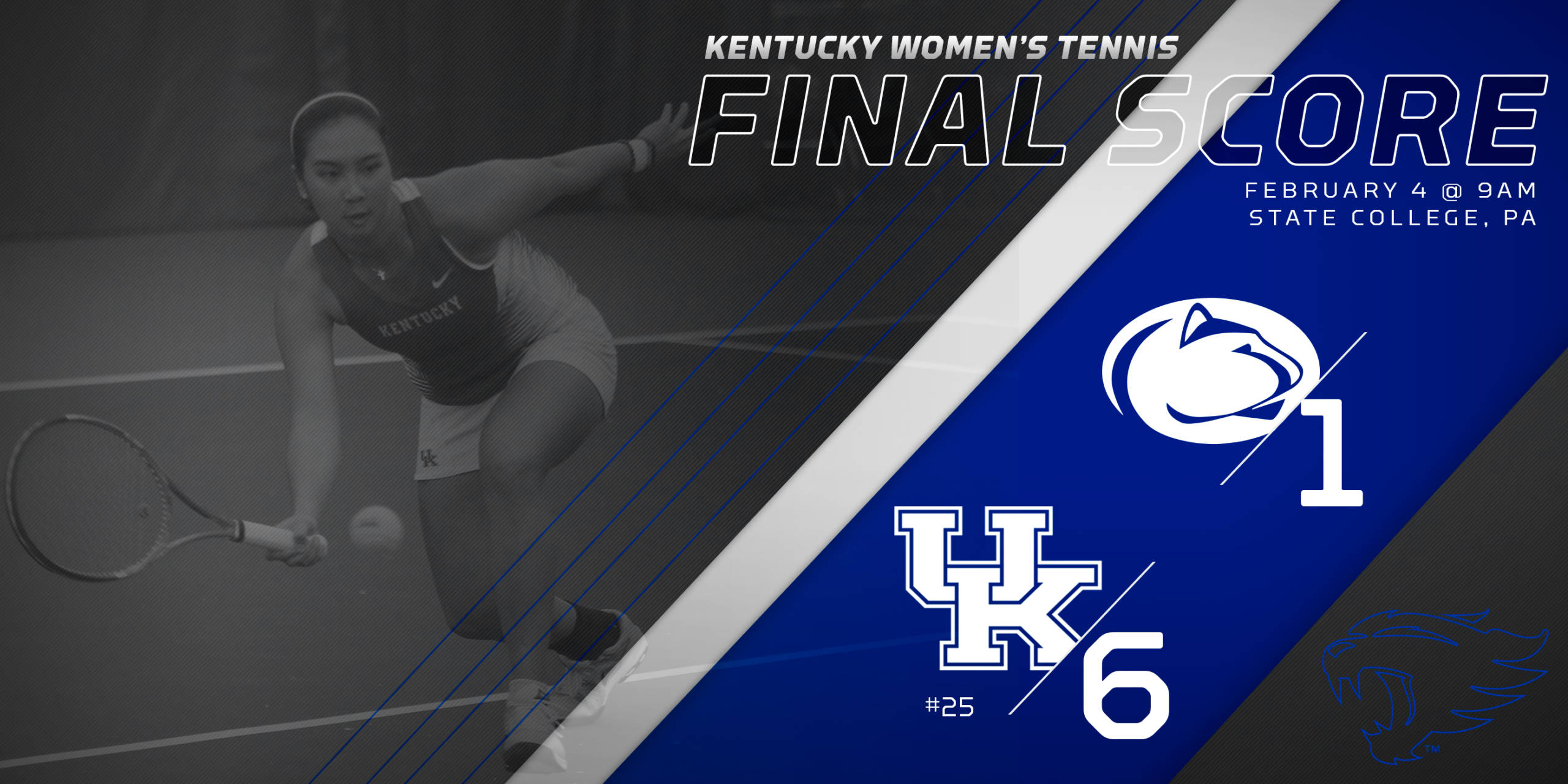 February 4, 2017 - 03:02 PM
Kentucky Downs Penn State, 6-1
UNIVERSITY PARK, Pa. – The No. 25 Kentucky women's tennis team improved to 5-1 on the season with its 6-1 defeat of Penn State on Saturday afternoon. The Nittany Lions dropped to 2-3 overall.
The Wildcats got off on the right foot, taking the doubles point with a pair of wins on courts three and one. The No. 1-ranked pair of Aldila Sutjiadi and Mami Adachi were the first to see victory, posting a 6-4 victory over PSU's Katia Blik/Devan McCluskey. Sophomores Emily Fanning and Justina Mikulskyte teamed up to secure the point with a 6-3 win in No. 3 doubles.
Penn State evened the score at 1-1 as Sutjiadi was defeated in No. 1 singles, but Mikulskyte would put the Wildcats on top again downing Penn State's Dasha Sapogova in straight sets on court four. Kentucky did not drop another match from there out.
To put UK up 3-1, No. 74 Paražinskaite posted a 6-4, 6-4 triumph on court two. To seal the victory, Adachi earned a hard-fought win over Jacqueline Zuhse in three sets, after the first two sets went to tie breaks.
The Wildcats will be back in action Sunday, Feb. 19 when they travel to Bloomington, Indiana to take on IU at 11 a.m. ET.
#25 Kentucky 6, Penn State 1
Sarni Indoor Tennis Center – University Park, Pa.
Feb. 4, 2017
Doubles (Order of Finish: 3-1)
1 – No. 1 Aldila Sutjiadi/Mami Adachi (UK) def. Katia Blik/Devan McCluskey (PSU) 6-4
2 – Akvile Paražinskaite/Morgan Chumney (UK) def. Jacqueline Zuhse/Bennett Dunn (PSU) 5-4
3 – Emily Fanning/Justina Mikulskyte (UK) def. Samantha Smith/Shannon Hanley (PSU) 6-3
Singles (Order of Finish: 1-4-2-3-6-5)
1 – Katia Blik (PSU) def. No. 12 Aldila Sutjiadi (UK) 6-4, 6-3
2 – No. 74 Akvile Paražinskaite (UK) def. Devan McCluskey (PSU) 6-4, 6-4
3 – Mami Adachi (UK) def. Jacqueline Zuhse (PSU) 7-6 (4), 6-7 (6), 6-3
4 – Justina Mikulskyte (UK) def. Dasha Sapogova (PSU) 6-2, 7-6 (1)
5 – Emily Fanning (UK) def. Samantha Smith (PSU) 6-2, 5-7, 13-11
6 – Morgan Chumney (UK) def. Shannon Hanley (PSU) 6-2, 6-2