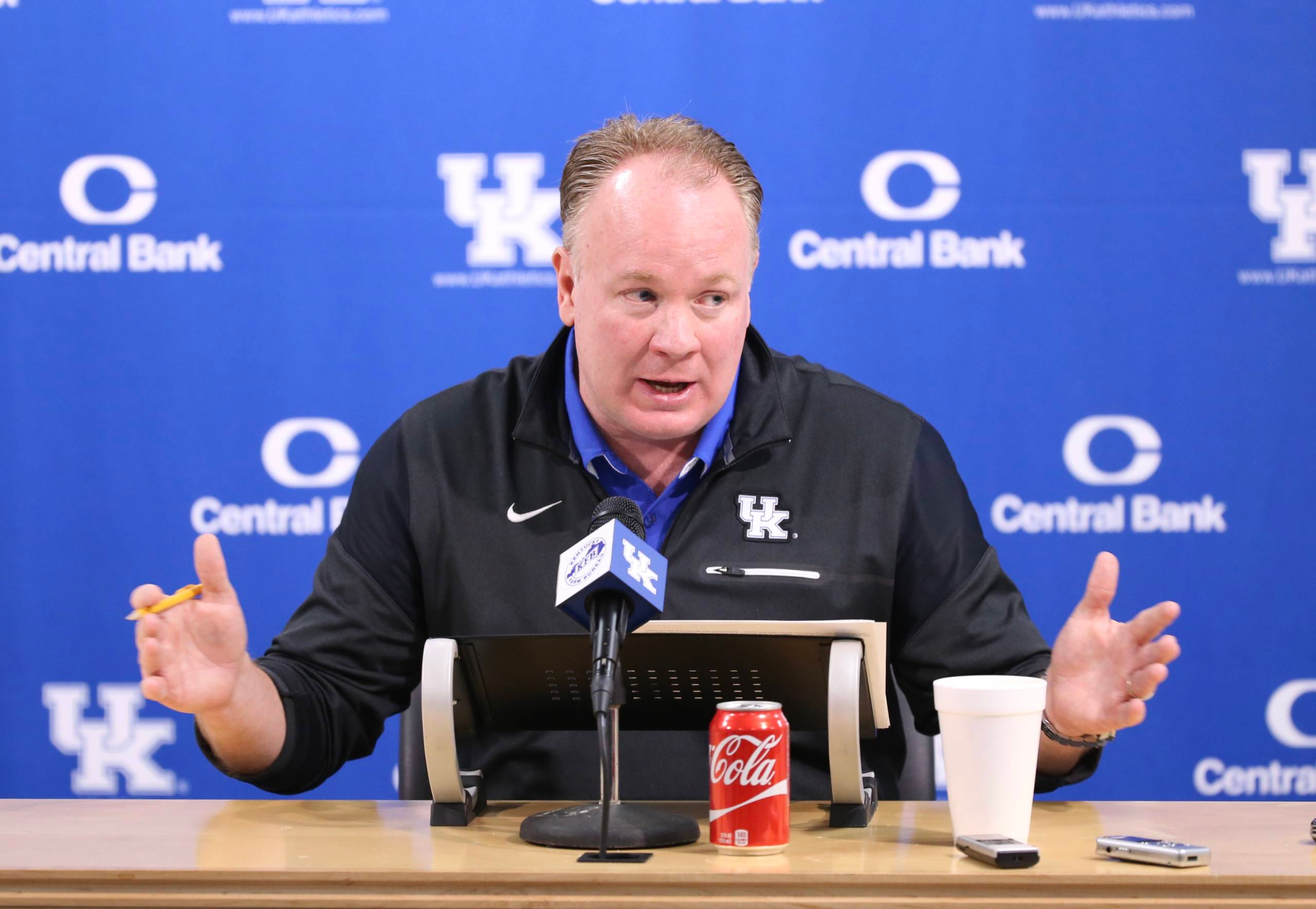 University of Kentucky Football Media Conference
Wednesday, February 1 2017
Mark Stoops
COACH STOOPS: I'd like to start by thanking our coaching staff. Our guys have logged a bunch of miles. So I appreciate their effort. It's a great group. The biggest thing about this class is a bunch of character, leaders and winners. It's a heck of a group. Very proud to have them. So I'll open it right up to questions.
Q. This year seems to be a surprise. I wonder if you're surprised that you didn't lose a senior. How hard is that?
COACH STOOPS: It's very hard. I think that's the big thing about this group. They're winners. They got great character. We didn't lose one guy since the start of the season, not one player. And that's a special group.
Q. Talk about Abule a little bit.
COACH STOOPS: Well, he was the last commitment. I could remember back to my days at Florida State with Coach Jimbo Fisher, and he always talked about, you know, it's one thing about your top-end guys or the guys that were committed and the guys that were at the top of the stars and all that, but you're signing a group of 24 players, and he really made a big impact on myself and a big emphasis on this. It's not so much about the top of that class. It's not so much about the one, two, three, four guys that everybody likes to talk about. It's about the guys at the end that you sign.
If you look at our guys through the years, we've had some great success with adding some players late and doing some proper evaluation. Again, with our staff, they do a phenomenal job of identifying players very early, and that's been the key to our success is identifying the right guys early, staying on them and building that relationship. But it's also about finishing and closing. And a guy like Abule was a very strong finish for us. He's a guy that kind of blew up a little bit late, got an offer by us, got an offer by Florida late in the process was recruited by a lot of other mid-level schools, and Abule is a terrific young man with unbelievable upside.
When you look at a guy like that that you get committed late in the process who's all of 6-5, 6-6, 250 pounds, with unbelievable upside, that's what you're looking for. And again, I look back to my lessons from Jimbo and making sure you're getting the right guy at that 22, 23, 24 slot because that can make all the difference in your program as you move forward. So very proud of Abule. Unbelievable story, one believable young man. Great student. He'll be a great addition to our program.
Q. Would you say it's by far the best class when it comes to athletes?
COACH STOOPS: I'd say it's by far best class, period, but by athletes as well. I just feel so good about this class top to bottom. The biggest thing, and I may be a bit redundant when I talk about this, but it is about their character, about their leadership. You look at these guys and a bunch of these guys are captains on their football team, they're very, very good students. They're competitors, they're winners. You just look at the two quarterbacks that we have in this class, and if I'm talking about one, I'm talking about both of them. They are unbelievable leaders. They're winners, they're competitors and you could say that about the whole group.
Q. Did you have a Benny Snell in this class?
COACH STOOPS: I don't know, because we have to wait and see, right? A year ago we didn't know what we had in Benny. We knew the characteristics that we identified, about him being a tough, strong competitor, a guy that we had confidence that would make our running back room better, a guy that was very mature, and that's what he is. Bu he also produced maybe a little bit more than we realized as well.
Q. I know you had said earlier today that you believed the class was done. Is there any update on if this is the finished class and when did you know?
COACH STOOPS: This is our class. Yes, it is.
Q. Did you know last night that this was pretty much the class?
COACH STOOPS: I did.
Q. You've made your money out of Ohio.
COACH STOOPS: Yeah. I believe we touched on eight states, and with eight players out of Florida. The big thing was this. We know we're going to start inside out always. We're going to recruit our tail off in Kentucky and in our hometown. We're going to start there and we're going to branch out from there. We do consider Ohio and certainly Southern Ohio as kind of home base for us. We've done very well. It's very close in proximity. We have strong relationships there. We're going to continue to do that. But we had to branch out. That was part of the plan with some of the coaches I hired a year ago, and Big Vince (Marrow), I think, is going to come in here in a minute, and he deserves a lot of credit as the recruiting coordinator. He's always done a great job. But you also have to credit our entire coaching staff. We really do this as a group, and I really feel very good. You've got to give a shot out to Eddie Gran as well. I wanted to get back South Florida, Florida in general, but I wanted to get some players out of South Florida, and Eddie has such strong relationships down there and did a phenomenal job. But also touching on the six other states that we did, that's kind of what we've been doing, and it was nice to see us have a lot of variety there.
Q. How many of the guys that you got in December and January, do you think those were because of the success you had on the field this year?
COACH STOOPS: I think we had a strong nucleus of players. Again, if you look at these guys, and that's what I love about this group. As I went into their homes, I said it every time I was in there, what a joy they were to recruit. The prospects and their families and getting to know them, they've been so loyal to us. And many of them have been committed to us for a long time. Many of them could go to plenty of our quality schools, and people coming at them left and right. A lot of it doesn't get publicized, but they just dismiss them quick, so it doesn't get a lot of traction. These guys could have gone a lot of places, and so they've been very solid with us. And then we got some additions in December following the Louisville game. Like I said, it certainly doesn't hurt us. I think our staff had strong relationships. We are doing very good. And I guess you could say that. I mean we certainly haven't lost anybody. And so that's a good thing, so it certainly doesn't hurt.
Q. Paschal and Wright, outside linebackers, what do you like about their versatility?
COACH STOOPS: I see them both outside backers. Josh is a guy that definitely can play more positions, and you'll see how his body grows, but I'd like to start him in a role like a Bud Dupree and play him standing up. But much like Bud, when we went in our four-down stuff, Bud was on an edge and put his hand down and was a great pass rusher as well, but he has great versatility. You see that now in the NFL with Bud as well.
And Josh is the same way. He has the ability to drop, but he has exceptional bursts in pass-rushing ability, so he's very versatile. And Alex is another guy that — or Jordan and Alex, they're both the same. They're both very long, very explosive, can rush the passer and are going to get bigger and stronger as we go. But all of those outside backers I'm very excited about.
Q. Several of the coaches in Ohio have said that Lynn is one of the most dynamic playmakers they've ever seen. What about him stands out so much?
COACH STOOPS: Lynn is exceptional with the ball in his hands. He's explosive. As you know, I grew up in the same hometown, and I can't tell you how many people would call and tell me that he's the best football player they've seen come out of that area in a long time. Now, I take great offense to that. (Laughs). But I guess I was a long, long time ago.
But no, he's just exceptional. He's just dynamic. He can play a lot of positions. What also makes him special is he's so comfortable taking the snap. As you all know, we've made some great headway with the Wildcat, and with a guy like that, he's comfortable with the ball. You can add a few wrinkles with a guy like that because he's good at some of the read schemes that are involved with the direct snapping and reading, whether it be the power read zone, read, just different plays where there's some options built in where we haven't had that luxury yet. Plus, he could throw it just enough. He's not going to be our quarterback or anything like that on a steady diet, but he can throw it enough to keep people honest, and that we can build off of, but he will play receiver. You may see him some in the back field at running back. He certainly could play anywhere on defense, but I think he's the type of guy where he changes the digits on the scoreboard, so you want to put the ball in his hands as many times as you can.
Q. You had wins, not facilities early on here. You started getting facilities but not wins. Now you have both. Has Kentucky ever had more to sell?
COACH STOOPS: I don't know. That's for you all to write. You've been here — some of you have been here longer than me. But I know I feel very good about what we have in place right now, starting with our coaching staff, the people in our building. We have quite a few very good young coaches. We have some great experience. We have quality facilities that we can compete against the very best.
If you remember, back at my very first press conference, I told everyone that we would recruit the very best players and recruit against the very best schools in the country. I think half of you laughed at me. But that's not going to stop. And we're not going to win them all, but we're going to win our fair share, and we're competing and we're fighting to get the very best players we can, and this group included. There's quite a few options that these players could have gone, and I'm happy they chose us.
Q. You guys made Jedrick say no to you. Is that part of it? You say you're not going to win them all, but just to never give up on those elite guys?
COACH STOOPS: Well, just anybody. Anybody that we recruit, it's our job to make it difficult for them to say no. To come to Kentucky, we're going to do our very best to recruit the best players that we think fit our system. And very, very happy about this group of these signees, the 24 guys we have that we added to our program are going to make us better. They're going to make the community happy. You're going to enjoy covering these guys and getting to know them. There's a bunch of quality young men in here, and again, it starts with the winning attitude, the leadership, the character that these guys have.
Q. How much did you enjoy evaluating DBs and recruiting defensive backs?
COACH STOOPS: I feel very good. I love recruiting defensive backs, and more importantly, I love developing them. So I think this is a great addition. I'm going to say we added five guys that can all play, that are all versatile, and I think they have big, big upside.
Q. I'm sure every year you look for character. Did you put any more emphasis on it this year or is that just kind of the way that it ended up falling?
COACH STOOPS: No. I think every time, as we build — as Kyle mentioned, as we build this program, as we win, as you see the product on the field getting better, as you see the facilities improving, and as you see our attendance increase and the excitement in our stadium, it all works together. As I also mentioned day one, is it's going to take a big commitment from a lot of people. And we always accept that. I accept my role to put a quality team out there that people want to come see. But as we do that, we need to fill this place, because let me tell you, the guys that came here late in the season and watched our Georgia game and see that environment, that's the environment that we have to play in front of every week, and that's what we're competing against.
You guys know, you travel around and go look at the other SEC schools, winning or losing they are packing them in.
Q. You see a lot about early signing period in the past. What do you think about the signing day proposal?
COACH STOOPS: We'll see what happens with it. I think, you know, one of the proposals that's out there right now, if they keep it the way it is — I don't think any of us were in favor of signing anybody in the summer prior to competing in their senior year. None of us are for that. I'm not for that. But if we can add something that looks like they may add something in December, I would be for that. It would clean up a lot and save us a lot of traveling. As I mentioned, I appreciate our staff and our families, our wives. These guys travel around the clock and around the country and spend an awful lot of time away from home, and some of it is just baby-sitting and it'll clear the air a little bit. So I don't see anything wrong with giving guys two options. If you want to get it out of the way and knock it out of the way in December, so be it. Like I just mentioned, every guy that we just signed — well, not every one of them was committed, but the ones that were committed from the first game of the year to the end, what's the harm in giving them the opportunity to sign early?
Q. I know at one point you thought this would be a pretty small class just because of the scholarships. What made you decide —
COACH STOOPS: Players. Too many good players out there. Too many good players. We had momentum. We had players. There's some attrition that's built in. And you know, that's going to happen. You've got to realize, we have never played at full strength since I've been here. It's like been self-imposed penalties. But we have not been at full strength. Next year I want to play with 85 guys on a scholarship, and we haven't had the luxury of doing that.
Q. You hear so much talk about high school kids have to focus on one sport only if they're going to be any good. But I see a lot of multi-sport players on this. How does that transform on the football field?
COACH STOOPS: Yeah, I think that says a lot about just athletes in general. We want athletic guys, we want versatile guys. I love the fact that these guys a lot of them — many of them play basketball. I was talking to Lynn. It was bright and early this morning. He was half asleep, but I think he said he had 33 last night on the basketball floor. He's just an athlete. Quite a few of these guys run track; they may play baseball, and I like that in a prospect.
Q. What is your favorite alternate sport for a guy?
COACH STOOPS: It's hard to beat basketball. I think a lot of guys — but the ball skills that are involved in baseball a lot of that translates as well. Anything. Soccer, baseball, basketball, whatever.
Q. How about linemen that wrestle?
COACH STOOPS: I do like wrestling. I do. So I've coached some guys through the years that were some very good players for us that were wrestlers. I don't know if there's a sport that challenges you more personally and more one on one than wrestling. That's a brutal sport. You know I went to Iowa. I was not a wrestler. In northeastern Ohio wrestling is big, but I didn't wrestle at all. We didn't have it at my school. But certainly at Iowa I was friends with some of those guys, and they're all a little bit nuts, but they're some very, very tough guys.
Q. Can you talk about the depth of the class, how deep it is? Talk about somebody we need to watch for.
COACH STOOPS: I was asked that earlier on the show. I think Sebastien Dolcine is a guy that's a little under the radar I think is going to be a very good football player. I think all the O-linemen. Austin is going to be the same way. Defensively, maybe a guy under the radar that doesn't get talked a lot about, maybe Chris Whittaker. A guy I have high expectations with is Lonnie Johnson is a guy that I think really has a chip on his shoulder, he's a good-looking, strong athlete. I think he can come in and help immediately. We talked about Lynn and Josh. I think those are obvious guys.
Q. Was does it say about Lonnie that he was able to persevere from that junior college? I mean he signed three times.
COACH STOOPS: Yeah. We knew Lonnie coming out of high school, and so we've known about him for a while and watched him for a while. It says a lot about him. And he is a special young man, and he's been through a lot, like many of these guys. And many of them have their own unique individual story that they've overcome quite a few things, and Lonnie's another one of those guys. And he has — just like he told you, he has an opportunity to hit the reset button, start over and do something special here at Kentucky, and I hope he does. I have high expectations for him.
Q. There's probably nobody on this list that has Austin Dotson's resumé —
COACH STOOPS: Four state championships. Yeah.
Q. Talk about watching him over the last couple of years?
COACH STOOPS: We've watched him and known him for a while. Great young man. I always get a smile when I talk about him because I just get a kick out of him, you know, Eastern Kentucky, you know, winning high school tradition. I really thoroughly enjoyed my home visit in him. I really — I don't know if I should say that or not, but I could tell you what grandma said to me within the first five minutes in the house, but I would embarrass myself more than I normally do.
Q. You gotta say it.
COACH STOOPS: So — well, we left the high school and we were driving up there, and he lives 30 minutes from the high school, very hard to get to. I'll just leave it at this. He took a lot of pleasure in spitting up all kind of dirt on Coach Schlarman's car (laughs). Just spun his tires out, got mud all over there. And Grandma, I guess I've got to say it. But I'm not in the house five minutes, and she's wonderful, gives me a big hug, very inviting and then she gets right into the bowl game. "What were y'all doing? You looked so stupid." (Laughs). I said, "hi, Grandma, I heard about you." (Laughs). Yeah. She made some great fried chicken, though. It was good.
Q. With promoting the defense, are you going to take a back seat again as you did last year?
COACH STOOPS: You know, I'll do what's necessary. We'll see what happens. I have confidence in Matt as I had confidence in D.J. (Eliot). D.J. did a great job for us and I appreciate all his hard work, and I have a lot of confidence in Matt, and our defensive staff, I'll hire a special teams, outside linebacker coach here relatively soon. And so no, I'll be heavily involved, just because I'm comfortable in doing that now, just where the program's at, and a lot of the fund raising, a lot of the things are done, and our roots are planted, and I feel good and I feel comfortable in the role. So I'll definitely continue to be as active as I can.
Q. What kind of feedback have you gotten from recruits over the years about where this program is headed and how much has that encouraged you about the direction you're going?
COACH STOOPS: You know, I'm very encouraged because I feel like we could go and compete and recruit anybody. That doesn't mean you're going to get them. There's a lot of schools that lose a lot of players. We're not the only ones. You get the ones you're supposed to, and I have a lot of confidence in that. I feel very, very good about this class, and like I said, I just feel like it's the best class top to bottom. That's no disrespect to the other guys, because I love them and they're going to be great players, and we're going to win a bunch of games. But it just takes a lot of great classes, and we want to continue to build on that, and we hope next year's class is even better. And we anticipate that it will be.
Q. Do you know one thing that they like about this program?
COACH STOOPS: A lot of things I've read and people tell me the big thing is the players feel comfortable. And that's a credit to our staff, our families, everybody that's involved. We take a very family-oriented approach to where we want everybody to feel good and feel comfortable and build relationships. There's not a lot of pressure, even with guys that maybe went to the wire that we didn't get. It's not our approach to break somebody's arm or try to twist their arm. We don't twist anybody's arm to get a commitment. We want guys that want to be here and believe in what we're doing, and our staff has done a great job with that.
Q. Where did you come up with being the same offense two years in a row now?
COACH STOOPS: Well, I feel a lot better about it than I have, just for that reason, because we had success. I think that goes without saying, that there's a lot of things that we can build on on offense, defense and special teams. There's a lot we can improve on, and we know that and we'll get to work immediately on that. But I do have a lot of confidence in the good things that we've done and the staff that we have in place.
Q. What's it like for you the night before signing day?
COACH STOOPS: It's somewhat nerve wracking. We were on the phone all day yesterday. You've got to realize even many of our recruits, even though they were steady and we kept every one of them, doesn't mean that people weren't knocking down their doors. They're knocking down their doors all day. It's a dirty business at times. And so you just have to stay on your Ps and Qs and cross your Ts and dot your Is and make sure you have everybody on the same page. And so we were on the phone all day yesterday, and I was on the phone into the evening last night.
Q. What was the time of your last call?
COACH STOOPS: I got a phone call that I didn't really enjoy about 10:00.
Q. Is there a specific position that you thought you needed to address in this class?
COACH STOOPS: I think we touched in a lot of areas. We signed 10 big guys, three O-linemen, seven if you count outside backers, D-linemen, and 11 skill guys, two quarterbacks. So I think we touched on a lot of areas. I think, you know, we all know that you need to continue to build depth at defensive line. With the outside backer, defensive line I think is always important. And offensive line we want to continue to stay. We feel like we have a solid group coming back and we want to continue to build with that. And the skill goes without saying. It was important for us to get some players at wide receiver because this next class we're going to lose a bunch of players that are going to be seniors this upcoming year.
Q. Lonnie Johnson seems like he really fits that mold in a bigger corner that you all like. How much will it help him being here early?
COACH STOOPS: It'll definitely help having him here. He didn't play last year, and he's been at junior college. So he needs to develop some winning habits. And he'll do that. He'll have a lot of structure. And he'll get to work, and I think he told you that. Those first two workouts he wasn't used to working at that pace. And that was just a warmup for us. So we'll get going and amping it up. But the good thing about him is he's an athlete and he'll catch on real quick. He's a big, strong, good-looking guy. And he'll pick it up pretty quick. So it's good that he's here.
Q. From day one to now, how close are you looking at yourself and saying this program is built?
COACH STOOPS: It's never built. It's another notch, that's for sure. I've never denied that the on the field proof has to be there. You have to verify it with wins. Nobody — you all are in here and you've seen the ups and the downs in building this program. But you have to get some victories. Your players work to win games and your coaches coach to win games. And so it was important for us to take that next step. We're not at all satisfied with where we were. We felt like we certainly left some games on the table that we had an opportunity to win, but we won some close ones as well. So we know that's part of it. But I know this. We're going to continue to work. We'll be a better football team next year without question. Our guys have the right mindset where we're at right now coming back, starting the lifting, the running, the foundation that we have right now is not even close to where we've been before, including last year. So I think our players are definitely ready to take the next step. We have some maturity within our program. We have some experience. And so we're ready to build on that.
Q. A couple of your assistants talked about football IQ in this group and what they saw. How do you gauge that and how important is that?
COACH STOOPS: I think it is. It's important on the visit. It's important to see them in a classroom, in a meeting, talking about some football and seeing how they pick things up. That's important for us. But it also shows up on the field, just awareness and the way they play. And we study a lot more than just the highlight film. So we really feel like these guys have a lot of versatility. And the awareness, it always comes with the guys that I talked about with that winning attitude and character. So it's a special group.
So I'd like to wrap it up, again, by just saying thank you to all you. Thanks for your interest, thanks for your coverage. I appreciate our staff, our wives, our families for the sacrifice that they make. It's been a long year, culminating with this class here today that's going to represent this university the right way. The fans are going to be very proud of this group. It's a great foundation for a freshman class for next year. And it's definitely going to help us in the future. We're excited about this year. I'm really happy to get this wrapped up, to be honest with you, and onto developing our players and getting to work with our players next week. So thank you all very much.
Recruiting Coordinator Coach Vince Marrow
Opening statement …
"I just want to say thank you again. This is our four national signing day and to echo what Coach Stoops said this is probably our best one from top to bottom. But, I also want to thank the media that covers us. A lot of the media calls and interviews the incoming players and they really appreciate that. I told them this isn't just a basketball school, people are excited about football, too."
On Lynn Bowden … 
"I'm kind of like Coach Stoops. I was a good player too coming out of Youngstown and I remember my brother telling me that this kid is the best that he's seen in about 30 years. I started thinking about Maurice Claurett, who was the No. 1 player in the country, Mario Manningham, so many guys that come out of there. But everyone has a guy in your hometown you check references with and everyone I've talked to says this kid is unbelievable. He's good – still has to come in and prove it but he's good."
On when the recruiting process begins on the players that signed today …
"We were already on to the guys in the class of 2018 a month ago when we started trying to close this class out. I remember when we first had the '13 class and I made a statement that our class would be even better the next year and people would laugh, but the next class was better. So we're recruiting. When we're talking to the seniors, I'm already talking to the coach about the juniors and the sophomores so we're already on to the '18 and '19 guys right now. It starts and never finishes."
On seeing Javonte Richardson as a wide receiver …
"In recruitment you have connections and his high school coach, Devlin Culliver, was a high school teammate of me and Coach Stoops. He is a big, good-looking dude. He's about 6-5, 230 right now. When we first watched his film we liked him as a receiver but we tried to hide Coach Stoops from him because he was playing defensive, too. I think Alabama liked him as an outside linebacker. He's a big, nice-looking athlete. He's another basketball guy. If you have a guy that plays basketball and football too, those are the type of guys you want to recruit."
If there is a sleeper in this class he really likes …
"Yes, Naasir Watkins out of Good Counsel. He's about 6-6, 305, and doesn't look it. He only played one year at offensive lineman. I think his potential is through the roof. He's a smart kid. He did well in his league. There are a lot of Division I guys. They have a guy going to Texas A&M and Ohio State. He said the hardest guy he went against was (teammate) Josh Paschal. He got good work every day so he's my sleeper in that group."
On the importance of going to Maryland to extend that pipeline to recruit Josh Paschal …
"When he first came out, we weren't even in his top 10. Coach Stoops came to me and told me he wanted me to go up there and recruit him. I think the problem was he had an older brother here who was part of not winning. His dad wasn't trying to hear that so we had to go up there and sell the family first. Like Coach Stoops said, what sold him (Josh) was when he came to the Georgia game. He called his dad and told him 'this isn't what you think, Dad. This is unreal. This atmosphere.' He was sold right then and there. He never waivered. Penn State other schools came in and tried to take him but I knew he was solid."
On what hasn't changed in successful recruiting …
"What will never change is you still have to go in those schools, win that coach over and then when it's time to have physical contact you have to win the parents over. You have to find the person who is the decision maker in that prospect's decision. Some people think it's the high school coach and it's not. It could be the girl friend, the uncle, etc. The one thing that will never change is you have to build relationships. I don't care how high-tech things get you still have to go out and have good relationships with parents and people."
On being able to sell success …
"When we first got here we were selling the dream and what it was going to become with the facilities and all that. We still were able to sell the SEC but eventually we had to win that signature game to make them say 'whoa, everything they are selling is coming true.' I know when our coaches went out in December I had a lot of people telling me our coaches were walking in those schools with a swag. Everyone was talking about the Louisville game. To me that win was huge for us."
On how good recruiting was in the state of Ohio …
"I'll go on record and say this: we signed the best player in Ohio. Lynn Bowden is the best player in Ohio. If you ask 30 reporters who cover Ohio football they all will say he's the best player in Ohio. Sometimes when you don't go to that other school now he may be the second-best player or third-best player. Ohio was very loaded. We got what we wanted out of Ohio from top to bottom."
On if he and Eddie Gran had a contest on who could sign the most players …
"We get guys who fit our program. It just so happens that the numbers in Ohio and the numbers in Florida are bigger. I'm for wherever we get players from as long as we bring in good players."
On how important it was to get players from Florida …
"Very important. That's what Mark (Stoops) wanted. We knew we were going to have Ohio and we knew we were going to put a fence around Kentucky we just need to get Florida. I think Coach Gran, Coach Hinshaw and Coach Thomas did a good job down there."
On Tyrell Ajion …
"He committed so early. We had to battle a lot of schools to get this kid. It came down to Michigan and Michigan State. When I first saw him, I offered him as a wide receiver but of course, our boss is a secondary guy. He came and watched his film so we moved him over to defense. Some services have him ranked the No. 4 or No. 5 athlete in the country. Coach Clinkscale is very excited about him. He gives us so much that we can do. He reminded me of Mike Edwards, a bigger Mike Edwards."  
On Alex King …
"He's another one. Great pass rusher. He can bend, played at a high level. Played in a big conference. We beat Tennessee, Michigan, Michigan State out of this kid. I have to give a shout out to his mom. His mom really protected this kid from other schools. She would tell the high school coach 'don't pull my son out of class.' And I think he did it one time and that didn't work out well. So we really need to give her a shout out. And some of the other moms in this recruiting class were really strong in helping keep their kids committed."