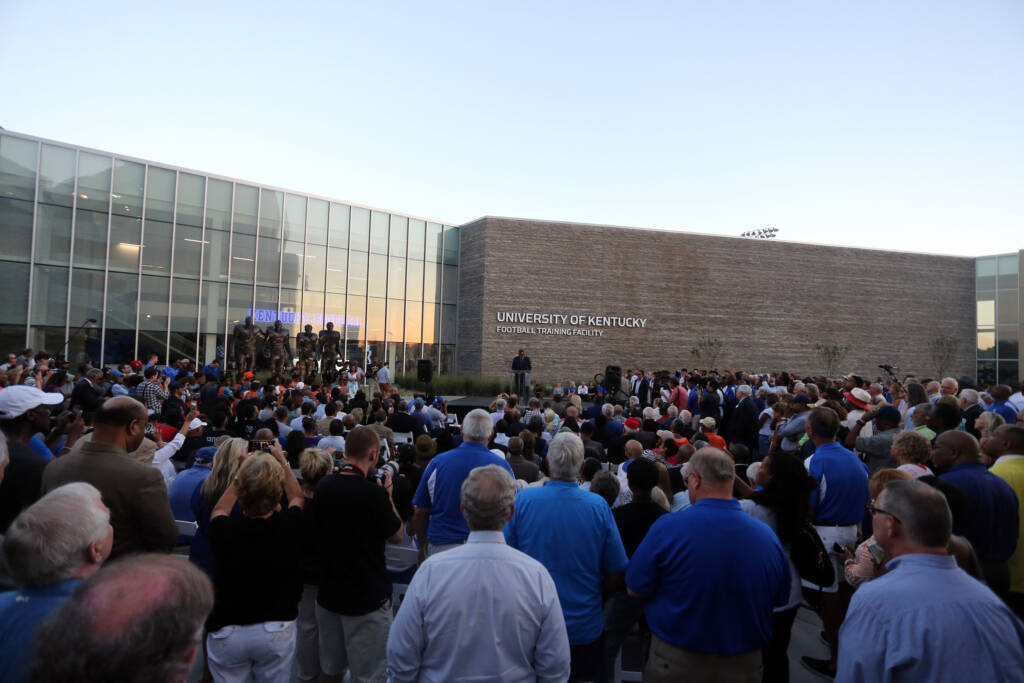 Address (includes football offices):
295 Alumni Drive
Lexington, KY 40506
Years ago, the vision of a new day-to-day home for Kentucky football was conceived. The facility would place everything players would need to practice, train, eat, recover, and study under one state-of-the-art roof.
That vision has now become reality in the form of the new $45 million Joe Craft Football Training Facility, which opened in July 2016 after 19 months of construction and covers 100,000 square feet.
"I think we all feel very proud and very happy for the players because they've been through a lot and they've worked hard," Stoops said. "They're good kids and we promised them that, a lot of them, when we were recruiting them and to see it come to fruition and get in there, it's surreal, to be honest with you.
"To get this building done, it's going to help Kentucky football for a long time."
The training facility is located adjacent to both Kroger Field and Nutter Field House, placing the three areas where nearly all team activities will take place within mere walking distance. Moreover, the training facility's exterior and interior appearance matches that of Kroger Field and its recently completed $126 million renovation, giving the two buildings both a modern look and a uniquely Bluegrass State feel with touches like Kentucky limestone, reclaimed barn wood and illuminated outlines of the state.
"Our students' success- socially, academically, physically, creatively, mentally-is at the forefront of our efforts," said UK President Eli Capilouto. "The new facility centralizes training table, strength, conditioning, tutoring, team community space and student-athlete health in a single place. These improvements mirror our investment in residence halls, dining facilities, classrooms and community spaces across campus. "
"The completion of this facility is an important moment for our football program," Athletics Director Mitch Barnhart said. "It creates a one-stop shop for our players, putting everything they need to prepare for success on game day and in the classroom in one beautiful building. We believe Kentucky football can compete for championships in the Southeastern Conference. This facility provides important resources that will help us realize that potential."
A statue honoring the four players who broke the Southeastern Conference's color barrier – Nate Northington, Greg Page, Wilbur Hackett and Houston Hogg – is located outside the building's main entrance.
Inside, visitors are greeted by an expansive lobby with a pedestal featuring Kentucky football's uniforms and a rear wall honoring the program's historic greats. Recruits will also be able to enjoy an interactive display allowing them to customize uniform combinations and an Experience Room that gives them a peek into what it's like to be a Kentucky football player.
The rest of the first floor is occupied by state-of-the-art functional space, starting with a 15,000 square foot weight room with a booming sound system and accordion-style doors that open to two new grass practice fields. The weight room houses 20 multi-functional racks, literally tons of free weights, specialty workout machines, a second-floor cardio deck and a corner wall with reinforced concrete designed to absorb the force of medicine-ball training.
Adjoining the weight room is a new training room with an X-ray machine, two exam rooms, hot and cold tubs, and an underwater treadmill.
The hallways of the first floor and the entire building – secured by retina scanners – are lined with pictures honoring former greats and the new marks unveiled in conjunction with Nike this winter as part of Kentucky's updated graphic identity, including the refined interlocking UK logo and new Wildcat logo. One wall has an interactive display featuring all Kentucky players in the NFL, both currently and in the past.
Across one of those hallways from the weight room is the training table. Staffed by an executive performance chef and featuring a full kitchen, the training table is where players will eat three meals a day for much of the year. Outside the training table is the Gatorade Fuel Bar – a $250,000 nutrition bar provided as part of UK Athletics' latest contract with Gatorade. There, players will have access to shakes, drinks and snacks specially tailored to their training needs.
The centerpiece of facility is the new team locker room – where the team will dress for both practices and games – with a giant UK logo in the ceiling and screen on the rear wall. The 120 lockers will be personalized with players' photos, names and numbers and grouped by position. Each locker has an electronic locking system, ventilation, heating and air conditioning. The locker room is surrounded by a barber shop with a wall painted by a local artist and a lounge with video games, Ping-Pong, table shuffleboard and pool. Coaches have their own first-floor locker room outfitted with a steam room and showers.
Players will be able to walk into the locker room following practice on the two outdoor fields, but not before passing through the plunge pool. The plunge pool – always kept at 52 degrees – has room for up to 40 players and is essential to the post-practice recovery process.
Walking upstairs to the reception area outside coaching offices and overlooking the weight room, visitors will pass by the new Center for Academic and Tutorial Services location. Before its construction, players had to come to Memorial Coliseum across campus for tutoring sessions.
All meeting rooms are located on the second floor, including the main team meeting room. Featuring 162 seats – each with ample room and a foldable desk table – it's equal parts meeting room and movie theater, with whiteboards, a giant dropdown screen and two side screens, and a sound system featuring a massive subwoofer. Down the hall – with the words to the UK fight song emblazoned on the wall in the form of the new Wildcat logo – are meeting rooms customized for each positional group, complete with photos of Wildcat greats at each position, and a room accommodating the technological needs of the football program's video operation.
The remainder of the second floor is occupied by offices and meeting areas for UK's coaching and support staff, including a war room with space for the entire staff. Stoops is able to walk from his office – which features three huge televisions, a bathroom and shower – directly into the war room.
Stoops' office also has a patio overlooking the facility's two new outdoor practice fields. The grass practice fields are surrounded by turf training areas and a conditioning area known affectionately – or not so affectionately, depending on who's speaking – as the "Encouragement Stairs."