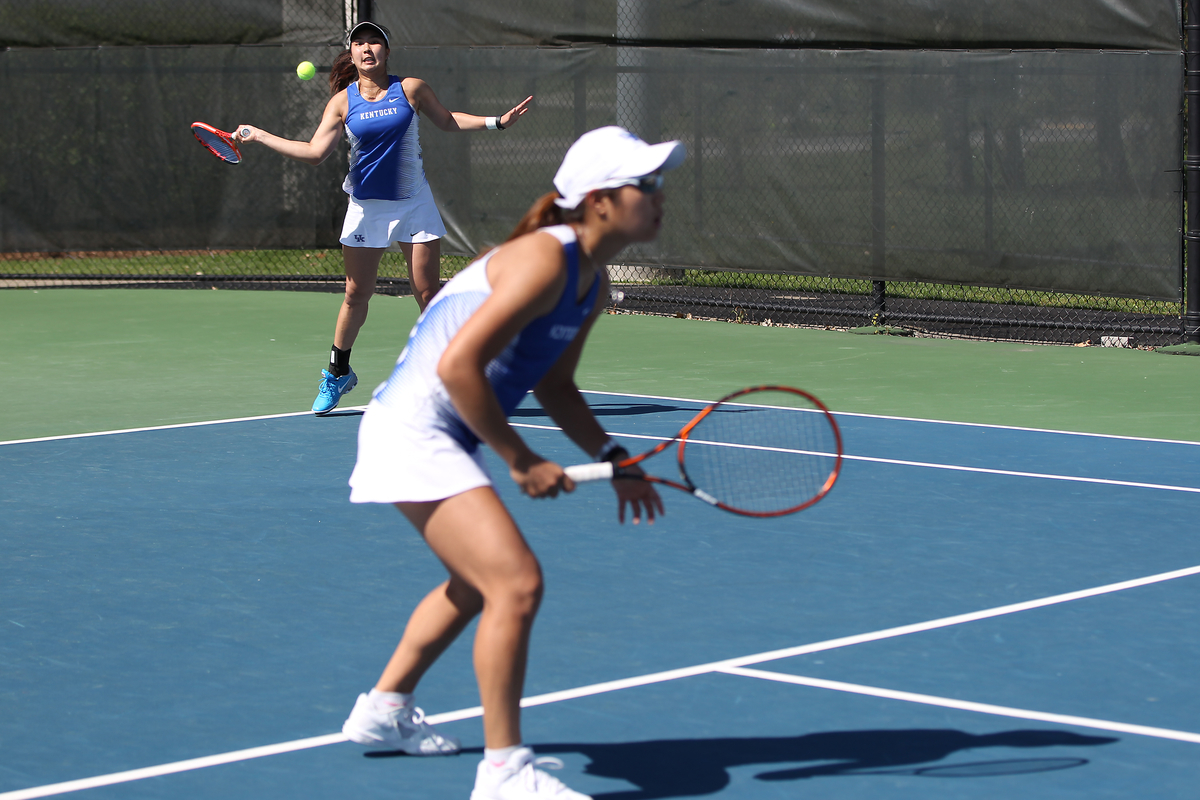 Adachi and Sutjiadi Battle Through Another Tiebreak, Advance to Quarterfinals
TULSA, Okla. – Kentucky's top doubles tandem of Mami Adachi and Aldila Sutjiadi survived another scare in the Round of 16 at the NCAA Doubles Championship, downing Southeastern Conference opponent Mississippi State's Madison Harrison and Kristina Vozniak in tiebreak.
Much like yesterday's match against Stanford, the Wildcats were stunned in the opening set by their Bulldog opposition.  Harrison and Vozniak mustered a 6-4 victory to gain the advantage going into the second set, but did not deter Adachi and Sutjiadi.
The Wildcats came out more composed in the second set, upping their aggression and efficiency while attacking the back corners of MSU's court.  Harrison and Vozniak opened up the set by winning the first game, but Adachi and Sutjiadi increased their pressure and won six straight games to take a decisive 6-1 second-set victory.
In the tiebreak, Mississippi State jumped out to a quick 3-1 advantage, but Kentucky rattled off five straight to make it 6-3 in their advantage.  Harrison and Vozniak were unable to bounce back from the deficit, as Kentucky went on to win the tiebreak 10-6.  
The victory marks the sixth time in program history that a UK doubles pair has advanced to the quarterfinals of the NCAA Championship.  The last time the feat was accomplished was in 2003, when Amy Trefethen and Sarah Witten advanced to the Elite Eight off a 6-3, 6-2 win over Texas.  Trefethen and Witten went on to become the furthest pair to advance in the tournament for Kentucky, falling in the finals to Cal's Christina Fusano and Raquel Kops-Jones.  
Adachi and Sutjiadi will face UCLA's Catherine Harrison and Kyle McPhillips, ranked No. 7 in the nation.  The Bruins downed Baylor's No. 20 Kiah Generette and Blair Shankle 6-1, 7-6(2) to advance to the quarterfinals.  First serve is slated for 1 p.m. ET.  Live stream of the match, along with live results, will be available at streamingtennis.com/Tulsa.
NCAA Women's Doubles Championship – Round of 16
Case Tennis Center – Tulsa, Okla.
May 26, 2016
No. 1 (2) Mami Adachi/Aldila Sutjiadi (UK) def. No. 30 Madison Harrison/Kristina Vozniak (MSU) 4-6, 6-1, 1-0(6)
Visit UKathletics.com for the most up-to-date information on the Kentucky women's tennis team and all 22 varsity sports. For additional info, notes, and behind-the-scenes updates, follow the team on Twitter at @UKWomensTennis and on Facebook.