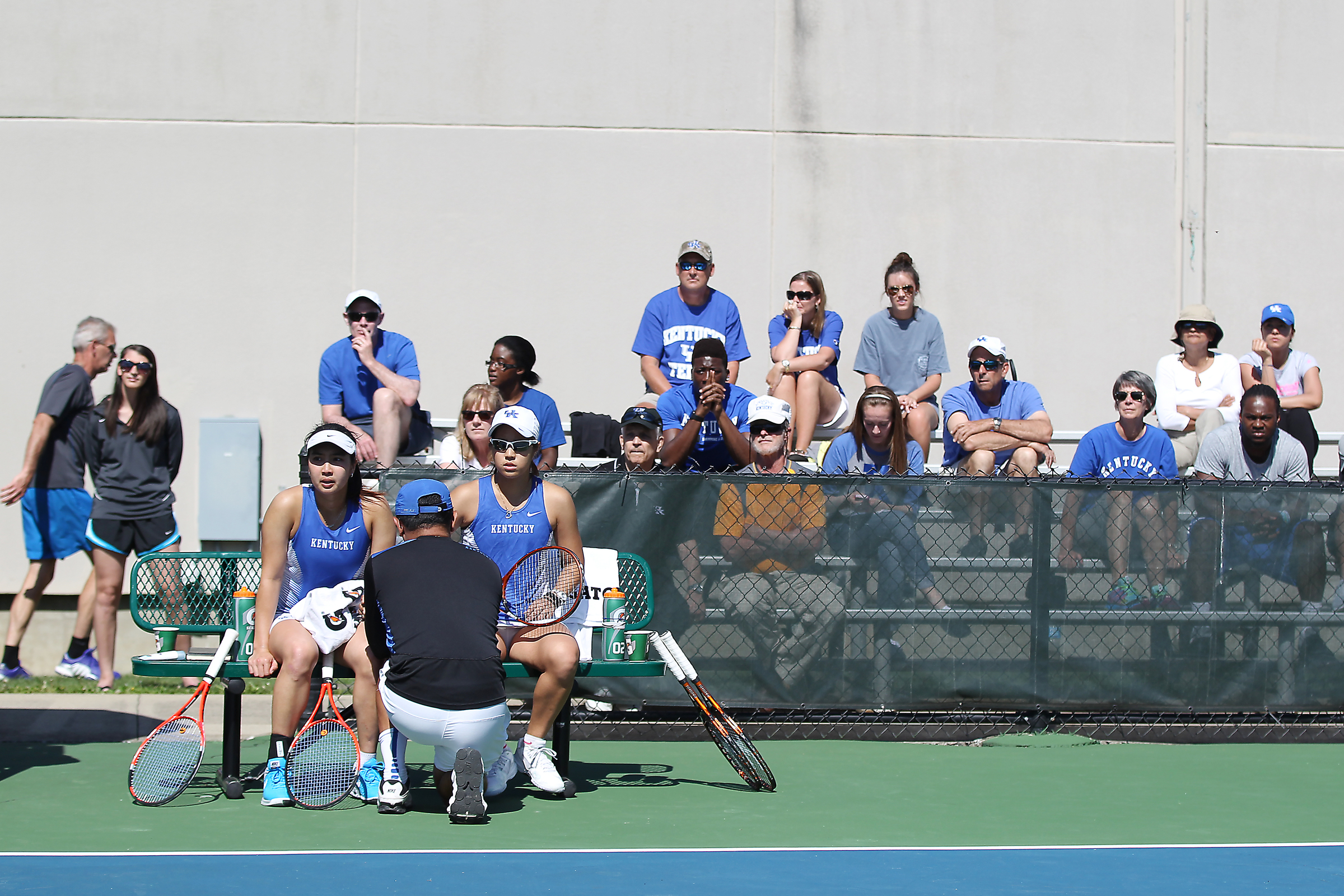 Adachi and Sutjiadi Outlast the Cardinal to Advance in Doubles Championship
TULSA, Okla. – The nation's top-ranked women's tennis team of Mami Adachi and Aldila Sutjiadi faced an upset in the opening round of the NCAA doubles championship, but held strong and defeated Stanford's Melissa Lord and Carol Zhao to move on.
The Cardinal pulled off a shocking victory in the first set, downing the Wildcats 6-2.  However, Adachi and Sutjiadi were strong-willed in preventing Lord and Zhao from enjoying the opportunity to claim another national title after the duo was part of the 2016 team national championship effort yesterday.  Kentucky bounced back with a 6-2 second set, but faced yet another challenge in the tiebreak.
Lord and Zhao held two match points during the tiebreak, but Adachi and Sutjiadi turned on the jets once their backs were against the wall at 7-8.  The duo rattled off four points to Stanford's one, taking the tiebreak and advancing to the Sweet 16 off an 11-9 tiebreak decision.  
"I am so proud of Aldila and Mami for believing in themselves and for keeping a positiove attitude when they were down two match points in the third set tiebreak," expressed head coach Carlos Dradá.  "The girls kept swinging and moving, and eventually turned the momentum."
The Wildcats will face a familiar foe tomorrow at 1 p.m. ET, taking on Mississippi State's No. 31-ranked tandem of Madison Harrison and Kristina Vozniak.  The Bulldogs had a similar opening round, taking Northwestern's Alex Chatt and Maddie Lipp to tiebreak and pulling out a 2-6, 6-0, 1-0(8) victory.  When Adachi and Sutjiadi squared off against MSU's top pairing, the Wildcats took a 6-3 decision to help secure the doubles point and extend their winning streak, which now stands at 18.  
NCAA Women's Doubles Championship – Round of 32
Case Tennis Center – Tulsa, Okla.
May 26, 2016
No. 1 (2) Mami Adachi/Aldila Sutjiadi (UK) def. No. 31 Melissa Lord/Carol Zhao (STAN) 2-6, 6-2, 1-0(9)
Visit UKathletics.com for the most up-to-date information on the Kentucky women's tennis team and all 22 varsity sports. For additional info, notes, and behind-the-scenes updates, follow the team on Twitter at @UKWomensTennis and on Facebook.