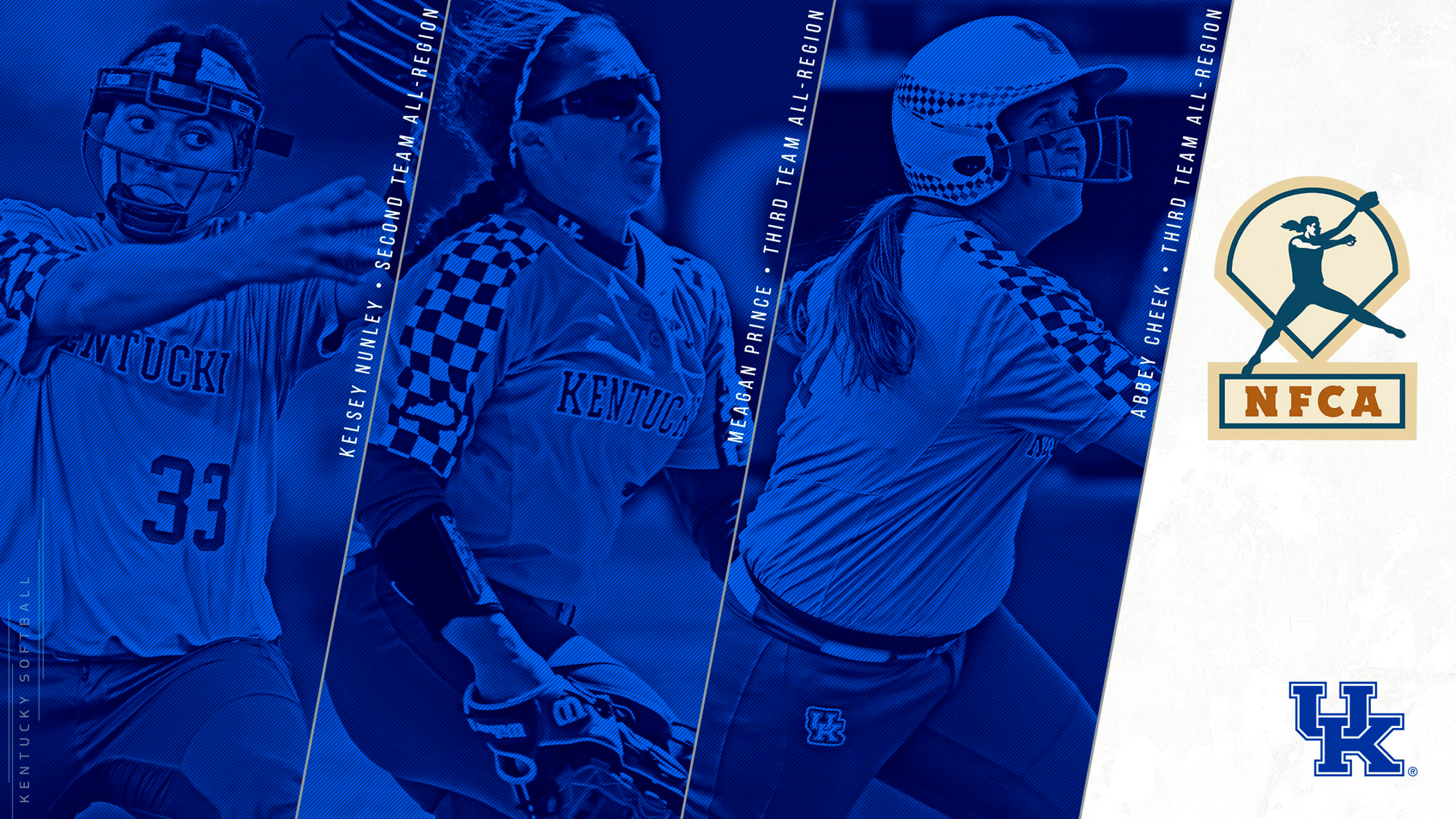 LEXINGTON, Ky. – Kentucky's softball
pitchers Kelsey Nunley and Meagan Prince in addition to utility player Abbey
Cheek were named to the National Fastpitch Coaches' Association All-Southeast
Region. Nunley garnered second-team honors, with Prince and Cheek, who earned their
first selection to the all-region team, solidifying a spot on the third team. This
marks the third consecutive year that Kentucky has placed multiple players on
the all-region team and the first time since 2014 UK has had three or more
players represented.
Nunley, who was the 2016
Southeastern Conference Pitcher of the Year and is currently the NCAA leader
for active players in career innings pitched, was named to the second team for
the first time in her career. She was named third team all-region in 2014 and
2015. This marks the first time in program history that Kentucky has placed two
pitchers on the all-region teams.
Both Nunley and Prince will now be
eligible to earn All-America status. The NFCA will have an in-person meeting of
all the regional committee representatives on May 30 in Oklahoma City to decide
and place players on the four All-America teams before the 2016 Women's College
World Series commences on June 2nd. The All-America announcement will come on
June 1 from the NFCA.
Nunley has had a stellar campaign for the Wildcats in 2016, posting a
1.28 earned run average with 20 wins, 12 complete games and seven shutouts. The
Soddy Daisy, Tenn., native who was also named first-team All-SEC last week,
pitched 164.0 innings in the circle for UK, posting a school single-season record
for ERA (1.28). This year for Nunley also ranks her third in win/loss
percentage (.800), third in wins (20), eighth in strikeouts (188), second in
shutouts (7), eighth in games started (30), fifth in appearances (42) and
second in opposing batting average (.179).
In the career records book at UK, Nunley has essentially re-written them,
setting school records for appearances (166), innings pitched (926.0), games
started (116), ERA (1.97), wins (91) and saves (9).
For Prince, 2016 was the best season of her career, as she set career
records in essentially every category statistically. The Martin, Tenn., native threw
144.0 innings, charting a 1.80 ERA, which earned her a 19-5 record in 29
appearances in the circle. In addition, the junior pitcher became the first SEC
pitcher to throw three no-hitters in the same season since Alabama's Kelsi
Dunne in 2009.
Prince threw the first no-hitter of her career against South Dakota on
Feb. 20 at the Campbell/Cartier Classic before backing that performance up with
a no-hitter two weeks later on the road at Winthrop. Her third no-no came in a
shutout win over Northern Kentucky in just 44 pitches on March 22 at John Cropp
Stadium.
Prince earned the Opening Day nod in Tempe, Ariz., against the No. 20
Notre Dame Fighting Irish, collecting her first of 19 wins on the season. She
started the season 14-0 before suffering her first loss, which was a program
record for the most consecutive wins to start a season.
Cheek, who was also named to the All-SEC freshman team, earned a slot on
the third team after hitting .327 in her freshman season with a team-high 49
RBI and nine home runs. The South Carolinian had19 extra-base hits on the
season including two grand slams, with one of them coming against No. 4 Oregon
in the Kajikawa Classic. Cheek drew 17 walks, had 51 hits and scored 39 runs in
2016, while playing solid defense at third base and in the outfield all season
long.
Cheek has been clutch for Kentucky this season, coming up with
game-winning hits against Oregon, at No. 4 Alabama, two game-winning homers
against No. 16 Missouri, and go-ahead long balls against EKU, Ohio and Arkansas
as well.
Both Prince and Nunley in addition to the bat of Cheek will be key
components to this weekend's Lexington Regional at John Cropp Stadium. The
Wildcats open play Friday night at 6 p.m. ET against the Butler Bulldogs. The
winner of Friday's game will play Saturday at 1 p.m., with the loser dropping
into the elimination game at 3:30 p.m. Saturday afternoon.
For the latest on the Kentucky
softball team, follow @UKSoftball on
Twitter, Instagram and Facebook, as well as on the web at UKathletics.com.