National Championships: 1978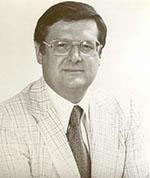 Joe B. Hall
UK Record: 297-100 (74.8%)
Years Coached at UK: 1973-85 (13 years)
Alma Mater (Year): Kentucky (1955)
Hometown: Cynthiana, Ky.
Born: Nov. 30, 1928 
Joe B. Hall, who grew up just 30 minutes north of the University of Kentucky campus in Cynthiana, had the unenviable task of following the legendary Adolph Rupp, who was forced to retire at age 70. But Hall, the former Rupp assistant, met the challenge head on, coaching three teams to the Final Four (1975, '78 and '84) and winning the 1978 NCAA championship, the school's fifth title and first in 20 seasons.
 
Hall began his association with Kentucky as a student-athlete during the "Fabulous Five era." He played one year of junior varsity and one year of varsity basketball before transferring to the University of the South in Sewanee, Tenn., where he finished his eligibility and set a single-game scoring record. Following his college career, Hall toured Europe with the Harlem Globetrotters in 1951, but later returned to UK and completed his degree requirements.
 
His coaching career began at Shepherdsville (Ky.) High School in 1956. It continued on to Regis College in Denver, where he spent five years (57-50 record), and Central Missouri State, where he recorded a 19-6 mark in one season before returning to UK as an assistant to Rupp on July 1, 1965.
 
As the UK head coach, Hall won National Coach of the Year honors in 1978 and four SEC Coach of the Year awards. He had seven players win All-America honors 11 time.
 
Hall's squads recorded a 172-62 (73.5%) record versus SEC competition during the regular season, winning eight SEC titles in 13 seasons and one league tournament championship in seven tries.
 
While Coach Rupp witnessed 44 of his players drafted by the NBA, Hall saw 24 players drafted during his 13-year tenure, six in the first round.
 
Retired, Hall still resides in Lexington.