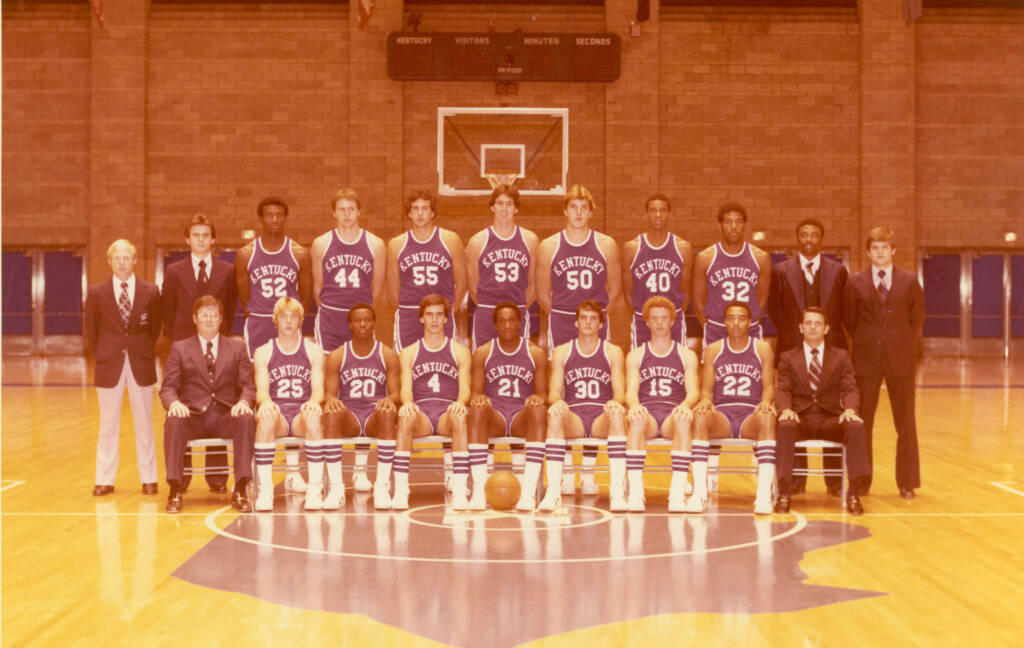 Front Row: Coach Joe Hall, Jay Shidler, Dwane Casey, Kyle Macy, Jack Givens, Tim Stephens, Chris Gettelfinger, Truman Claytor, Assistant Coach Dick Parsons  Second Row: Assistant Trainer Walt McCombs, Manager Don Sullivan, LaVon Williams, Scott Courts, Mike Phillips, Rick Robey, Chuck Aleksinas, Fred Cowan, James Lee, Assistant Coach Leonard Hamilton, Assistant Coach Joe Dean Jr.
Season Recap
Regular-season losses to Alabama and LSU were the only blemishes on Kentucky's 1977-78 record, as UK and senior Jack Givens, who averaged 18.1 points per game, went 30-2 for its first NCAA title in 20 years. UK outscored its opponents by 459 points during the season and were aided by 14.4 points per game from 6-foot-10 center Rick Robey.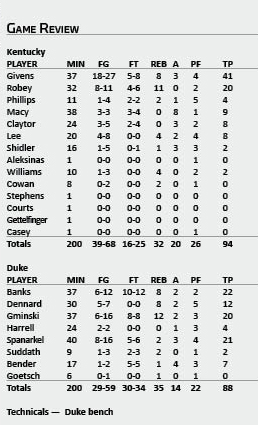 Originally hailed as an underachieving team, Kentucky overcame obstacles to win the SEC Championship and the first NCAA title under head coach Joe B. Hall. The Cats won their last eight regular-season games, including a 92-70 win over UNLV in the home finale, led by 26 points from Robey, and a 78-68 win over Vanderbilt in Nashville, Tenn. 
Characteristically, the Cats had no trouble with their early-round competition in the NCAA Tournament, as Florida State, Miami (Ohio) and Michigan State fell along the way. UK met up with Arkansas in the national semifinal game, which the Wildcats won 64-59, before defeating Duke, 94-88, in the championship final. 
Championship Game
Senior Jack Givens put on one of the finest individual performances in NCAA Championship history in leading the Wildcats past the Blue Devils.
With many Kentucky fans among the crowd of 18,271 chanting "Goose, Goose," Givens scored 41 points, three short of the record for a championship game, to help the Wildcats to their fifth NCAA title and first in 20 years.
Givens' dominance was clearly evident in the first half as he scored 23 points, including UK's last 16 of the half, to turn a 29-28 UK lead into a 45-38 cushion. It was a deficit from which the Blue Devils would not recover.
Overall, Givens made 18 of 27 field goal attempts, 5 of 8 free throws and added eight rebounds and three assists. 
Most Outstanding Player: Jack Givens – game-high 41 points on 18-of-27 shooting with eight rebounds