National Championships: 1996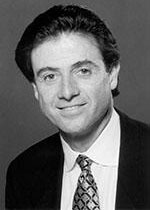 Rick Pitino
UK Record: 219-10 (81.4%)
Years Coached at UK: 1990-97 (eight years)
Alma Mater (Year): Massachusetts (1974)
Hometown: New York
Born: Sept. 18, 1952 
Promising to win right away, the 36-year-old coach from the New York Knicks accepted the challenge of rebuilding the Kentucky basketball dynasty. Pitino came to UK with impressive credentials, having rebuilt Boston U., Providence and the Knicks. His first UK team,  "Pitino's Bombinos,"  shocked the college basketball world by defeating Shaquille O'Neal, Chris Jackson and the No. 9-ranked LSU Tigers in Lexington en route to a surprising 14-14 record in 1989-90.
It was a glimpse into the future. The following year, UK finished with the best record in the Southeastern Conference. Then in 1992, fresh off NCAA probation, the "Unforgettables" took eventual national champion Duke into overtime of the East Regional final before falling 104-103 in what many have labeled "the greatest college basketball game ever played."
In 1993, with Jamal Mashburn leading the charge, UK advanced to the Final Four for the first time in nine years, losing to Michigan in overtime. After an Elite Eight finish in '95, Pitino's squad became the team to beat in '96. Highlights included the school's second straight league championship, a 27-game win streak, a top-three ranking nearly the entire season, and the crowning jewel, the school's sixth NCAA title.
After UK lost four players to the NBA Draft, Pitino's task of defending the national championship became more difficult after star guard Derek Anderson severely injured his knee during the '97 season. But the Cats wouldn't fold, rolling to the title game before losing to Arizona in overtime.
Along the way, Pitino won five of six SEC Tournament championships, two ECAC Holiday Classics, the Maui Invitational and the Great Alaska Shootout. He had a 104-28 record versus SEC teams, winning two league crowns, and an amazing 17-1 record in the SEC Tournament. 
Pitino coached three All-Americans and 12 All-SEC performers. The NBA drafted eight of his Wildcats, six in the first round. He was a two-time national coach of the year at Kentucky and won SEC Coach of the Year three times.
Following the national runner-up trophy in 1997, the former point guard at UMass left UK for the challenge of rebuilding the NBA's Boston Celtics. 
Pitino is currently the head coach at Iona.