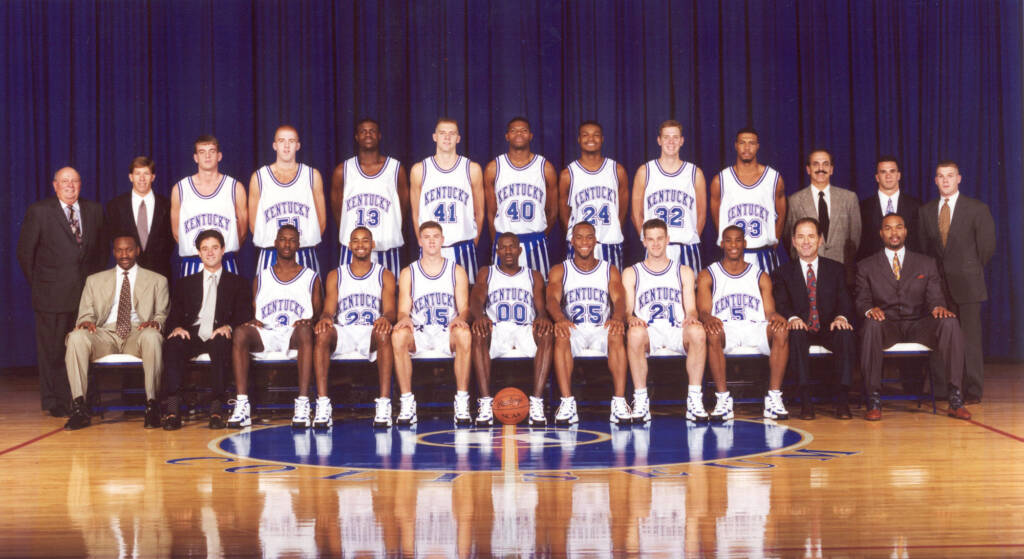 Front Row: Assistant Coach Delray Brooks, Head Coach Rick Pitino, Allen Edwards, Derek Anderson, Jeff Sheppard, Tony Delk, Anthony Epps, Cameron Mills, Wayne Turner, Associate Coach Jim O'Brien, Assistant Coach Winston Bennett  Back Row: Equipment Manager Bill Keightley, Administrative Assistant George Barber, Jason Lathrem, Oliver Simmons, Nazr Mohammed, Mark Pope, Walter McCarty, Antoine Walker, Jared Prickett, Ron Mercer, Trainer Eddie Jamiel, Assistant Strength Coach Layne Kaufman, Strength Coach Shaun Brown 
Season Recap
Kentucky strung together 25 consecutive wins, including a 16-0 mark in Southeastern Conference play, midway through the 1995-96 season and rolled to its sixth national championship. The dynamic duo of Tony Delk (17.8 ppg) and Antoine Walker (15.2 ppg) led the Wildcats' team dubbed "The Untouchables" by head coach Rick Pitino.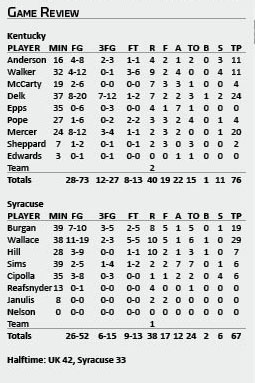 A 10-point loss to UMass in the second game of the season would be the only smudge on the Wildcats' schedule as they entered SEC Tournament play. UK posted dominating wins over Florida (100-76) and Arkansas (95-75) in the first two rounds of the tournament, but an up-start Mississippi State team shot 60% from the 3-point arc to hand UK a shocking 84-73 loss in the title game.
Kentucky still earned a No. 1 seed in the NCAA Tournament's Dallas Regional and stomped San Jose State and Virginia Tech to easily advance to the Sweet 16. The competition proved no tougher in the next two rounds as the Wildcats outscored Utah and Wake Forest by a combined 62 points. A rematch with UMass awaited in the national semifinal, but Kentucky had no trouble with John Calipari's Minutemen, surpassing them, 81-74. The Wildcats, behind six first-half 3-pointers by Delk, defeated Syracuse, 76-67, in the national title game. 
Championship Game
Tony Delk tied a championship game record with seven 3-pointers and the Wildcats withstood a late Orangemen rally to win UK's sixth national title before a capacity crowd of 19,229 in the Continental Airlines Arena at the Meadowlands.
Delk, the Final Four's Most Outstanding Player, canned seven of 12 3-pointers to lead the Cats with 24 points. But after Syracuse had cut the lead to two, 64-62, with 4:46 remaining, a Delk misfire was tipped in by Walter McCarty to extend UK's lead to four. After holding the Orangemen on the next possession, Derek Anderson drained a 3 to push the lead to seven. SU would get no closer than five in the final minutes.
 
Delk was joined on the Final Four All-Tournament team by freshman Ron Mercer, who was sensational off the bench, scoring a career-high 20 points on 8-of-12 shooting from the field, including 3 of 4 from 3-point range. 
Most Outstanding Player: Tony Delk – national championship record 7-pointers and a team-high 24 points