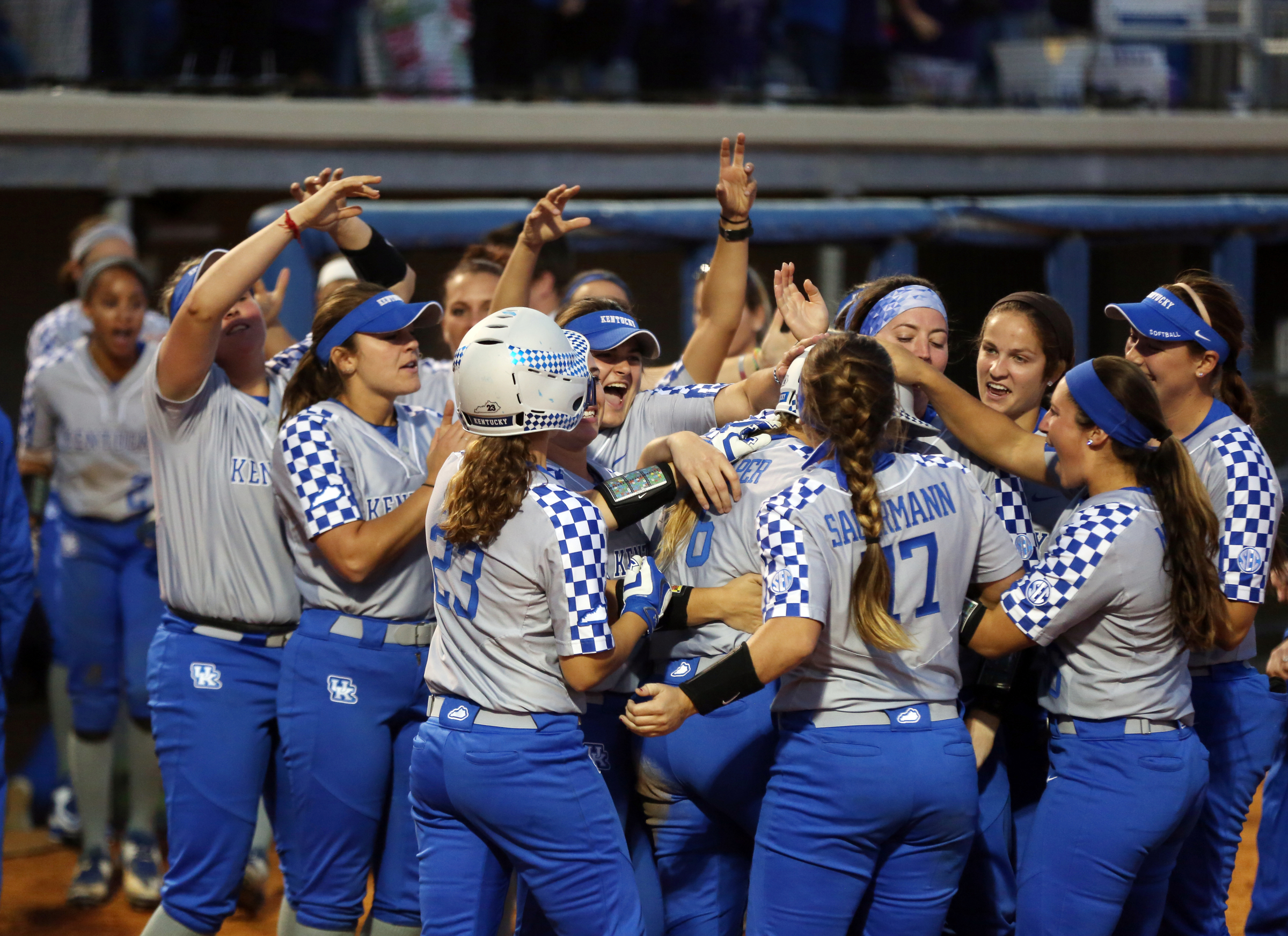 Looking at the starting and endpoint for the Kentucky softball program, the difference is stark.
On one extreme, there's a program that had never been to the NCAA Tournament when Rachel Lawson arrived nine seasons ago.
On the other, you find a program that has reached eight straight tournaments, culminating in a school-record No. 9 overall seed this year.
Dramatic as the contrast may seem, the journey to make it happen has been anything but.
"When we first took over here nine years ago, we were just trying to figure out how to win softball games," UK head coach Rachel Lawson said. "We were just trying to figure out how to get to our first postseason event. Then we went to our first and we figured out how to win a game. Then we had to figure out how to get to the championship game and then make it out of the championship game into a super regional. We're truly a program that has climbed. We haven't had one thing, one event."
The closest thing to that singular event has to be the 2014 postseason, when the Wildcats made it to the Women's College World Series. The run heralded UK's arrival on the national scene and generated unprecedented fan interest, but there was an even more significant result in Lawson's mind.
"Most importantly, it changes athletes' minds," Lawson said. "It changes their expectation level. Now they know they can be there so the demand is greater."
Changed minds and expectations have fueled the Cats in 2016. UK is 43-12 entering the postseason having finished second in the SEC regular season, both program bests.
Leading the way at every juncture has been the most decorated senior class UK has ever seen, comprised of Kelsey Nunley, Christian Stokes, Nikki Sagermann, Sylver Samuel, Maisie Steed and Ansley Smith.
"I guess I'm just kind of amazed by how far the program has come, not just because I'm here but because of where it was and where my senior class taken it," said Nunley, the SEC Pitcher of the Year and UK career record holder in pretty much every significant pitching statistic. "I'm just really proud of where it's come and I'm excited to see what it does in the future."
Nunley will be keeping close tabs on UK's long-term future, but it's the immediate future she and her classmates are worried about right now. Two years removed from their WCWS appearance, they have another on their minds.
"Knowing it's my last year, I want to go out with a bang," Nunley said. "I want to accomplish things that we haven't accomplished before. So I'm just really looking forward to finishing the year with a bang."
One bang at a time though.
UK's road to Oklahoma City begins in the familiar surroundings of John Cropp Stadium, where the Cats will host a regional. The first opponent them awaiting them on a double-elimination weekend is Butler (28-22) at 6 p.m. on Friday. The Bulldogs clinched their spot in the regional by winning the Big East Tournament with 10-6 and 10-8 victories over DePaul and St. John's, respectively. 
"I think Butler is incredibly well coached and I watched some of their games and right now they are playing exceptionally well," Lawson said. "They've had two unbelievable come-from-behind wins that have propelled them into the postseason and they're really playing hot right now."
After that, the focus will shift to either Utah (32-19) or Illinois (35-21). Since UK will face one of the two on short rest Saturday, the coaching staff is scouting both in addition to Butler.
"I think this is a really tough regional from that standpoint," Lawson said. "I think all the teams in there are ready to go. I think every team is very good and I think we're going to have to play very well to win it."
The good news is UK has played that way most of the season.
Nunley (20-5, 1.28 ERA) and junior Meagan Prince (19-5, 1.80 ERA) have been stalwarts in the circle, and Prince's emergence gives UK a legitimate second ace it never had in Nunley's first three seasons. The defense has been good behind them. The offense, meanwhile, has produced nearly five runs per game on the season, but has struggled of late. The Cats have averaged only 1.9 runs over their last eight games.
With no games since a loss to LSU in the SEC Tournament last Thursday, they've gone to work on that.
"Offensively, the last couple weeks we've really worked hard on battling in the box," Lawson said. "So I think we look really good right now, but it's in practice. It's not games. But I feel like we're back to where we were in February and early March when we were doing a great job offensively. We seem to have a great focus. We seem to be attacking pitches in the zone as opposed to taking them, which is a big deal and a secret to any team."
When the offense has been rolling, balance has been its strength, as nine different players have knocked in more than 10 runs this season. The Cats will be looking for that same kind of balance this weekend and beyond.
"I think it's just really key for every player to not put too much pressure on themselves," Sagermann said. "Everyone's had their struggle, but it's really key for someone else to step up in the big situation. Hopefully if we get more than one player hot in the box, I think that's really key for our success in the postseason."
Having been there before, it's natural for the Cats to think about super regionals and eventually the WCWS. They won't allow those thoughts to overcome them though. Just as it's been throughout UK's climb under Lawson, it will be one step at a time.
"It's hard not to look ahead, but I'm trying to really just live in the moment because I know that it's soon to be over," Nunley said. "Just trying to focus on the next day and living in the moment every day and soaking it all up."