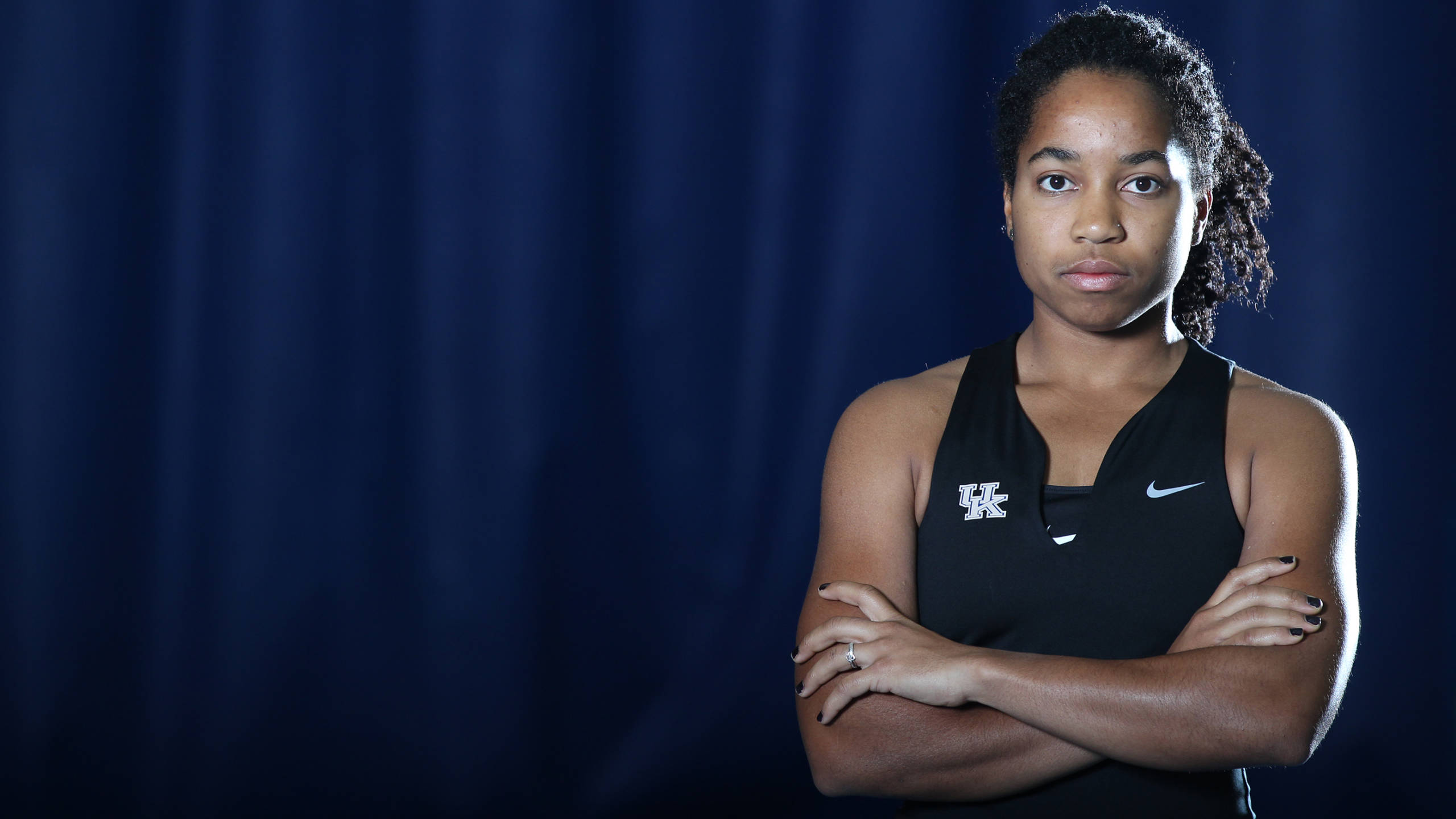 Kirsten Lewis Awarded NCAA Ethnic Minority and Women's Enhancement Postgraduate Scholarship
INDIANAPOLIS – The NCAA Committee on Women's Athletics and the NCAA Minority Opportunities and Interest Committee announced that Kentucky women's tennis senior Kirsten Lewis has been awarded one of 26 scholarships from the Ethnic Minority and Women's Enhancement Postgraduate Scholarship for Careers in Athletics program.  
The NCAA awards $7,500 to 13 ethnic minorities and 13 female college graduates who will be entering their initial year of postgraduate studies into a sports administration program that will help the applicant obtain a career in intercollegiate athletics, such as an athletics administrator, coach, athletic trainer or a career that provides a direct service to intercollegiate athletics.
Lewis is the third Kentucky student to be awarded the scholarship, following women's soccer's Tara Herold in 2009 and women's basketball's Kastine Evans in 2014.
Additionally, Lewis' scholarship includes an invitation to the NCAA Career in Sports Forum in Indianapolis on June 2-5 at the NCAA national office.  Hosted annually by the NCAA, the CSF is a four-day educational event which brings together two hundred selected student-athletes to learn about careers in sports, with a primary focus on intercollegiate athletics.  The CSF is designed to assist student-athletes in charting their careers in the business, giving them the opportunity to network and learn from current athletics professionals.
To be eligible for the scholarship, a student-athlete at an NCAA member institution must have an overall undergraduate cumulative GPA of at least 3.2, be an outstanding citizen and excellent role model, and have performed with distinction as a student body member.  
Lewis recently earned her undergraduate degree from UK with a 3.689 GPA in kinesiology and plans to attend graduate school for sports administration.  A four-year member of the second-winningest senior class under head coach Carlos Dradá's tenure at Kentucky, Lewis was a 2015 SEC All-Community Service Team honoree and a 2016 inductee into the Frank G. Ham Society of Character.  During her time as a Wildcat, Lewis evolved into one of the strongest leaders in UK tennis history with her on-court work ethic and high level of investment in the team.
She excelled in the classroom from her first year at UK, earning Southeastern Conference First Year Honor Roll, and went on to be named to the SEC honor roll, Athletic Director's honor roll, dean's list, and was honored as an Arthur Ashe, Jr. Sports Scholar.  Lewis served as the team captain during her final campaign, and was also the team's representative on the Student-Athlete Advisory Committee as well as a member of the Fellowship of Christian Athletes.  Within the community, Lewis was a volunteer on UK's Ethiopia service trip and assisted in more than a dozen local projects such as Girls on the Run, Church Under the Bridge Ministries, Story Changers, God's Pantry and UK Hospital Blanket Project.
On the court, Lewis posted more than 50 wins during her Kentucky career, going 11-4 in the No. 6 singles slot as a senior.  On the back end of the season, Lewis paired with Akvile Paražinskaite in No. 3 doubles, going undefeated in the postseason with wins over lineups from No. 18 LSU and No. 10 Michigan to aid the Wildcats' strong doubles presence that dropped just three points over a 28-match span. During the regular season, Lewis was instrumental in securing the victory for the Blue and White with many of her wins serving as the clinch point for Kentucky, including two within SEC play.  She also delivered the final blow in the Wildcats' last win of the season courtesy of a 6-4, 6-2 win to seal the NCAA Championship first-round victory over No. 67 Xavier on May 13.
Visit UKathletics.com for the most up-to-date information on the Kentucky women's tennis team and all 22 varsity sports. For additional info, notes, and behind-the-scenes updates, follow the team on Twitter at @UKWomensTennis and on Facebook.