Front Row: (L-R) Assistant Coach Mike Sutton, Head Coach Orlando "Tubby" Smith, Saul Smith, Cameron Mills, Jeff Sheppard, Wayne Turner, Steve Masiello, Assistant Coach George Felton, Assistant Coach Shawn Finney  Standing: Special Assistant Leon Smith, Administrative Assistant Simeon Mars, Equipment Manager Bill Keightley, Ryan Hogan, Heshimu Evans, Scott Padgett, Nazr Mohammed, Jamaal Magloire, Michael Bradley, Myron Anthony, Allen Edwards, Trainer Eddie Jamiel, Strength Coach Tom Boyd 
Season Recap
The team that became known as the "Comeback Cats," the 1997-98 Kentucky Wildcats captured their second NCAA title in three years after overcoming a 10-point halftime deficit against Utah in the national championship game. UK was 10-3 in games decided by 10 points or less and 7-1 in games decided by three points or less during the season.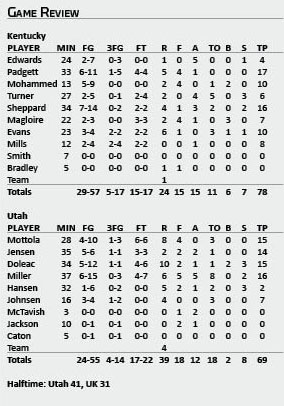 Kentucky's players provided a balanced attack, as all five starters averaged more than nine points per game with senior guard Jeff Sheppard averaging 13.7 points per game and junior center Nazr Mohammed averaging 12.0 points per game. The Wildcats rolled to an 86-56 victory over South Carolina in the Southeastern Conference Tournament final and then sprinted past South Carolina State, St. Louis and UCLA in the first three rounds of the NCAA Tournament.   
Championship Game
Kentucky battled back from a 41-31 halftime deficit to Utah — the largest halftime margin ever overcome in an NCAA title game — to claim the school's seventh national championship before 40,509 fans in the Alamodome. 
Utah was propelled to the early lead thanks to a 24-6 rebounding advantage in the first half. But Heshimu Evans sparked the "Comeback Cats" off the bench with seven straight points early in the second half.
Later, Final Four Most Outstanding Player Jeff Sheppard canned a baseline jumper with 4:54 remaining to give UK a 65-64 lead. The exhausted Utes then missed 11 consecutive field goals as the Wildcats claimed their second NCAA championship in three years.
Scott Padgett joined Sheppard on the All-Final Four team after scoring 17 points. UK outrebounded the Utes 18-15 in the second half.
Most Outstanding Player: Jeff Sheppard – 16 points on 7-of-14 shooting