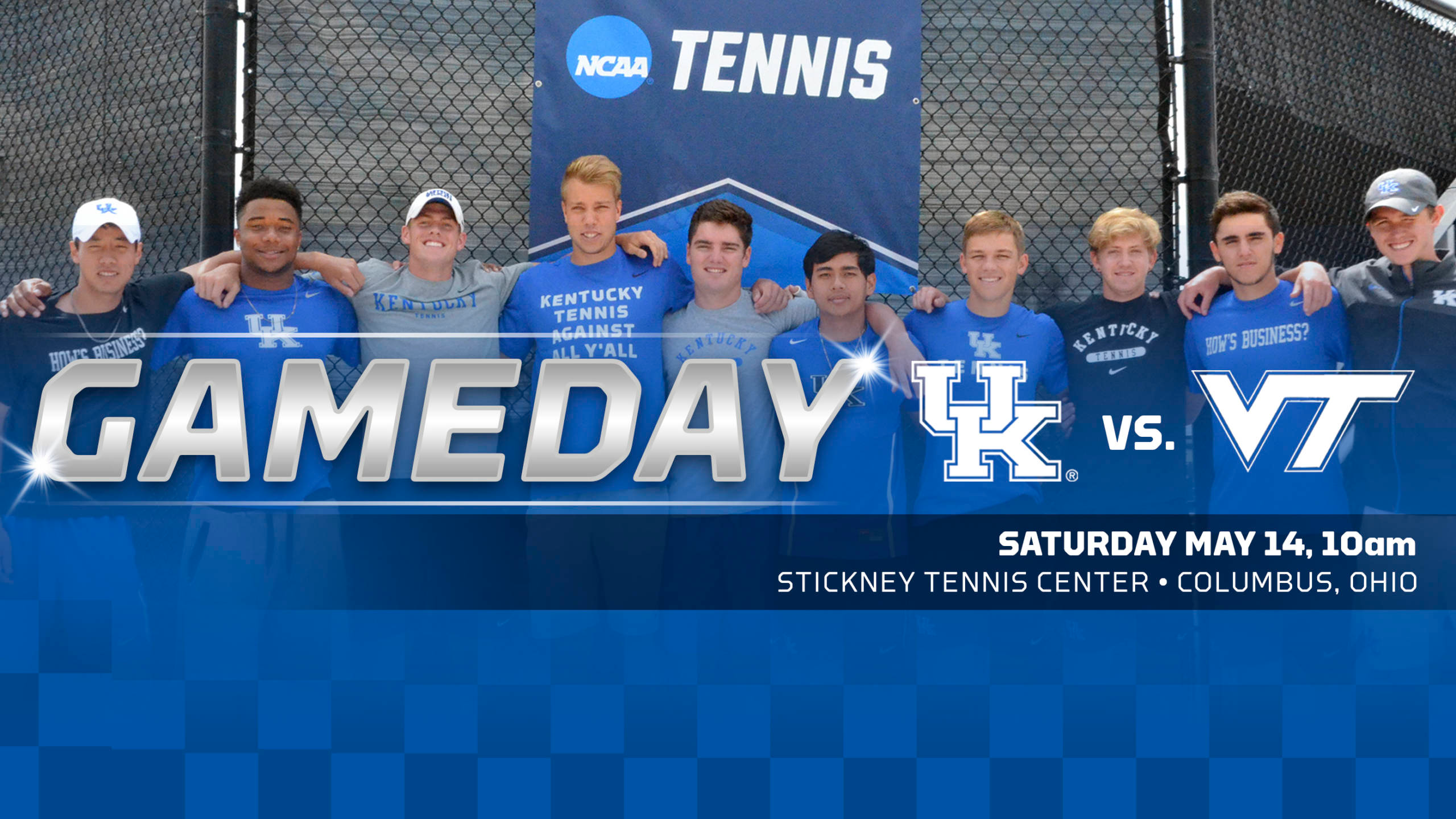 Kentucky Tennis Set for NCAA First and Second Rounds
COLUMBUS, Ohio – Preparing for its 26th appearance all-time, the No. 20 Kentucky men's tennis program will look to make a run in the NCAA tournament beginning Saturday. UK will compete in the first round against the Hokies of Virginia Tech at 10 a.m., at the Stickney Tennis Center in Columbus, Ohio. 
Dependent upon the weather, the Wildcats and Hokies may have to change venues. In the case of rain, UK and VT will relocate to the Varsity Indoor Tennis Center. 
The last time the two sides went head-to-head was May 11, 2013, when the Wildcats defeated the Hokies, 4-1, in the second round of the NCAA tournament. Kentucky, then the host school, led 3-1 before current volunteer assistant coach Grant Roberts clinched the match with a 6-0, 6-2 victory to help UK to its fourth consecutive Sweet 16 appearance – the first time in school history the program achieved the feat. 
Kentucky (19-9, 7-5 SEC) enters the match after winning two of its last three.  The Wildcats had a successful regular season, jumping from unranked at the beginning of the season to a top-25 team. UK was twice named the Oracle ITA "Big Mover of the Week" during the season and ranked as high as No. 18. The Wildcats defeated 10 ranked opponents during the regular season and held a 2-2 record against teams in the top 10 nationally. 
Kentucky has been led this season by First Team All-Southeastern Conference selection in sophomore William Bushamuka and SEC Co-Freshman of the Year Ryotaro Matsumura. The top-50 ranking duo has played on the top two singles courts all season, combining for 34 wins including 17 against ranked singles opponents.
Virginia Tech (17-8, 7-5 ACC) enters the tournament as the 33rd-ranked team in the country. The Hokies made it to the semifinal match of the ACC tournament before falling to No. 6 Wake Forest, 4-2. The Hokies are led by Joao Monteiro who ranks No. 14 in the country and was named an ITA All-American earlier this season.
The winner of Kentucky-Virginia Tech will face the winner of Ohio State-Tennessee Tech Sunday, May 15 at Noon.
No. 5 Ohio State comes into the NCAA tournament with a 30-2 record and a pristine 11-0 record in B1G play. The Buckeyes defeated Illinois in their last time out, 4-1, to earn the B1G tournament for the 11th time in program history. Tennessee Tech enters the Columbus Regional with a 15-6 mark and a 9-0 record in Ohio Valley Conference play. Tennessee Tech earned the automatic bid with a 4-3 win over Eastern Kentucky University in the OVC tournament.