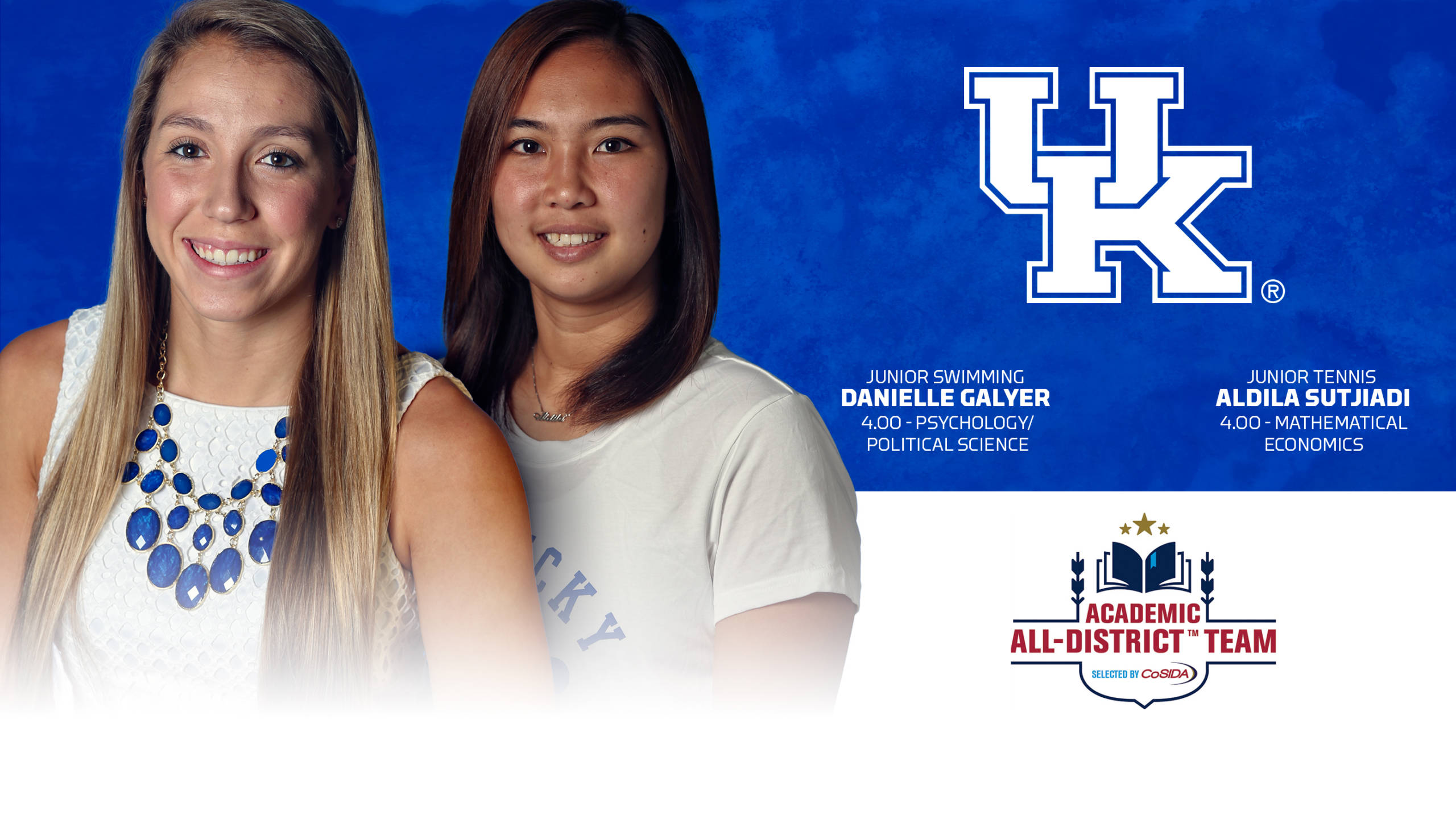 Galyer and Sutjiadi Named to CoSIDA Academic All-District At-Large Team
AUSTIN – The 2016 College Sports Information Directors of America (CoSIDA) Academic All-District At-Large Teams were released Thursday afternoon, with Kentucky swimmer Danielle Galyer and tennis player Aldila Sutjiadi landing on the District 2 team.
All-District honorees advance to the CoSIDA Academic All-America Team ballot, where first-, second- and third-team All-America honorees will be selected later this month.  
Sports on the at-large ballot include women's beach volleyball, women's bowling, women's crew/rowing, men's and women's fencing, women's field hockey, men's and women's golf, men's and women's gymnastics, men's and women's ice hockey, men's and women's lacrosse, men's and women's rifle, men's and women's skiing, men's and women's swimming, men's and women's tennis, men's volleyball, men's and women's water polo, and men's wrestling.
In total, 41 of the student-athletes selected to one of the eight Division I all-district teams maintain a GPA of 4.0 or better.  District 2, which includes institutions in Delaware, Kentucky, Maryland, New Jersey, Pennsylvania, West Virginia and Washington, D.C., had the highest number of honorees with a perfect GPA, with nine of the 11 all-district student-athletes maintaining a 4.0.  
Both of Kentucky's honorees come with outstanding pedigrees both in competition and in the classroom.  Galyer earned First Team All-America honors after becoming Kentucky's first national swimming champion in the 200 backstroke in March, while Sutjiadi has locked down All-America distinction after being a member of the nation's top-ranked doubles team with Mami Adachi that received the No. 2 overall seed in the upcoming NCAA Doubles Championship.  Both students maintain a flawless 4.0 GPA, and both have been recipients of the prestigious Elite 90 (formerly Elite 89) award that is given to the student-athlete with the highest cumulative GPA at the NCAA Championship level.  
Galyer has been named to the All-District At-Large team for the second time in her career, earning the distinction as a sophomore in 2015.  A double major in psychology and political science, Galyer racked up numerous honors during one of the most illustrious junior campaigns in UK swimming & diving history.  In addition to her national title in the 200 back, Galyer became one of just 10 women to break the 1:50.00 barrier in the event with the sixth-fastest swim in US Open history in 1:49.71.  She also earned All-America honorable mention in the 100 back and 800 free relay, breaking her own school record in the 100 back in 51.44 seconds and contributing to a UK record in the relay in 7:04.75.  Within the Southeastern Conference, Galyer was honored as the Scholar Athlete of the Year for the second consecutive season and was also named to the All-SEC Second Team.
A mathematical economics major, Sutjiadi has been a catalyst for the Kentucky women's tennis team, both in singles and doubles action.  In addition to playing on the top doubles team in the nation, the Indonesian native is also ranked No. 29 in singles and will represent Kentucky in both the NCAA Singles and Doubles Championships on May 25-30.  Not only are Sutjiadi and Adachi the first doubles All-Americans to come through Kentucky since 2007, but Sutjiadi is the first Wildcat to be named to the All-SEC First Team since the 2006 campaign.  The junior posted a 16-5 record, primarily in the No.2 singles spot, along with an 8-4 mark in SEC action.  Over the course of the season, Sutjiadi had multiple ranked upsets over her opponents, including then-no. 23 Astra Sharma of Vanderbilt and then-No. 22 Joana Vale Costa of LSU, both in straight sets.  Since the start of the SEC Tournament, Sutjiadi has moved up to Kentucky's top slot in singles action.  In doubles, she and Adachi sport a 15-2 record and swept through SEC opponents with an 11-0 record.  During the fall season, the pair finished runner-up in two national championship finals.
CoSIDA began the distinguished Academic All-America program in the 1950s, and since then, has honored thousands of deserving student-athletes from numerous sports and across all divisions with these elite Academic All-America scholar-athlete honors. 
To be nominated, a student-athlete must be a starter or important reserve with at least a 3.30 cumulative grade point average (on a 4.0 scale) at his/her current institution. Nominated athletes must have participated in at least 50 percent of the team's competition.