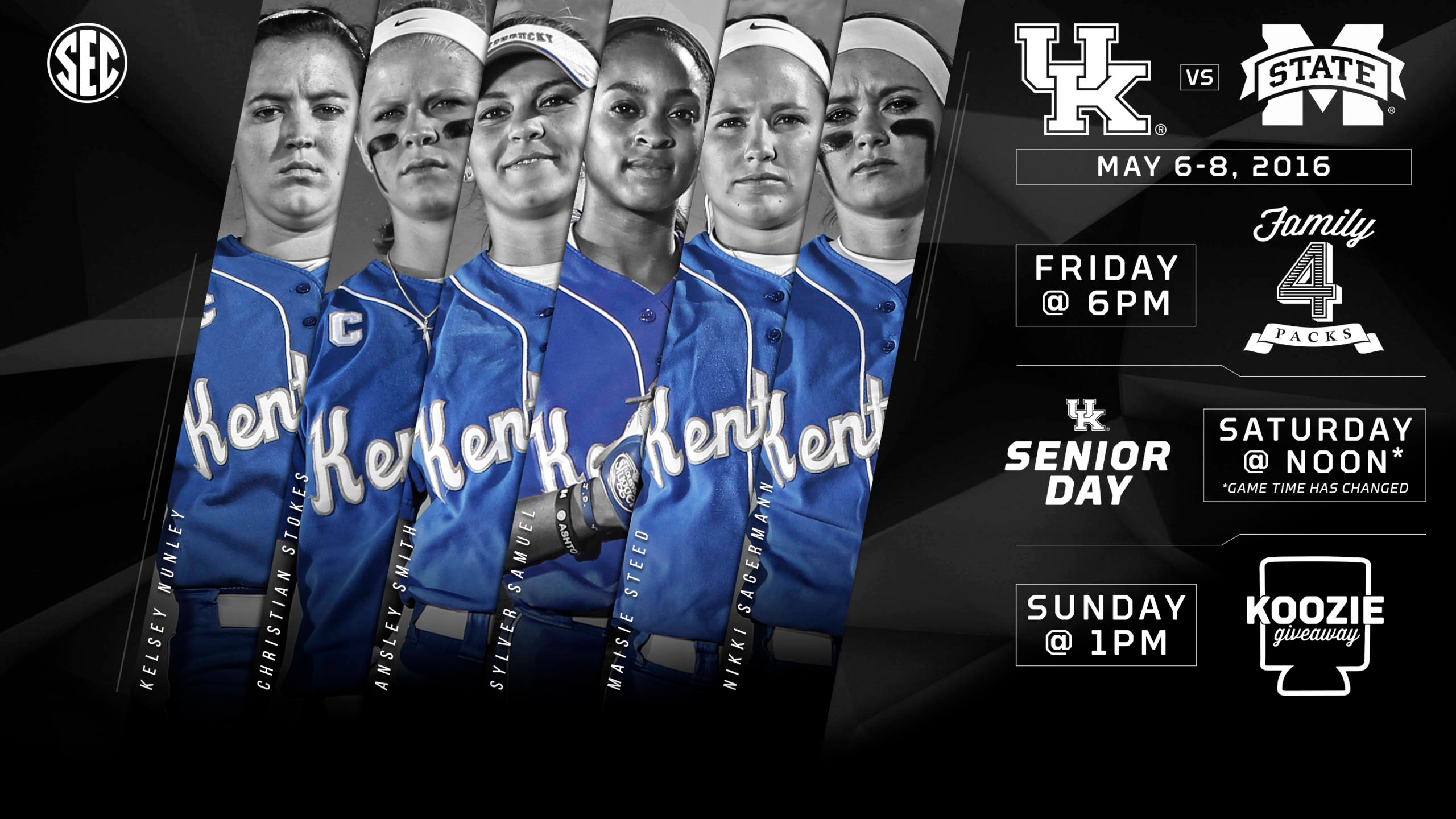 LEXINGTON, Ky. – After a week off for final
exams and its annual Southeastern Conference bye week, the No. 12 Kentucky
softball team will return to action over the weekend as it hosts the
Mississippi State Bulldogs for the final SEC regular season series of the year
at John Cropp Stadium, beginning Friday night at 6 ET.
Saturday afternoon will serve as Kentucky's
annual Senior Day, with festivities beginning on the field at 11:45 a.m. ET. Fans
planning on attending the game should note that the start time has been changed
from 3 p.m. ET to Noon ET to accommodate the SEC Network+ broadcast.
The six seniors that will be
honored are Sylver Samuel, Maisie Steed, Christian Stokes, Kelsey Nunley,
Ansley Smith and Nikki Sagermann. There will be postgame autographs following
the game Saturday with all UK players.
Friday night will not have any
television or online coverage, but both Saturday and Sunday's games will be
shown in their entirety on the SEC Network+ and the WatchESPN app with Dave
Baker (pxp) and Brian Milam (color) on the call. Sunday's game will be a part
of the SEC Network's "Bases Loaded" coverage, where they will go around the
country to all six SEC series. The WatchESPN app will have the UK/MSU game in
its entirety.
Kentucky enters this weekend with a
40-11 overall record, and a 14-7 mark in SEC play with three games remaining.
The Wildcats currently sit in a tie for fourth with the Alabama Crimson Tide in
the SEC standings, which could be critical when looking ahead to next week's
SEC Tournament in Starkville, Miss. The top four finishers in the SEC league
standings will receive a bye into the quarterfinals in next week's tournament. Alabama
holds the tiebreaker over UK due to its 2-1 series win two weeks ago over the
Wildcats. Tennessee is 14-6 with one less game played that will not be made up.
The Lady Vols play Ole Miss this weekend, with Alabama hosting the Georgia
Bulldogs.
Mississippi State enters the
weekend with an RPI in the top 35, but a 25-27 overall record and 3-18 mark in
the SEC. MSU has played one of the toughest schedules in the league this
season, and has taken a game off of No. 4 Auburn in 14 innings, as well as
pushing the top-ranked Florida Gators to 10 innings in that series finale.
MSU had one of the best
pre-conference seasons in the league, entering league play 18-6 overall with
quality wins over South Alabama, Chattanooga, Central Arkansas, Penn State and
California Santa Barbara. Alexis Silkwood leads the way in the circle with a
3.04 ERA in a team-leading 106.0 innings thrown. Silkwood is one of six
different pitchers who have thrown more than 10 innings this season for Vann
Studeman's squad, including Holly Ward (3.01 ERA) and Regan Green (1.88 ERA),
who have over 25 appearances in the circle for the Bulldogs.
At the plate for MSU, Kayla
Winkfield leads the way with a .323 batting average, the only MSU player
hitting above .300 on the season. Winkfield has one homer and 20 RBI on the
year coupled with six doubles and six triples.
Gameday Information
John Cropp Stadium
Gameday Webpage
Weekend Schedule
Friday, May 6 – Mississippi
State at Kentucky – 6 p.m. ET
Saturday, May 7 –
Mississippi State at Kentucky – Noon ET (SEC Network+, WatchESPN, ESPN3)
Sunday, May 8 – Mississippi
State at Kentucky – 1 p.m. ET (SEC Network+ will have the game in its entirety.
The SEC Network will be doing its "Bases Loaded" coverage beginning at 1 p.m.
ET, going in and out of all six SEC games throughout the coverage window).
Parking
Free game day parking is available the upper
and lower paved parking lots adjacent to John Cropp Stadium.  In the event
that those lots fill spectators will be directed to park in the grass lot near
College Way and Wildcat Court.
Tickets
Tickets for Softball are sold through the UK Ticket
Office.  For information about hosting Birthday Parties at John Cropp
Stadium please contact (859) 257.1818. The Ticket Office and stadium gates will
open one hour prior to first pitch.
Seating
All seating in John Cropp Stadium is general
admission and is first-come, first served.
Facility Address
John Cropp Stadium
570 Wildcat Court
Lexington, KY 40506
WatchESPN
Saturday – http://es.pn/1QCMRnd
Sunday – http://es.pn/1Sv8bk8
For the latest on the Kentucky softball team, follow @UKSoftball on Twitter, Instagram
and Facebook, as well as on the web at UKathletics.com.