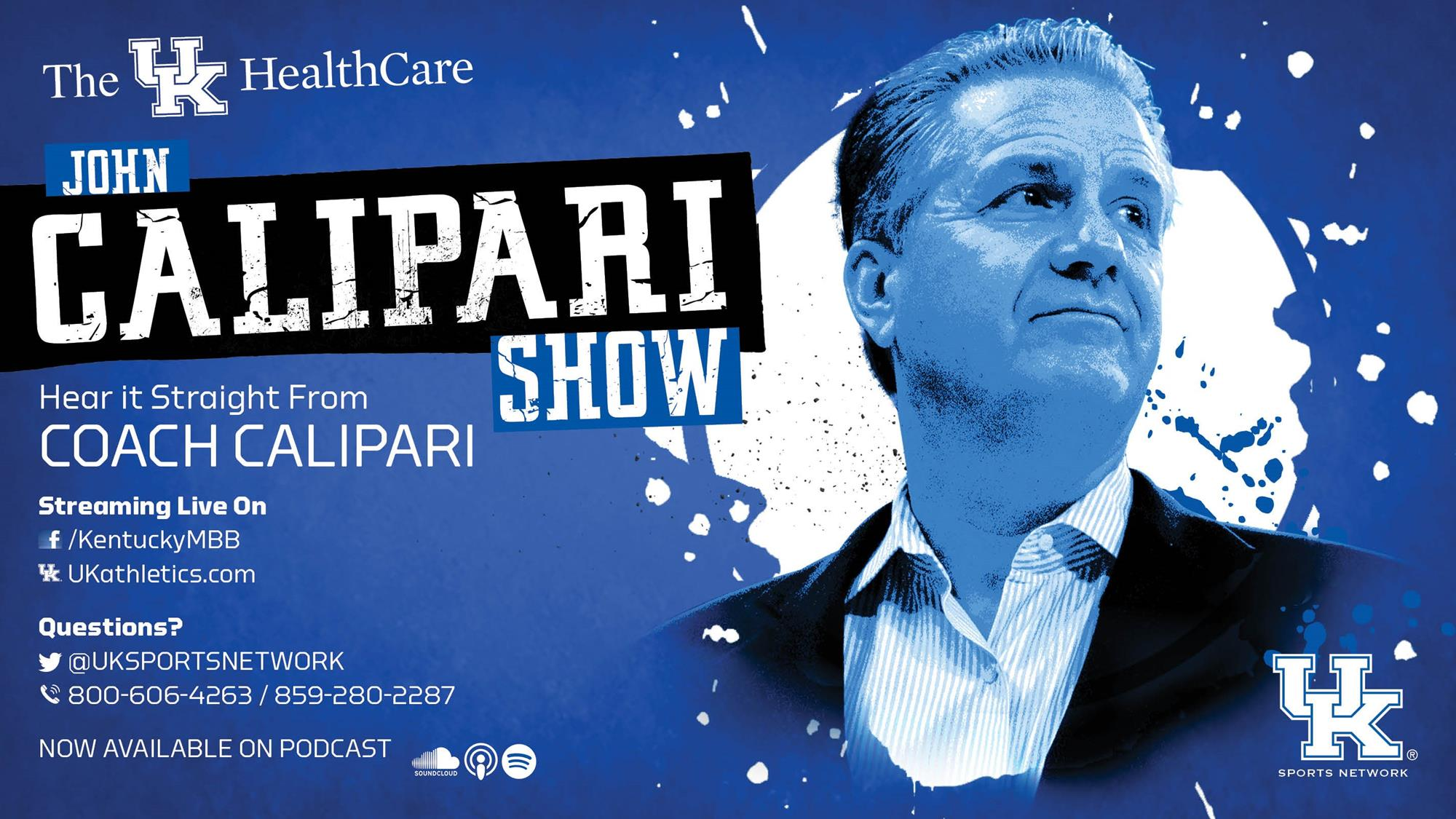 November 20, 2015 - 12:14 PM
John Calipari Show
The UK Healthcare John Calipari Show airs most Monday nights during the season* at 6 p.m. ET** with host Tom Leach, UK men's basketball play-by-play man. Fans can call the Clark's Pump-N-Shop phoneline at 1-800-606-GAME (4263) or (859) 280-2287. Calipari will also take questions via Twitter. Fans choosing to go the social media route can tweet their questions to @UKSportsNetwork for a chance to be featured as the Twitter question of the week or leave their question in the comment section on the Facebook live stream on the Kentucky men's basketball Facebook page.
The show is broadcast in Lexington on 630 WLAP, online at UKathletics.com and CoachCal.com, on UK Sports Network affiliates, on the Kentucky men's basketball Facebook page, and through the UK Athletics app. 
Fans can download the show as a podcast through iTunes, Google Play, Sound Cloud and Stitcher by searching "UK Sports Network Radio."
 
The following is the complete schedule for the 2021-22 season. All times are tentative and subject to change.
 *Different night due to game schedule
**The Nov. 23 and Nov. 30 shows will air at 7 p.m. ET immediately after the UK Healthcare Mark Stoops Show at 6 p.m. ET
 
| Date | Time |
| --- | --- |
| Tuesday, Nov. 23** | 7-8 p.m. ET |
| Tuesday, Nov. 30** | 7-8 p.m. ET |
| Monday, Dec. 6 | 6-7 p.m. ET |
| Monday, Dec. 13 | 6-7 p.m. ET |
| Monday, Dec. 20 | 6-7 p.m. ET |
| Monday, Dec. 27 | 6-7 p.m. ET |
| Wednesday, Jan. 5* | 6-7 p.m. ET |
| Wednesday, Jan. 12* | 6-7 p.m. ET |
| Monday, Jan. 17 | 6-7 p.m. ET |
| Monday, Jan. 24 | 6-7 p.m. ET |
| Monday, Jan. 31 | 6-7 p.m. ET |
| Wednesday, Feb. 9* | 6-7 p.m. ET |
| Wednesday, Feb. 16 | 6-7 p.m. ET |
| Monday, Feb. 21 | 6-7 p.m. ET |
| Monday, Feb. 28 | 6-7 p.m. ET |
| Monday, March 7 | 6-7 p.m. ET |
| Monday, March 14 | 6-7 p.m. ET |
| Monday, March 21 | 6-7 p.m. ET |