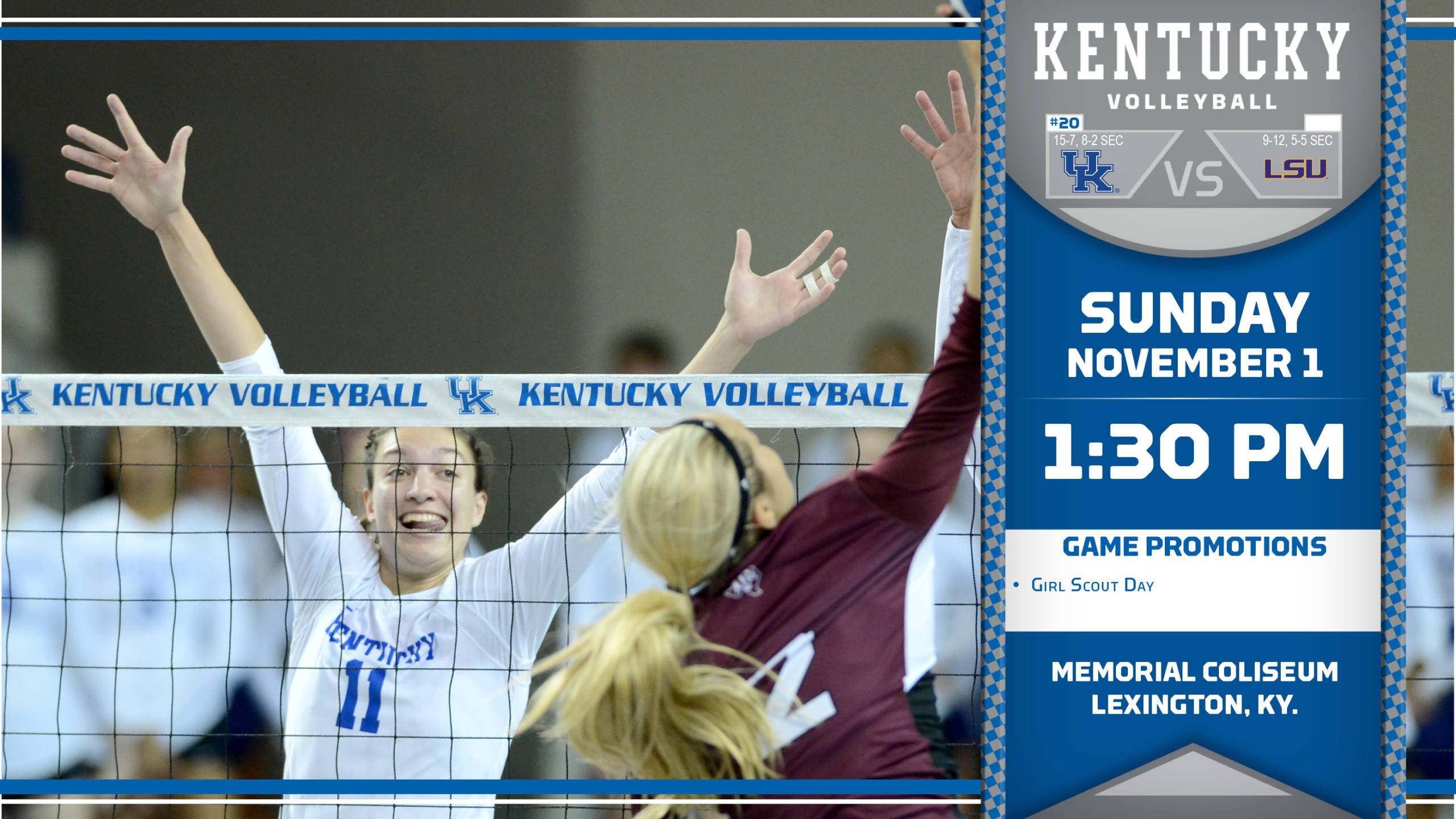 October 31, 2015 - 12:03 PM
No. 20 Wildcats Look to Rebound Against LSU
LEXINGTON, Ky. – The No. 20 Kentucky Wildcats are looking to rebound coming off of a discouraging loss to Texas A&M on Friday, as they are set to face the LSU Tigers on Sunday, Nov. 1 at 1:30 p.m. in Memorial Coliseum.
Last time out, the Texas A&M Aggies rallied for a 3-1 (30-28, 14-25, 25-23, 26-24) win over Kentucky on Friday night in front of 1,638 fans on "Dig Pink" night in Memorial Coliseum. The win for the Aggies marked the first ever victory in five tries against Kentucky in Lexington in program history. UK had a valiant offensive effort with five players topping 10 or more kills on the night, but the Aggies were able to prevail with wins in the first, third and fourth sets. 
Senior setter Morgan Bergren distributed the ball at an elite level with five Wildcats topping 10 or more kills and each player registering between 22 and 38 swings. The Muncie, Ind., native logged 49 assists on the night and will enter Sunday's match needing just eight more assists to top 3,500 for her career. 
<="" td="">
="">
#20 Kentucky vs. LSU
Fri., Nov. 1 – 1:30 p.m.
Memorial Coliseum
Lexington, Ky. 
Match Notes: UK

 | LSU 
Coverage
TV: SEC Network 
Commentators: Paul Sunderland and Nell Fortner
Radio: UKAthletics.com
Live Video via Watch ESPN
Live Audio
Live Stats
Text Updates
Live Updates @KentuckyVB on Twitter
The Tigers enter Sunday on a sweep from Tennessee after winning three of the past five matches including a sweep of Mississippi State. LSU, standing at 5-5 in league play sits in the middle of the standings, with five of its nine SEC matches so far being determined in five sets. Gina Tillis is the focal point of the LSU offense, averaging 4.03 kills per set during league matches. 
For more information on Friday's bout, continue below:
Girl Scout Day at Memorial Coliseum
Sunday marks Kentucky Volleyball's Girl Scout Day, with troops able to earn free admission to the match. For more information, contact Devin Kochergen at devin.kochergen@uky.edu. 
Gameday Parking
We are pleased to offer new parking opportunities this season. In addition to the E lots around the Craft Center and Coal Lodge, fans have the option of parking in the Linden Walk E lots which are across Rose Street from the Singletary Center for the Arts, the E/CS-7 lots near the College of Education off of S. Upper Street, and the Rose Street Garage (PS-2) located on Rose Street, south of the Coliseum with an entrance on Hilltop Avenue near W.T. Young Library. These lots are available for all matches starting three hours before first serve. Fans are reminded to never park in lots or spaces designated R for residential and that the Student Center lot is no longer an option due to construction. Parking is limited and fans are encouraged to arrive early,
Bergren Named Finalist for Senior CLASS Award
Premier Sports Management announced its 10 finalists for the annual Senior CLASS Award on Friday, Oct. 30, with standout setter Morgan Bergren being one of the remaining candidates for the honor. 
The finalists were chosen by a media committee from the list of 30 candidates announced in September. 
Nationwide fan voting begins immediately to help select the winner, and fans are encouraged to vote on the Senior CLASS Award website through Dec. 7. Fans can vote once a day until the Dec. 7 cut off. Fan votes will then be combined with media and Division I head coaches' votes to determine the winner. The Senior CLASS Award recipient will be announced during the 2015 NCAA Division I Women's Volleyball Championship in December.
Brown, Morgan Secure SEC Weekly Accolades
For the third consecutive week, the Kentucky Wildcats claimed Southeastern Conference honors on Oct. 26, as the league office named sophomore Kaz Brown the Player of the Week and Defensive Player of the Week, while freshman right side Brooke Morgan was named the top freshman. 
Brown, en route to her first SEC Player of the Week honor, had a dominant presence at the net logging 18 blocks in six sets of play. With 10 blocks at Ole Miss, Brown tied for the most in an SEC match and most in a three-set SEC match in 2015. Her effort at the net was a large part of helping UK out-block opponents 27-10 in the two outings. Brown also added 14 kills on .345 hitting during the sweeps.
Morgan claimed her third Freshman of the Week honor following a weekend where she hit .520 for 15 kills with nine blocks in six sets. Morgan played a critical role on both sides of the ball and set a new career-best hitting percentage at Alabama, going 7-for-10 with no errors against the Crimson Tide.
Cats Lead SEC Play in Blocks Per Set
Defense at the net has played a large role in UK's success in conference play, as the Kentucky Wildcats rank first in blocks per set in SEC play. The team averages 3.11 blocks per frame in conference play, with Brown, sophomore classmate Emily Franklin and senior Morgan Bergren all ranking among the top 10 blockers in league play. Brown leads SEC play with 1.78 blocks per set, Franklin ranks seventh with 1.12 and Bergren placed 10th with 1.06.
Brown, Dusek in National Top 25
Brown and sophomore classmate Ashley Dusek find themselves among the top 25 in the nation in respective statistical categories. Brown ranks in the top 25 in blocks and blocks per set, placing eighth in both categories, with 119 blocks and averaging 1.57 per set in the 2015 campaign. Dusek currently ranks 24th in the country in digs per set, averaging 5.03.
Dusek's Digs, Brown's Blocks Lead Conference
Sophomore libero Ashley Dusek now leads the Southeastern Conference in digs per set, both in all matches (5.03 digs/set) and conference-only statistics (5.38 digs/set). Dusek's 382 total digs are a team best, with the East Bernard, Texas native logging including 166 in SEC action. Sophomore middle Kaz Brown leads the SEC in total blocks (52) and blocks per set (1.78) in league play.
Kentucky's Memorial Coliseum will play host to the NCAA Regionals Dec. 11-12. UK is one of four sites selected for the Sweet 16 and Elite Eight matchups with one team advancing to the Final Four in Omaha, Neb., from the Lexington Region. This marks the third time in five seasons Memorial Coliseum will host this premier volleyball event.