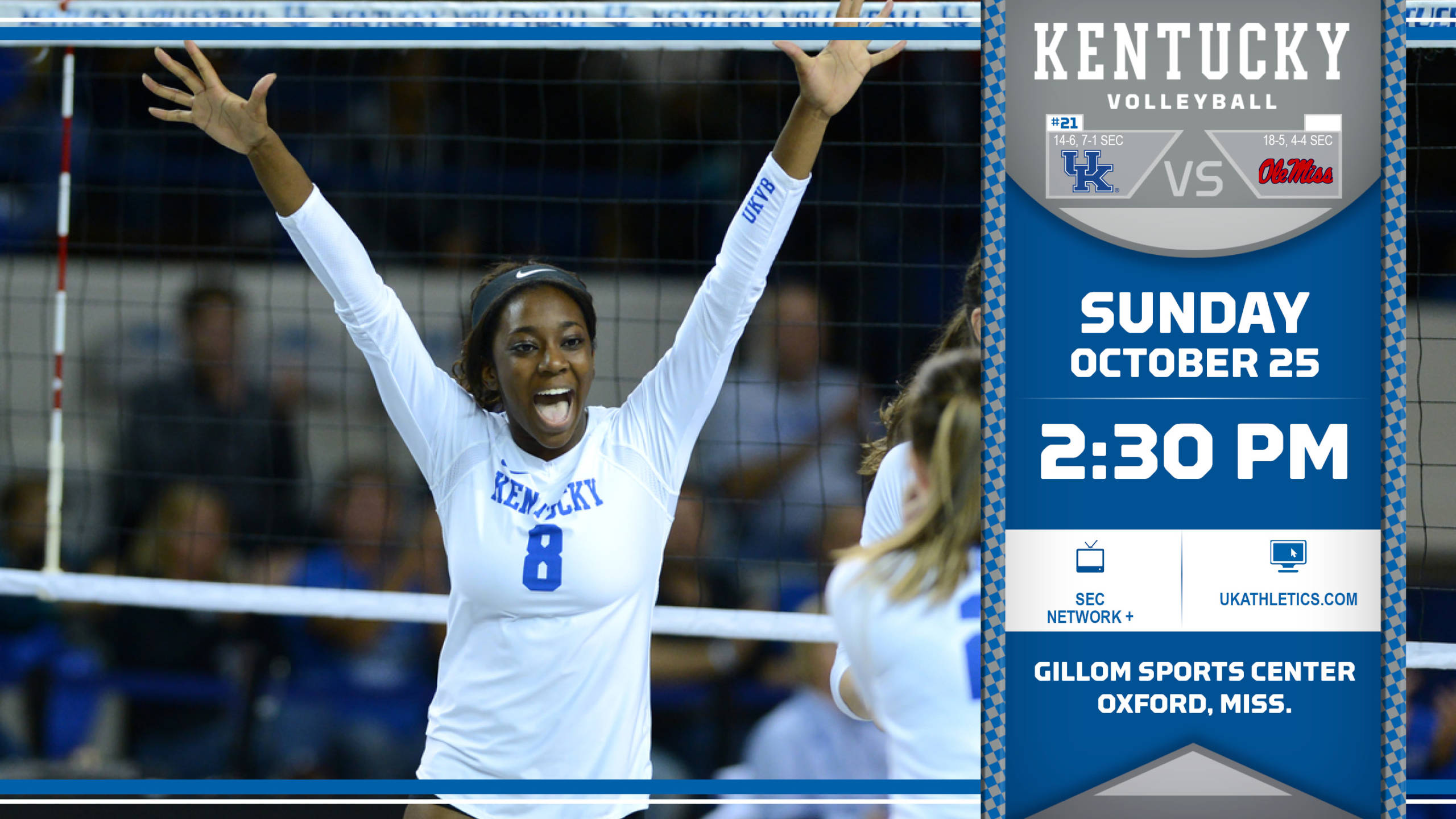 October 24, 2015 - 12:53 PM
No. 21 Kentucky Closes Road Outing at Ole Miss
OXFORD, Miss. – Coming off its fourth sweep during conference play, the 21st-ranked Kentucky Wildcats volleyball team rounds out the weekend's play with a match against the Ole Miss Rebels at 2:30 p.m. ET on Sunday. The match is set to air on the SEC Network + via the Watch ESPN app. Mandy Robbe will call the match for radio, available on UKAthletics.com. 
In their most recent outing, the Wildcats shined hitting .333 on 36 kills. The team also stepped up its defensive presence at the net, registering 12 blocks in three sets – its second-best performance in a three-set match this season.  The team also excelled serving, registering eight aces in the match. 
The Kentucky attack was balanced throughout, with everyone getting involved. Sophomore Kaz Brown led the way with nine kills on .412 hitting while providing a team-high six blocks. Sophomore Darian Mack and freshman Brooke Morgan each had seven kills and three blocks on the day, with Morgan setting a new career best with her match-high .700 hitting. Mack had eight digs and two aces. Junior Anni Thomasson had six kills and six digs, while Sophomore Emily Franklin had three hammers, a team-high three aces and registered six blocks. 
Ole Miss has won four of its last six matchups, taking victories over South Carolina, Georgia, Arkansas and most recently a four-set victory over  Tennessee. Ole Miss looks to guide the offense through Nakeyta Clair who boasts 3.17 kills a match on .417 hitting, the fourth best percentage in the league. Kathryn Cather is a threat when serving, with a SEC second-best 30 aces.
For all your information on the Sunday's matinee, read more below:
Dusek Takes Home POTW, DPOW Honors
The Southeastern Conference announced its weekly volleyball honors on Monday, Oct. 19 with Kentucky sophomore Ashley Dusek taking home Player of the Week and Defensive Player of the Week honors. The recognition marked Dusek's second Defensive Player of the Week nod of the season and the first time in her career being named the league's top performer.
Dusek put on an incredible performance during the week's play, logging a jaw-dropping, league-high 7.56 digs a set, snagging 68 total digs over the span of nine sets. The sophomore's monster weekend was highlighted by a record-breaking performance at Auburn on Oct. 16. The East Bernard, Texas, native broke a 22-year-old record, setting the all-time record for digs in a single match with 40 against the Auburn Tigers. Dusek followed up her 40 dig performance by logging 28 more in four sets against No. 17 Florida in the lone top-25 matchup in the SEC during the past week. 
Bergren Closing In On Milestone
Senior setter Morgan Bergren looks to further cement her place in Kentucky volleyball history, as she continues to close in on the 3,500 career assists mark. The Muncie, Ind., native currently sits at 3,409 career assists, needing just 91 more to achieve the benchmark. Only four other Wildcats in Leigh Marcum (2002-05), Jane Belanger (1990-93), Laura Linder (1987-90) and Sarah Rumley (2006-09) have eclipsed the 3,500 assist mark. Additionally, only 20 active players in NCAA Division I have logged 3,500 or more assists in their career. 
Brown, Dusek in National Top 25
Sophomores Kaz Brown and Ashley Dusek find themselves among the top 25 in the nation in respective statistical categories. Brown ranks in the top 25 in blocks and blocks per set. She ranks 16th in total blocks with 101 in the 2015 campaign, while her 1.44 per set is good for No. 18 in the nation. Dusek currently ranks 21st in the country in digs per set, averaging 5.09 per set. 
Dusek's Digs Lead Conference
Sophomore libero Ashley Dusek now leads the Southeastern Conference in digs per set, both in all matches (5.09 digs/set) and conference-only statistics (5.38 digs/set). Dusek's 367 total digs are a team best, with the East Bernard, Texas, native logging including 151 in SEC action.
Kentucky's Memorial Coliseum will play host to the NCAA Regionals Dec. 11-12. UK is one of four sites selected for the Sweet 16 and Elite Eight matchups with one team advancing to the Final Four in Omaha, Neb., from the Lexington Region. This marks the third time in five seasons Memorial Coliseum will host this premier volleyball event.