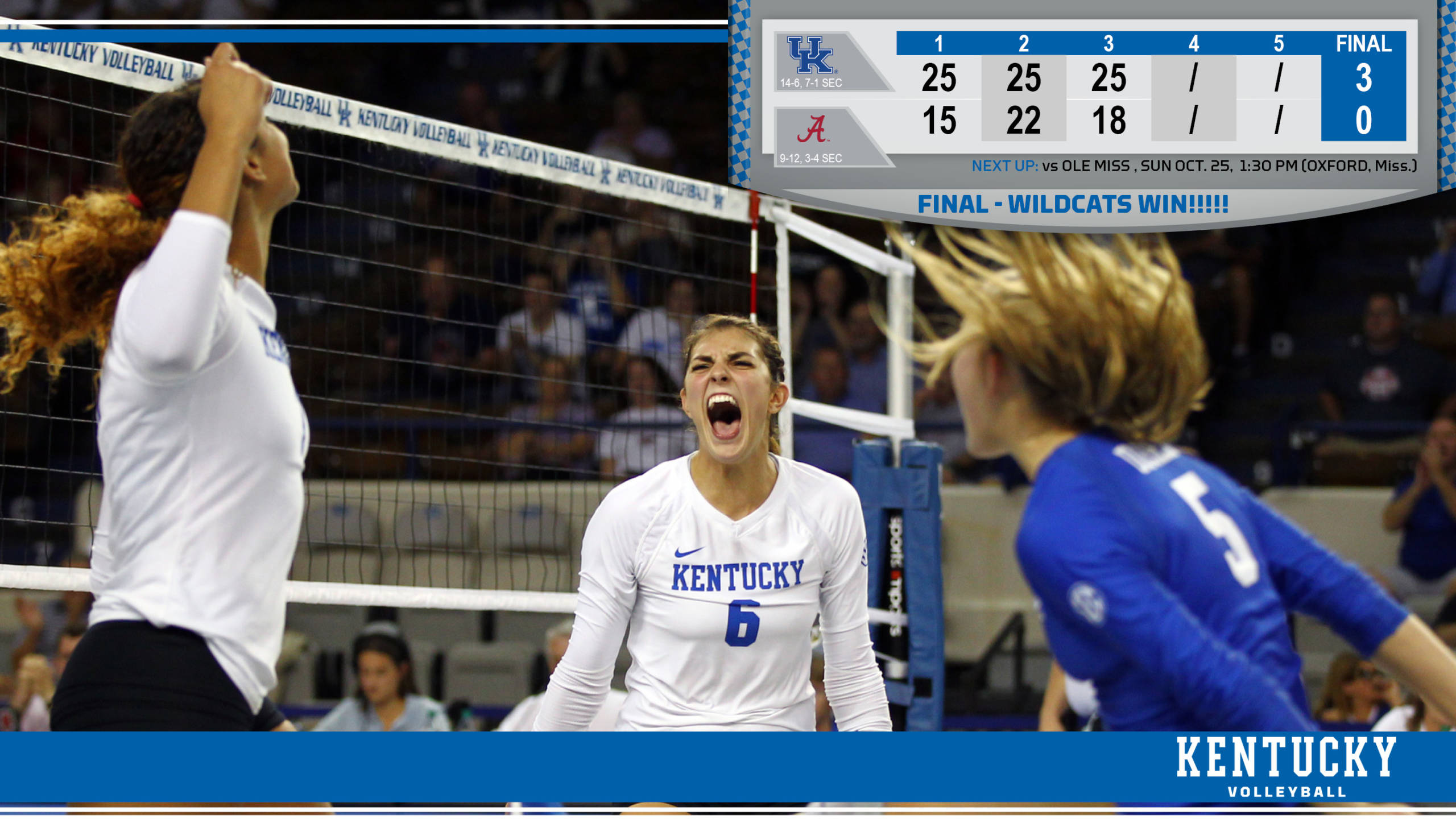 October 23, 2015 - 10:09 PM
No. 21 Kentucky Sweeps Crimson Tide
TUSCALOOSA, Ala. – An impressive showing on both ends of the ball resulted in a sweep of the Alabama Crimson Tide on the road, 3-0 (25-15, 25-22, 25-18), for the 21st-ranked Kentucky Wildcats on Friday evening.
The Wildcats shined hitting .333 on 36 kills during the outing. The team also stepped up its defensive presence at the net, registering 14 blocks in three sets – its best performance in a three-set match this season.  The team also excelled serving, registering eight aces in the match.  
"We had really good balance on offense tonight," said 11th-season head coach Craig Skinner. "Defensively our block stepped up again big time, and our serving was a major difference in allowing our block to get involved. A really impressive effort by our kids tonight and a great win on the road."
UK advances to 14-6 on the season with a conference-best 7-1 record. Alabama moves to 9-12, with a 3-4 record in Southeastern Conference play. Kentucky continues its road stand on Sunday with a 2:30 p.m. match against Ole Miss in Oxford, Miss.
The Kentucky attack was balanced throughout, with everyone getting involved. Sophomore Kaz Brown led the way with nine kills on .412 hitting while providing a team-high six blocks. Sophomore Darian Mack and freshman Brooke Morgan each had seven kills and three blocks on the day, with Morgan setting a new career best with her match-high .700 hitting. Mack had eight digs and two aces. Junior Anni Thomasson had six kills and six digs, while Sophomore Emily Franklin had three hammers, a team-high three aces and registered six blocks. 
Senior setter Morgan Bergren guided the offense with 27 assists – now just 91 shy of the 3,500 career assists mark – while adding four kills and two blocks. Sophomore Ashley Dusek notched a match-best 11 digs, while freshman Olivia Dailey served as a defensive specialist and registered six digs.
Set Recaps:
Set 1
UK kicked off the dominant first set with a kill from Mack. Brown and Morgan added kills of their own before and ace from Franklin gave Kentucky an 8-4 lead. A giant block from Brown and Thomasson made it a 10-5 edge for the Wildcats, backing Alabama into an early timeout. The sides traded points before a kill from Bergren, an Alabama error and an ace from Mack made it 16-11. Back-to-back blocks from Morgan and Franklin and a solo stuff from Brown extended the Cats' lead and Alabama used its second timeout for a 19-13 lead. The break proved ineffective, as UK took three more points on consecutive kills to grow the lead to 22-13. An ace from Dailey set up set point before a kill from Brown closed out the first frame, 25-15. Kentucky closed out the set on a 10-2 run. 
Set 2
The Wildcats jumped out to a quick 3-0 lead in the first with a kill from Brown and a block from Franklin before Alabama used its first timeout. The two sides swapped points, before Alabama took three straight points to close UK's lead to one. The Wildcats responded with a kill from Brown and a block to build a 9-6 advantage. The Wildcats stayed ahead, as a big block from Franklin and Mack gave UK the four-point lead at 13-9. Alabama was relentless, making a 5-1 run to knot it up at 14-14, forcing Kentucky to take its first timeout of the match. Kentucky trailed briefly, as an Alabama service error and an ace from Franklin tied things at 16-16. A massive rally capped by a Thomasson kill gave UK a two-point, 20-18 advantage before the Crimson Tide had two quick points to tie at 20-all. UK then strung together three straight, finished off with a block from Brown and Bergren, for a 23-20 advantage when Alabama used its final timeout.  The teams swapped points as an error from Alabama closed out the second, 25-22.
Set 3
Mack was in on all three of Kentucky's first three points of the set, notching a block with Brown and getting a pair of kills for a 3-1 lead. Both sides swapped points to a 6-6 tie. The Wildcats scored three-straight with a kill for Brown capping the run for a 9-6 lead. Alabama came within one, before Kentucky took five of the next six points for a 14-9 lead. Coming out of the media timeout, an ace from Dusek and a kill from Mack extended the Wildcats' lead to seven, 17-10. The Crimson Tide called time to try and regroup, effectively doing so with three-straight points. Kentucky called time with a four-point, 17-13 lead. Alabama came within two before an errant shot and Kentucky's 11th block of the evening made it 19-15. The cats continued to expand on the lead with a kill from Mack and a block from Morgan and Franklin giving UK a 22-16 edge, forcing Alabama to use its final timeout. Thomasson closed out the match with her sixth kill of the evening in a 25-18 win. 
By the Numbers:
.700 – Freshman Brooke Morgan had a career-best .700 hitting performance, going 7-of-10 attacking with no errors
.333 – Kentucky posted an impressive .333 attacking on the evening.
91 – With 27 assists tonight, senior setter Morgan Bergren is just 91 assists shy of 3,500 career assists
12 – UK registered a staggering 12 blocks in three sets of action.
6 – Sophomore classmates Kaz Brown and Emily Franklin registered a match-high six blocks
Kentucky's Memorial Coliseum will play host to the NCAA Regionals Dec. 11-12. UK is one of four sites selected for the Sweet 16 and Elite Eight matchups with one team advancing to the Final Four in Omaha, Neb., from the Lexington Region. This marks the third time in five seasons Memorial Coliseum will host this premier volleyball event.