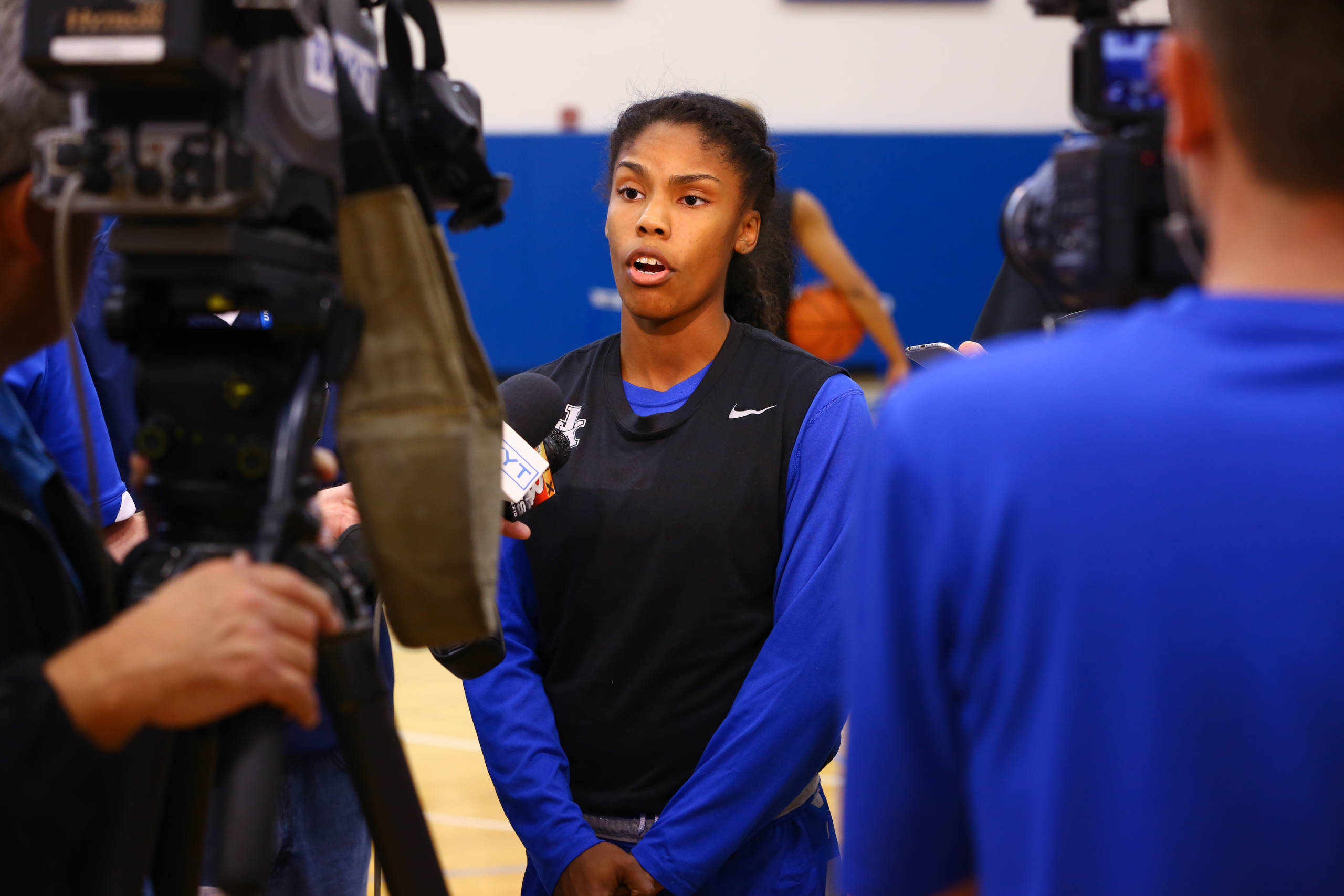 It was the low point of Janee Thompson's career, but even then she was able to appreciate what was happening around her.
Thompson had suffered a broken leg and dislocated ankle in a game at top-ranked South Carolina on Jan. 11. Her junior season was over and doubt was cast over her basketball future by the gruesome nature of the injury.
But from the moment it happened and no matter where she turned, Thompson was overwhelmed with the positive outpouring that came her way.
"It was just a blessing to see how much they wanted me to get back and all the support and the love that poured in after my injury," Thompson said. "It was great."
Four days after the injury, Thompson had successful surgery. With that, the outpouring became something more than uplifting for Thompson.
"That was pretty much my motivation," Thompson said. "I wanted to get back out there with my teammates and I wanted to get back on the court for all the people that supported me during that rough time."
A little more than nine months later, Thompson is on the cusp of making her return.
"It's doing good," Thompson said. "I'm progressing every day and it's challenging, but I'm doing well, getting better every day, taking it one day at a time."
Thompson is back on the floor with her Kentucky teammates as the Wildcats prepare for their season opener against Rice on Nov. 13.
"She's made just terrific progress from a major injury, so anytime you have an injury like that, it's very difficult to come back from," Matthew Mitchell said. "It happened in January, and I think that in the early stages of her rehabilitation, she really did a good job and knew how important it was for our team for her to be successful with her rehabilitation, and I would say right now it's a great success."
The senior point guard isn't 100 percent just yet – Mitchell mentioned the example of her only practicing once when UK goes twice in one day – but she's getting there.
"I do as much as I can and I go as hard as I can when I'm able to and when I start to feel a little something I back off a little bit," Thompson said. "But I feel like I'm able to do more and more every day, which is great for me. I'm just glad to be back out there with my teammates."
As happy as she is, Thompson can't help but get impatient at times. She remembers how she was playing before her injury, averaging 10.1 points and 3.1 assists, and she wants to get back to that form immediately.
"I'm not sure what that timetable is, and I am just preaching patience on her part and really recognizing when we make progress," Mitchell said. "She wants it to be done now. She wants to be ready now. She wants to feel great now. In this end or final stage of her rehabilitation and getting back to 100 percent, we don't want any setbacks because she's not viewing her progress properly."
As important as it is that Thompson stay patient for her own health, she also must do the same for the sake of her team.
"People are looking to her for leadership," Mitchell said. "And so it's a difficult thing when you're coming back from an injury where you're so concerned, and rightfully so, you have to get concerned about yourself and getting your injury healed. But we're simultaneously working with a senior leader on the team, so she's got to pay attention to her attitude every single day. She can't ride the roller coaster."
Thompson is figuring it out.
"The more I do, the more I want to do, if that makes sense," Thompson said. "I want to do more than my body is allowing me at times, but as the weeks go by I'm able to get past that and I see myself getting better and better."
She's still not going to stop being eager for her first game since that January outpouring.
"I wish it was today," Thompson said. "I'm so excited to get back on that court and to play in front our fans and to get out there with my teammates. I can't wait."