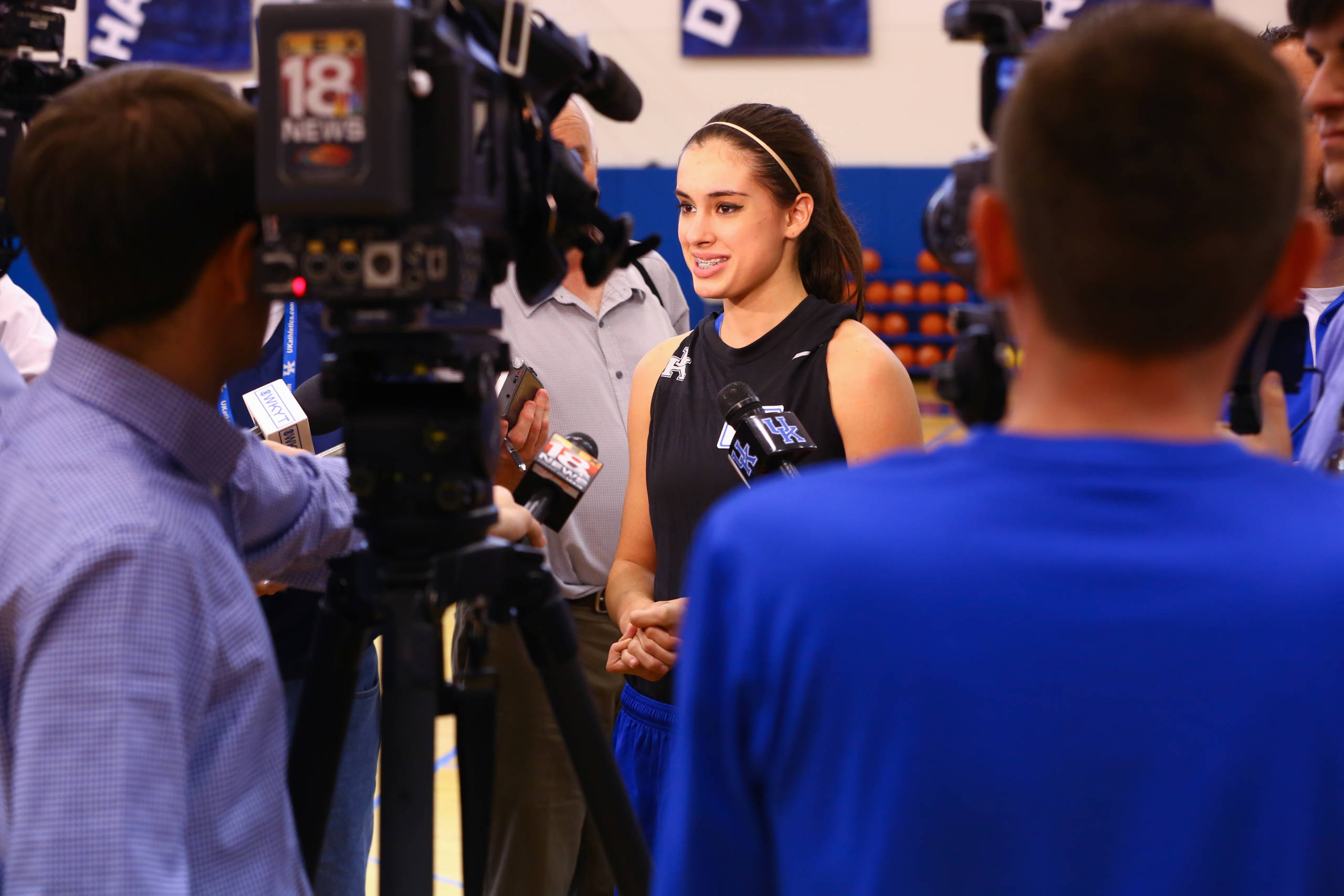 Kentucky women's basketball coach Matthew Mitchell has built his program into one of the nation's best by recruiting the top players from all over the country, and even the world. But the 2015-16 Wildcats will feature a roster that has much more in the way of local talent, something the Wildcats haven't always had during Mitchell's tenure.
Mitchell and his players met the media on Tuesday for their annual media day appearance, where the head coach talked about the Bluegrass flavor on his current roster and what that means to him.
"I have connected with this University the way that an overwhelming majority of the people in this Commonwealth connect with the University of Kentucky," Mitchell said. "It's just sort of woven into the fabric of people and it's in their DNA, so I think there's value in that. I think there's value in a kid growing up, and one of her lifelong ambitions being to play at the University of Kentucky."
Five of the 13 players on this year's Wildcats are from the state of Kentucky, including two veterans and three newcomers.
First-team All-SEC guard Makayla Epps returns for her junior season, after averaging 16.3 points per game last season. The native of Lebanon, Ky., figures to be one of the team's best players once again this season.
Epps' high school teammate, junior forward Kyvin Goodin-Rogers, also returns for the Wildcats. Goodin-Rogers played in all 34 games for Kentucky last season, averaging four points and 3.1 rebounds per contest. She knows how special it is to play for her home state team.
"It's really a big thing around here because where I'm from it's (either) Louisville or Kentucky," Goodin-Rogers said. "Our chemistry here is good and we all get along very well."
Joining Epps and Goodin-Rogers are three newcomers who also hail from the Bluegrass state. Freshman guard Maci Morris, who played for Bell County High School in Pineville, is perhaps the most heralded of the group, having earned Kentucky's Miss Basketball award in 2015.
"It's been a great experience for me," Morris said of playing for the Wildcats. "Coming from Eastern Kentucky, being Miss Basketball was a dream of mine and playing for UK was a dream as well."
Former Allen County-Scottsville standout Morgan Rich is also on the Kentucky roster. Rich averaged 20.4 points per game as high school senior before a knee injury shortened her season.
"Morgan Rich is a very explosive athlete," Mitchell said. "I think she is going to be able to come in and play our up-tempo style and help us defensively and offensively."
Makenzie Cann is the fifth native Kentuckian on the roster. The former Anderson County star will sit out this season after transferring from Cincinnati, where she averaged seven points per game as a freshman.
Mitchell loves having Kentucky natives on his team. "If we could get 15 players all from Kentucky, that would be my preference," Mitchell said. "That has not been possible over the years, but anytime that a player meets the criteria of being high-character and strong work ethic and a desire to play defense, and she's from Kentucky, that's a bonus to me."
There is also a sense of familiarity among the players, who have known each other for a number of years.
"When we played AAU, they were on our younger group," Goodin-Rogers said of the newcomers. "We've known them for a long, long time, so I'm looking forward to (playing with them)."
Having outstanding players from the Commonwealth also has an effect on the fans, as Mitchell noted.
"Whenever we make a basket, (the fans) all cheer, but when a kid from Kentucky makes a basket, it's just a little bit different," Mitchell said. "I can't explain it any other way than she's from Kentucky and it means something."
The coach and his team hope that so many Kentuckians playing for the state school will produce something special this season.