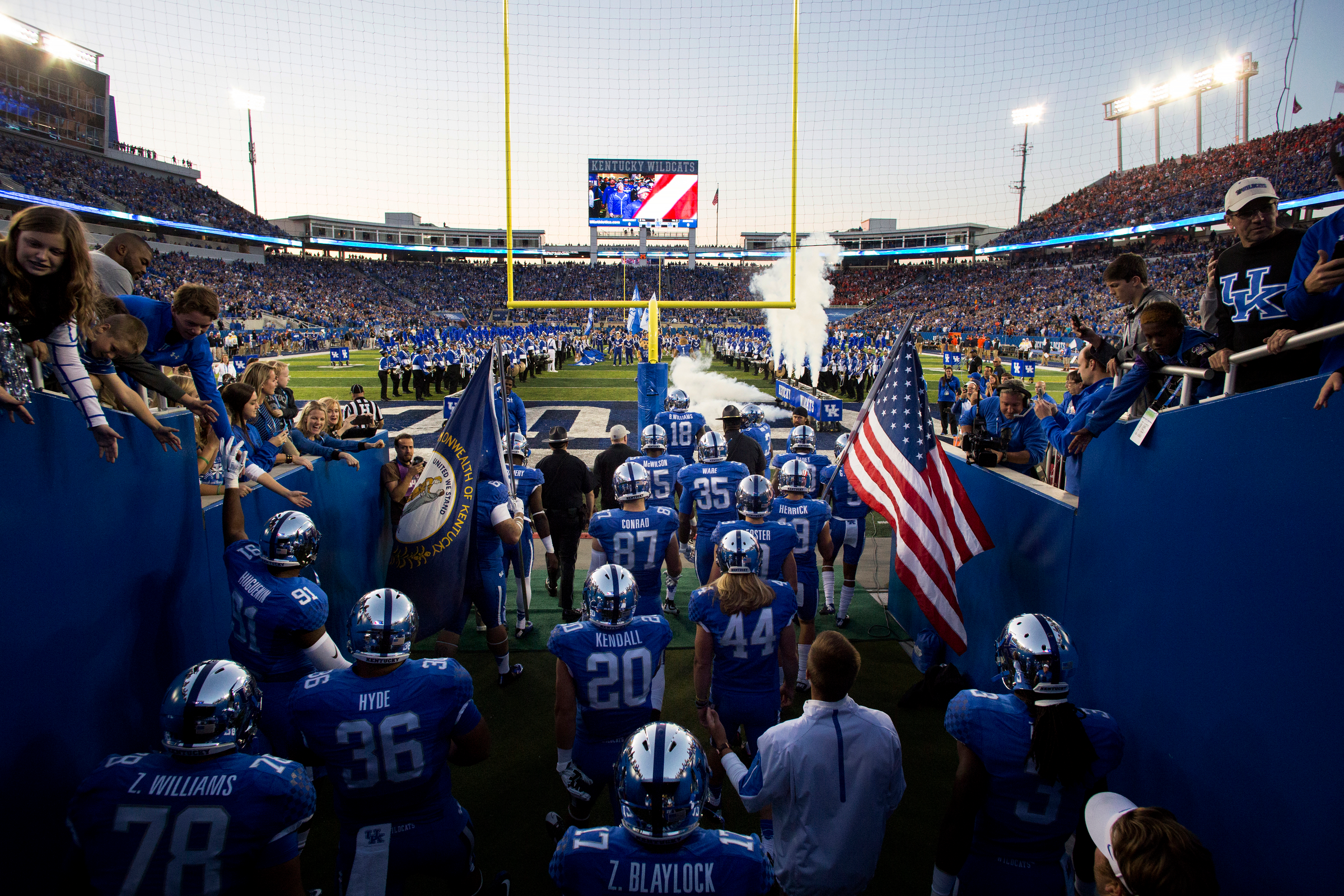 Kentucky is still feeling the sting of a loss to Auburn on Thursday night.
The disappointment of missed opportunities in the 30-27 defeat is still fresh, no doubt, but Mark Stoops was still able to take a step back on Monday and make a bigger-picture appraisal of the state of his program on Monday.
"Absolutely it's not a moral victory, but the truth is, just like we said going into the season, that we're a better football team," Mark Stoops said. "I think our body of work through half the season, that's pretty evident."
The non-moral victory in question is the fact that UK had the ball with a chance to win on the final possession in its only two losses this season. The Wildcats have won their other four outings this season, making them 4-2, 2-2 in Southeastern Conference play.
"We're very disappointed we did not beat the two teams that we lost to in Florida and Auburn," Stoops said. "We had our opportunities. We just need to continue to build and get better and find those ways to win those games."
Through Stoops' three seasons at the helm, at the Cats have done is build and get better.
It begins on the recruiting trail, where UK has reeled in the three highest-rated recruiting classes in school history over the last three seasons according to Rivals.com. Simultaneously, the Cats have transformed themselves through the High Performance program. That's translated on the field, where UK has gone from two wins in Stoops' first season to five a season ago to four with half the 2015 schedule still left. UK's four wins this season matches the team's total from 2012 and 2013 combined.
The Cats have been competitive in every game this season, and not against an easy schedule. Four of UK's six games have been against SEC opponents and all five of UK's FBS opponents reached bowl games in 2014. All totaled, the Cats' foes have a record of 21-11 against teams other than the Cats themselves.
The numbers speak for themselves, but eye test is telling as well.
On offense, UK has dynamic playmakers the likes of which have not been seen in recent years. Boom Williams, Garrett Johnson and Dorian Baker seem capable of breaking a big gain every time they touch the ball, and they lead a young group of position players. UK's leading rusher and seven leading receivers are true sophomores or freshmen. On defense, the Cats rely on more veterans, but the transformation under Stoops is no less apparent.
UK has also shown a team-wide resilience all season, overcoming a 14-point fourth-quarter deficit to beat Eastern Kentucky and bouncing back from its only previous loss to Florida to down Missouri for its first win over a ranked opponent in five seasons.
"I like the attitude of this team," Stoops said. "I think we're getting better and better. In certain ways, we've played as good as we had this past week and we need to build on those things. Certainly there are a lot of things we need to improve on."
Making those improvements quickly will be important before UK's first road game in more than a month on Saturday at Mississippi State (5-2, 1-2 SEC). The Bulldogs might not be riding quite as high as the last time the Cats faced them (MSU was unbeaten and ranked No. 1 when it visited Lexington last season), but the task is no less significant.
"I believe it'll be the greatest challenge we've had all year. It's going to be a tough environment (against) a very mature, good football team that's got an unbelievable guy back there behind center taking snaps," Stoops said, referencing senior quarterback Dak Prescott. "A great coaching staff and a group that's used to winning a bunch of games, so it's going to be a real challenge for us."
It's a challenge made tougher by the fact that the Cats will have to again recover from a deflating loss. Stoops, fresh off a rare Saturday watching football as a fan, doesn't see any reason why they won't be able to do it.
"Hey, there's heartbreak across the country, and you've got to respond and bounce back and go to work," Stoops said. "I believe our team will do that. As I said, I thought we did a bunch of good things in this past game, and there's a lot of things we need to correct and get better, but our team's excited about doing that, and learning.
Lewis out for regular season
Stoops confirmed on Monday what seemed likely on Saturday night: Senior defensive tackle Melvin Lewis will miss the remainder of the regular season with a fractured fibula.
However, he did not rule out a return for a potential bowl game.
"Melvin will get operated on tomorrow and he will be out for the season," Stoops said. "So we need to try to win a few games down the stretch here and give him an opportunity to try to come back and play one last time (in a bowl game) for the Blue and White."
Highly touted sophomore Matt Elam will start in place of Lewis after stepping in against Auburn and tying a career high with six tackles.
"I thought he did a nice job Saturday, coming in there because Matt is very close with Melvin and they are very tight off the field as well," Stoops said. "Matt really looks up to Melvin and Matt was disappointed that he got hurt. But he will step in and do a good job."