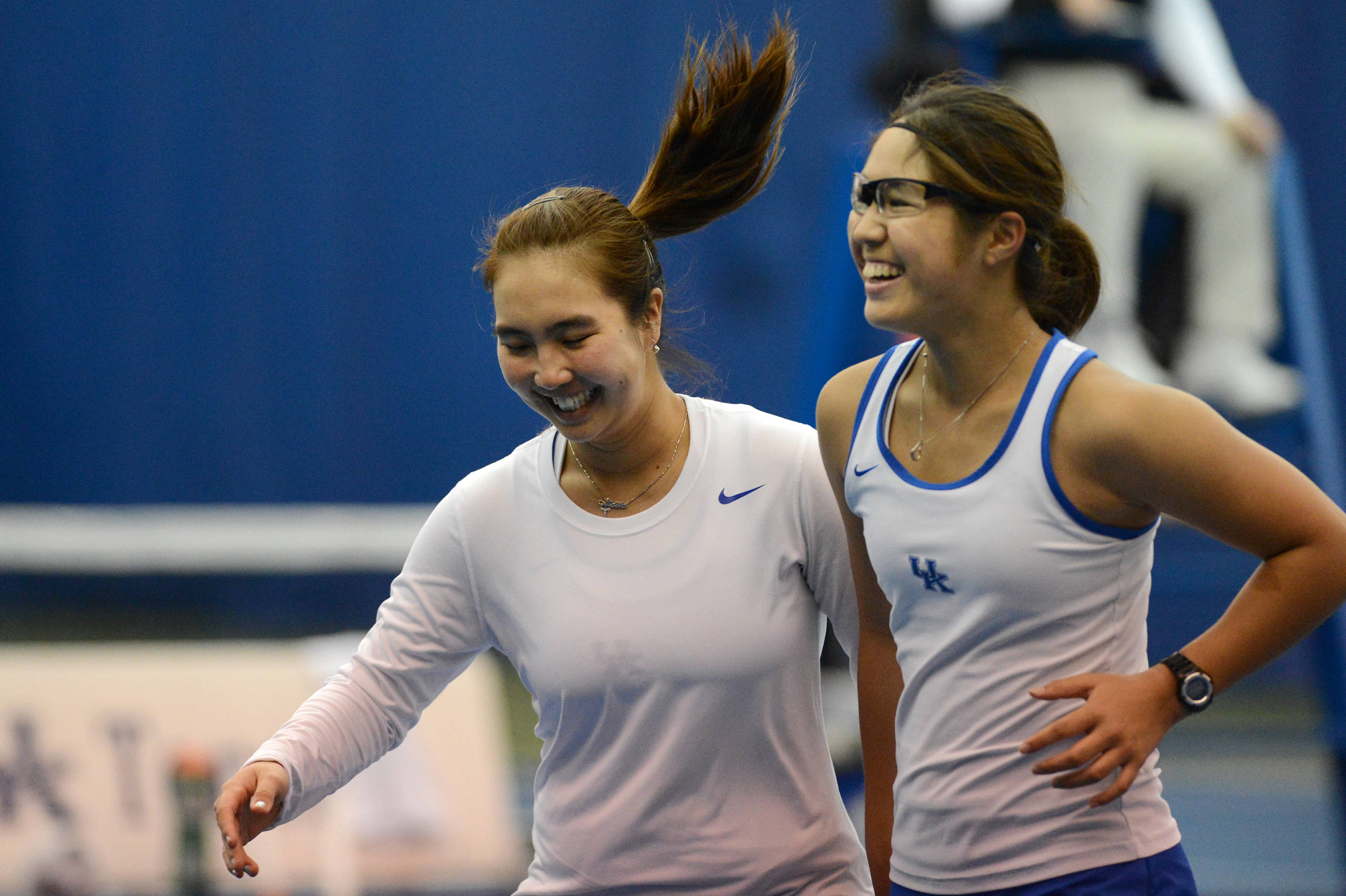 October 18, 2015 - 04:16 PM
Adachi and Sutjiadi Advance to Doubles Final of ITA Regionals
WEST LAFAYETTE, Ind. – In the last day before the championship finals at the USTA/ITA Ohio Valley Regionals, the Kentucky women's tennis team saw five matches featuring athletes donning the Blue and White.  At the close of the day, the doubles pairing of No. 9 Mami Adachi and Aldila Sutjiadi produced the only victorious match for the Wildcats, with all four singles players falling in the quarterfinals.
Adachi and Sutjiadi took on Vanderbilt's Sydney Campbell and Fernanda Contreras Gomez in the doubles semifinal match to start the day.  Though not ranked, the Commodore duo contained one half of the No. 4-ranked doubles pairing of Campbell and Courtney Colton.  The Wildcats won in straight sets, taking the first one 6-4 before going extra games in a 7-6(6) set to seal the victory.  They will play in the championship final tomorrow at 10 a.m. ET against Colton and Astra Sharma, who took down No. 44 Hanna Sohn and Ann-Kathrin Wind of Memphis in matching 6-3 sets. 
The championship appearance marks the second straight tournament final that Adachi and Sutjiadi have made, as they opened up the season with a runner-up finish at the Oracle/ITA Masters on Sept. 20. 
The doubles match was not the last that the Wildcats would see of the Commodores for the day, as three singles players fell to a Vandy opponent in the quarterfinals.  No. 14 Sharma and No. 56 Nadia Ravita battled each other in a three-set match, with Sharma coming away with a 6-3, 2-6, 7-6(5) win.  No. 120 Adachi went up against No. 49 Frances Altick, who downed the Wildcat in 6-4, 6-2 sets. 
Freshman Justina Mikulskyte drew No. 7 Campbell in the quarterfinals, and had a hard-fought 6-4, 7-6(4) setback against the top-10 opponent.
Also playing in the quarterfinals was freshman Akvile Parazinskaite, who fell at the hands of Tennessee's Mercedes Hammond, 7-6(4), 6-4. 
Visit UKathletics.com for the most up-to-date information on the Kentucky women's tennis team and all 22 varsity sports. For additional info, notes, and behind-the-scenes updates, follow the team on Twitter at @UKWomensTennis and on Facebook.
Doubles
Semifinals
#9 Mami Adachi/Aldila Sutjiadi (UK) def. Sydney Campbell/Fernanda Contreras Gomez (VU) 6-4, 7-6(6)
Singles
Quarterfinals
#14 Astra Sharma (VU) def. #56 Nadia Ravita (UK) 6-3, 2-6, 7-6(5)
#49 Frances Altick (VU) def. #120 Mami Adachi (UK) 6-4, 6-2
#7 Sydney Campbell (VU) def. Justina Mikulskyte (UK) 6-4, 7-6(4)
Mercedes Hammond (UT) def. Akvile Parazinskaite (UK) 7-6(4), 6-4