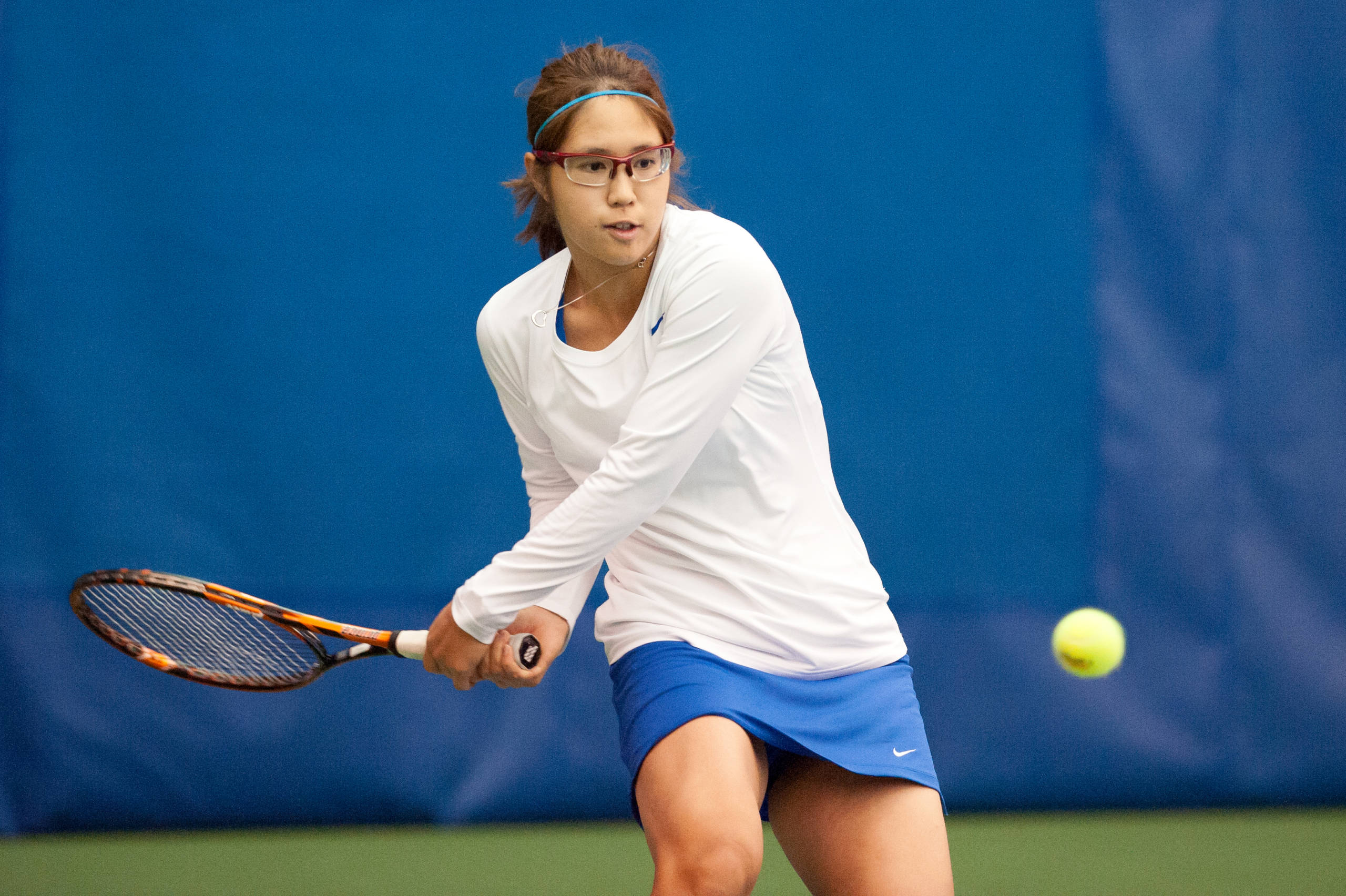 October 17, 2015 - 07:54 PM
Women's Tennis Well Represented in Final Rounds of ITA Regionals
WEST LAFAYETTE, Ind. – Kentucky's women's tennis team continues to shine at the USTA/ITA Ohio Valley Regionals, as UK is one of two teams to have multiple competitors stay alive in the championship draws past Saturday's rounds.  The other team to accomplish that feat is No. 1 Vanderbilt. 
A Wildcat will appear in every quarterfinal singles match tomorrow, as four have advanced out of the Round of 16, along with three Commodores.  In doubles action, No. 9 Mami Adachi and Aldila Sutjiadi will represent the Blue and White, while Vanderbilt has two pairings still in the running for a championship title. 
Adachi and Sutjiadi smoothly sailed past Xavier's Alexandra Brinker and Cristina DiLorenzo, defeating the Musketeers in an 8-4 set.  They will face Vanderbilt's Sydney Campbell and Fernanda Contreras Gomez in the semifinal, who defeated Justina Mikulskyte and Akvile Parazinskaite, 8-4, tomorrow at 10 a.m. ET.
All six Wildcats who advanced out of the Round of 64 picked up victories in the morning's Round of 32.  No. 56 Nadia Ravita had a commanding 6-1, 6-3 win over Chattanooga's Kelsey Coots, and No. 78 Sutjiadi faced Costanza Magazzini of MTSU, who retired after 3-0 in the first set.  No. 120 Adachi also had a dominating win in the round, taking down Vanderbilt's Summer Dvorak in 6-0, 6-1 sets. 
UK also saw victories out of its three newcomers.  Parazinskaite blanked Memphis's Kathryn Hughes, 6-0, in the first set before finishing off the match with a 7-5 win.  Mikulskyte took on DiLorenzo of Xavier, going three sets to take home a win, 6-2, 4-6, 6-3.  Morgan Chumney completed the trifecta with a 6-5, 7-6(5) defeat of Miami Ohio's Andreea Badileanu.
Three of tomorrow's four quarterfinal matches will feature a Wildcat taking on a Commodore at 11:30 a.m. ET.   Ravita will face off with No. 14 Astra Sharma after edging out Tennessee's Ashley Bongart, 6-3, 6-1.  Sharma knocked Chumney out of the championship bracket to advance to the quarterfinals in 6-2, 7-6(5) sets.  Adachi will also see a Vanderbilt opponent after defeating Purdue's Nicole Robinson, 6-2, 6-4.  She will go up against No. 49 Frances Altick, who had a 6-3, 6-1 victory over Memphis's Ann-Kathrin Wind.  The final UK-Vandy match will feature Mikulskyte, who had another three-set match for the day with a 4-6, 6-2, 6-1 victory over Eastern Tennessee's Lyn Yee Choo.  She will see No. 7 Campbell for a chance to advance to the semifinals.
Parazinskaite picked up her first ranked win of the year, as she knocked off No. 34 Courtney Colton.  The freshman defeated Colton handily in the first set, 6-3, before edging her out in a 7-6(1) second set.  In tomorrow's matchup, she will battle against Tennessee's Mercedes Hammond.
Sutjiadi saw the end of her singles action when she suffered a 6-1, 6-3 defeat at the hands of Mercedes Hammond of Tennessee. 
In the consolation draw, Kirsten Lewis recorded two victories.  She first notched a 7-5, 6-2 win over Tennessee's Brittany Lindl before downing Purdue's Andjela Djokovic in three sets, 4-6, 7-6(3), 10-8.  She then closed out her tournament play with a 6-3, 6-2 loss to Vanderbilt's Ellie Yates.
Visit UKathletics.com for the most up-to-date information on the Kentucky women's tennis team and all 22 varsity sports. For additional info, notes, and behind-the-scenes updates, follow the team on Twitter at @UKWomensTennis and on Facebook.
Doubles
Quarterfinals
#9 Mami Adachi/Aldila Sutjiadi (UK) def. Alexandra Brinker/Cristina DiLorenzo (XU) 8-4
Sydney Campbell/Fernanda Contreras Gomez (VU) def. Justina Mikulskyte/Akvile Parazinskaite (UK) 8-4
Singles
Round of 32
#56 Nadia Ravita (UK) def. Kelsey Coots (CHA) 6-1, 6-3
#78 Aldila Sutjiadi (UK) def. Costanza Magazzini (MTSU) 3-0, ret.
#120 Mami Adachi (UK) def. Summer Dvorak (VU) 6-0, 6-1
Akvile Parazinskaite (UK) def. Kathryn Hughes (UM) 6-0, 7-5
Justina Mikulskyte (UK) def. Cristina DiLorenzo (XU) 6-2, 4-6, 6-3
Morgan Chumney (UK) def. Andreea Badileanu (MU (OH)) 6-5, 7-6(5)
Round of 16
#56 Nadia Ravita (UK) def. Ashley Bongart (UT) 6-3, 6-1
#120 Mami Adachi (UK) def. Nicole Robinson (PU) 6-2, 6-2, 6-4
Mercedes Hammond (UT) def. #78 Aldila Sutjiadi (UK) 6-4, 6-2
Akvile Parazinskaite (UK) def. #34 Courtney Colton (VU) 6-3, 7-6(1)
Justina Mikulskyte (UK) def. Lyn Yee Choo (ETSU) 4-6, 6-2, 6-1
#14 Astra Sharma (VU) def. Morgan Chumney (UK) 6-2, 7-6(5)
Consolation
Kirsten Lewis (UK) def. Brittany Lindl (UT) 7-5, 6-2
Kirsten Lewis (UK) def. Andjela Djokovic (PU) 4-6, 7-6(3), 10-8
Ellie Yates (VU) def. Kirsten Lewis (UK) 6-3, 6-2