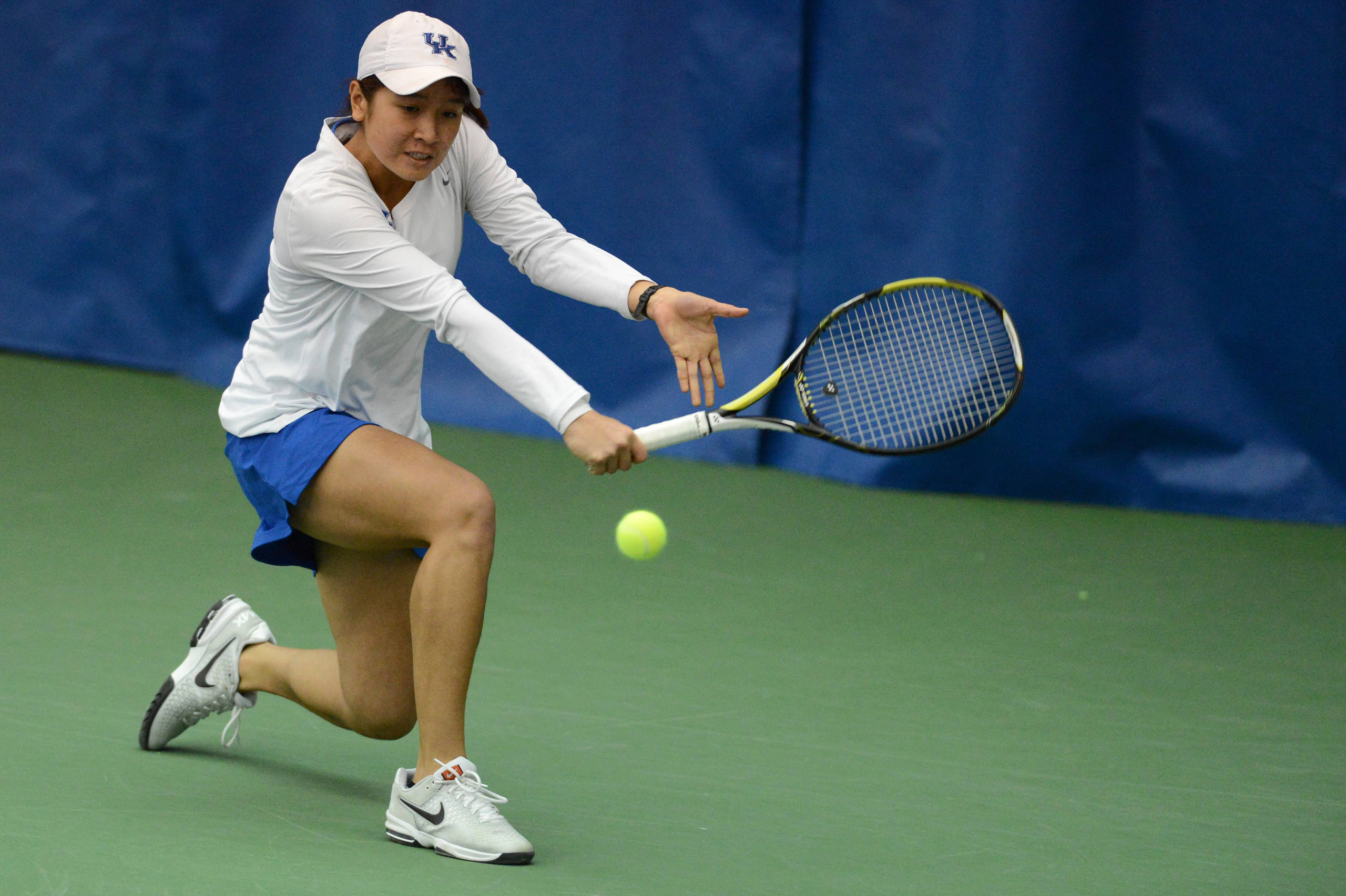 October 16, 2015 - 09:15 PM
Wildcats Record 12 Wins in First Day of ITA Regionals
WEST LAFAYETTE, Ind. – The Kentucky women's tennis team had a strong opening to the USTA/ITA Ohio Valley Regional Championships on Friday, with two doubles pairings and six singles players advancing to tomorrow's draws.
Mami Adachi and Aldila Sutjiadi, who are No. 9 in the ITA preseason rankings, entered the tournament as the top seeded doubles pairing.  The duo continued their streak of dominance in doubles competition, quickly downing their opponents to be the first finishers in both the Round of 32 and the Round of 16.  Adachi and Sutjiadi first defeated Janina Berres and Gabrielle Paul of Memphis, who had reached the main draw by way of yesterday's qualifying draw, in an 8-4 set.  They went on to blank Evansville's Doreen Crasta and Marine Darzyan, 8-0. 
Adachi and Sutjiadi will resume competition together tomorrow morning at 9 a.m. ET when they take on Xavier's Alexandera Brinker and Cristina DiLorenzo.  The two Musketeers improved to 6-1 in the fall season after an 8-5 victory over ETSU's Lyn Yee Choo and Ionna Markesini before taking down Brittany Huxley and Sarah Sederi of MTSU, 8-6, to advance to the quarterfinals.  
The rookie Lithuanian duo of Justina Mikulskyte and Akvile Parazinskaite also picked up two victories to advance to tomorrow's quarterfinals.  In the Round of 32, they downed Taylor Culbertson and Karoline Haller of Wright State, 8-4, before moving on to UT Martin's Sarah Candeloro and Jemima Potter.  The Skyhawk duo had logged considerable time together prior to the ITA Regionals, compiling a 9-2 record in the weeks leading up to the tournament.  Nonetheless, Mikulskyte and Parazinskaite were able to battle the experienced UT Martin pairing and come away with a 7-6(4) win. 
Tomorrow, Mikulskyte and Parazinskaite will square off against No. 1 Vanderbilt's Sydney Campbell and Fernanda Contreras Gomez.  Though the two are not ranked as a doubles team, Campbell is one half of the No. 3 ranked pairing along with Courtney Colton, as the two have split to team up with other members of the NCAA Championship Commodores for the ITA Regionals.  Campbell and Contreras Gomez first took down UT Martin's Hitomi Naito and Burcu Tari, 8-5, before defeating Purdue's Andjela Djokovic and Nicole Robinson, 8-6. 
Should both UK doubles teams advance to the semifinals on Sunday, they will face each other to earn a spot in the championship final. 
The remaining two UK doubles teams made it out of the Round of 32, but fell in the Round of 16.  Morgan Chumney and Kirsten Lewis opened up the tournament with an 8-6 victory over Louisville's Ariana Roddriguez and Elle Stokes before falling to Vanderbilt's Frances Altick and Ellie Yates, 8-5.  Similarly, Kate Lanier and Nadia Ravita had a commanding 8-2 set over Miami (OH)'s Andreea Badileanu and Ponomareva Nelli, 8-2, and later suffered an 8-3 setback at the hands of Vanderbilt's Colton and Astra Sharma. 
Six Wildcats advanced to the Round of 32 in singles competition, which will resume tomorrow at 10 a.m. ET.  No. 56 Ravita took down Jessica Paul of Louisville, 6-4, 6-2, and will face Chattanooga's Kelsey Coots at 12:45 p.m.  Sutjiadi, ranked No 78, earned a 3-6, 6-4, 6-1 victory over Claudia Yanes Garcia of Austin Peay, and she will face Middle Tennessee's Costanza Magazzini at 11:15 a.m.  The final ranked player for UK, No. 120 Adachi, downed Purdue's Natalia Davila in matching 6-4 sets.  She will face Vanderbilt's Summer Dvorak tomorrow at 11:30 p.m.
Parazinskaite, Mikulskyte and Chumney also advanced out of the Round of 64.  Parazinskaite garnered a 7-6(3), 6-3 win over Kayla Jones of Chattanooga, and will face Kelly Poggensee-Wei from Cincinnati at 11 a.m.  With her 6-2, 6-1 win over Butler's Bailey Padgett, Mikulskyte advanced as well and will face Xavier's DiLorenzo at 10 a.m.  Finally, Chumney took down Eastern Tennessee's Jessica Paul, 6-1, 6-2, and will see Miami (Ohio)'s Andreea Badileanu at 1 p.m.
Falling in the opening round was Lanier and Lewis. Lanier faced off with Evansville's Marina Moreno and fell, 6-4, 7-5.  She closed out her singles play in the consolation round after being knocked out by Lauren Bellinger of Cincinnati, 6-1, 4-6, 10-2.  Lewis saw Lidia Yanes Garcia from Austin Peay in the first round, falling in 6-4, 6-3 sets.  She will play in the consolation bracket tomorrow.
Visit UKathletics.com for the most up-to-date information on the Kentucky women's tennis team and all 22 varsity sports. For additional info, notes, and behind-the-scenes updates, follow the team on Twitter at @UKWomensTennis and on Facebook.
Doubles
Round of 32
#9 Mami Adachi/Aldila Sutjiadi (UK) def. Janina Berres/Gabrielle Paul (UM) 8-4
Justina Mikulskyte/Akvile Parazinskaite (UK) def. Sarah Condeloro/Jemima Potter (UTM) 8-4
Morgan Chumney/Kirsten Lewis (UK) def. Ariana Rodriguez/Elle Stokes (UL) 8-6
Kate Lanier/Nadia Ravita (UK) def. Andreea Badileanu/Ponomareva Nelli (MU (OH)) 8-2
Round of 16
#9 Mami Adachi/Aldila Sutjiadi (UK) def. Doreen Crasta/Marine Drazyan (UE) 8-0
Justina Mikulskyte/Akvile Parazinskyte (UK) def. Sarah Candeloro/Jemima Potter (UTM) 8-7(3)
Frances Altick/Ellie Yates (VU) def. Morgan Chumney/Kirsten Lewis (UK) 8-5
Courtney Colton/Astra Sharma (VU) def. Kate Lanier/Nadia Ravita (UK) 8-3
Singles
Round of 64
#56 Nadia Ravita (UK) def. Jessica Paul (UL) 6-4, 6-2
#78 Aldila Sutjiadi (UK) def. Claudia Yanes Garcia (AP) 3-6, 6-4, 6-1
#120 Mami Adachi (UK) def. Natalia Davila (PUR) 6-4, 6-4
Akvile Parazinskaite (UK) def. Kayla Jones (CHA) 7-6(3), 6-3
Justina Mikulskyte (UK) def. Bailey Padgett (BU) 6-2, 6-1
Morgan Chumney (UK) def. Ioanna Merkesini (ETSU) 6-3, 6-1
Marina Moreno (UE) def. Kate Lanier (UK) 6-4, 7-5
Lidia Yanes Garcia def. Kirsten Lewis (UK) 6-4, 6-3
Consolation
Lauren Bellinger (UC) def. Kate Lanier (UK) 6-1, 4-6, 10-2