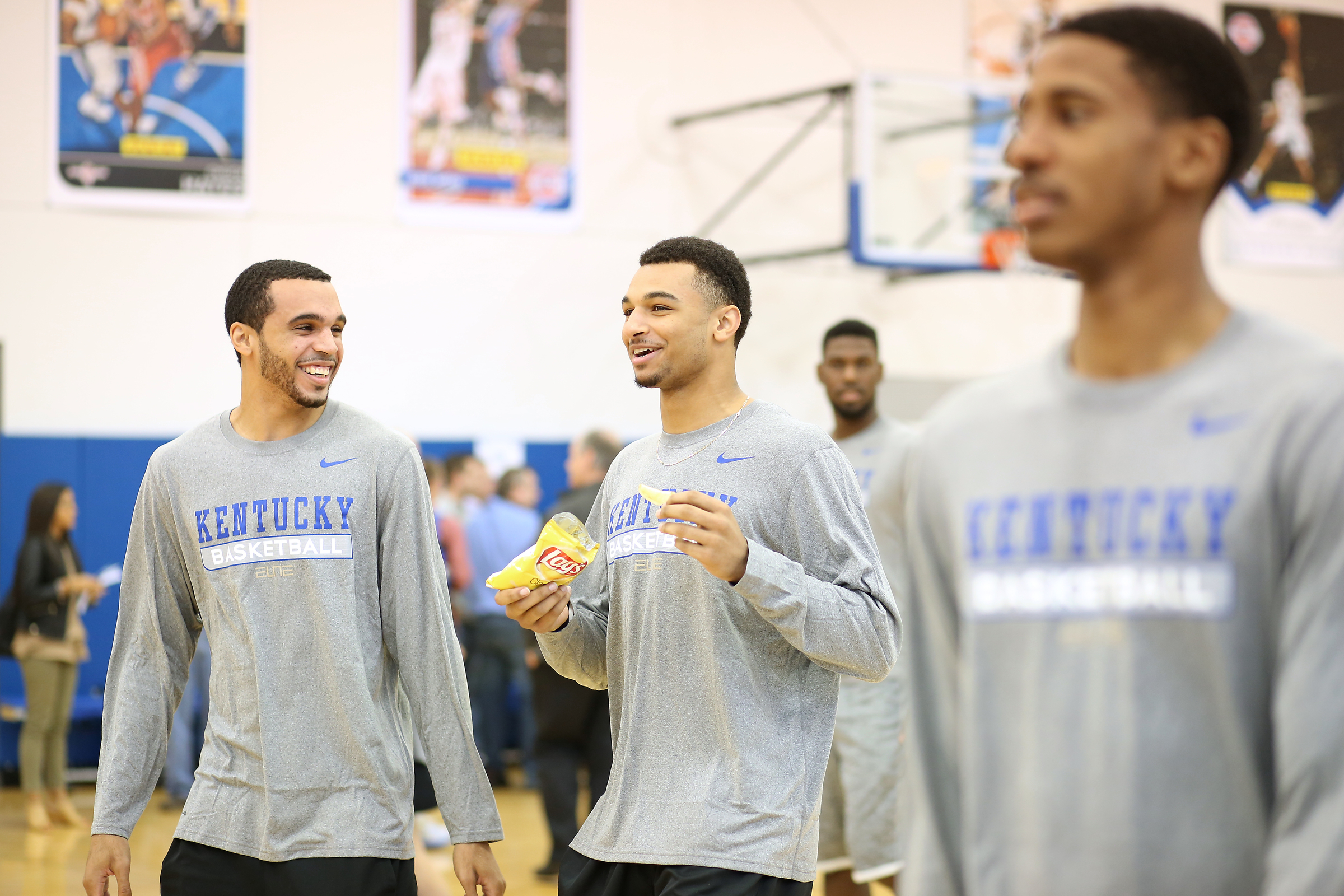 October 15, 2015 - 11:05 AM
Versatility Highlights Wildcats' Roster
Kentucky head coach John Calipari has another problem on his hands. Only, it's a problem that many, if not all, head coaches would gladly take.
With three capable point guards on the roster, how are the Wildcats going to play this year? And with so many long, athletic bigs, what kind of options do the Cats have at their disposal?
"I just have to make a decision at some point do we play three, how much do we play three guards, how do we play if we're playing three guards, how do we defend if we're playing three guards?" Calipari said Wednesday at UK's annual Media Day. "I mean, there's a lot of things that we have to come to grips with on. You know, last year we played 7-foot, 6-11, 6-10. Now we're playing with three guards the very next year. OK, how are we going to play, because it's totally different."
It's totally different because Kentucky lost seven players to the NBA last season. Those seven players, Devin Booker, Willie Cauley-Stein, Aaron and Andrew Harrison, Dakari Johnson, Trey Lyles and Karl-Anthony Towns, combined to score 85.7 percent of UK's points, and grabbed 77.1 percent of its rebounds.
It's a significant loss, without question, but in their place UK welcomes the top recruiting class in the nation, and one with loads of potential thanks to its athleticism and guard play.
"Our guard play is good enough to mask some of the issues we're going to have," Calipari said. "I just don't know if it will mask enough for W's or L's, but it will mask some of the stuff."
Coach Cal has had teams with two capable point guards before, but perhaps never with three point guards of this caliber. In 2010, Calipari's first year at Kentucky, critics questioned how freshmen stars John Wall and Eric Bledsoe would co-exist. Last season, Andrew Harrison started, but both he and Tyler Ulis logged plenty of minutes together, especially as the season progressed.
Ulis returns for his sophomore year and is joined by a pair of top-15 ranked freshmen in Isaiah Briscoe and Jamal Murray, both of whom are projected to be first round picks in next summer's NBA Draft by Chad Ford of ESPN.
The 5-foot-9 Ulis has received praise from countless sources this preseason for his exemplary play, with his head coach going so far as to say he may be the best "floor general" he's ever coached.
Briscoe, a bulldog of a player who has shown an ability to get to the basket, competed at the Jordan Brand Classic, McDonald's All-America Game and Nike Hoop Summit over the summer, and has transformed his body at UK already.
Murray comes to Lexington after standout performances in the Pan Am Games where he led his home country of Canada to a silver medal finish.
"I think that's something that's going to be hard to stop when we have three guards," Murray said. "Fast, a lot of scoring ability, a lot of chemistry playing with each other. I think we'll be able to stretch the floor a lot better."
And with the floor stretched out, UK's athletic and versatile wings and bigs will have more opportunities. On the wings, Kentucky welcomes in freshman Charles Matthews (41.5-inch maximum vertical), who received plenty of attention from NBA scouts in attendance at UK's open practices Oct. 11-12, and junior college transfer Mychal Mulder (44-inch maximum vertical).
"(They) allow us to be able to push the ball because they're so athletic they just run down the court," Dominique Hawkins said. "You can pass the ball ahead to them, they can get in the lane and with their ability to jump as high as they can they can score the basket above the rim, easily."
Calipari continues to stress to Matthews to be the best version of himself, and to not try to do too much. With three point guards and so much versatility and "positionless" players on the roster, that task becomes much easier for the Chicago native.
"Usually, when you have a versatile team it's not where these players are that talented," Matthews said. "Here, you can go down the list and you have a star at each position. Just being in a position like that and around guys like that is great."
In the frontcourt, senior Alex Poythress returns, and Calipari has said he plans on playing the hyper-athletic forward at his more natural position of power forward this season with the NBA getting smaller and smaller.
There's also junior Marcus Lee, who at 6-9 still has the longest wingspan on the team at 7-3 and has a maximum vertical of 39.5 inches. Joining Lee in the paint will be freshman Skal Labissiere, who, like Lee, has shown quick feet, the ability to run the court and sky for blocks and lobs.
"We can do just about anything with our bigs," Lee said. "Since it's me and Skal, we're trying to figure out if we're able to switch everything this year. Right now we're trying to figure out pick-and-roll and how to just play as a team."
No matter how Coach Cal ultimately decides to play with this team, it will most certainly be fast.
"It's going to be a fast paced game," Lee said. "Without a doubt. That's something our freshmen and underclassmen are starting to learn is we don't play very slow here."
So with so many players and so many options, some fans are left to wonder, why not break out the platoon system again? After all, Kentucky did win its first 38 games last season while playing the platoons.
"Look, I'm not going to be playing 10 guys, I just don't see it," Calipari said. "Probably playing seven, maybe eight, and those guys got to fight for that time. If a guy on this team deserves to play 38 minutes, he will. I've done that before. If anybody else deserves to play, then that player will get less minutes, but this isn't eighth grade basketball. Last year was – every team I put on, we were fresh and we could block shots. That's why we were what we were last year."
With just under a month's time remaining before Kentucky's season opener against Albany at Rupp Arena on Nov. 13, Calipari still has time to figure out just what to do with so many versatile and movable pieces.
A few items are obvious: UK is going to play fast, it has the potential to be a shutdown defensive team, per usual, and it has a chance to be very good by the end of the season.
"We still have a lot of work to do," Matthews said, "but I think the end result of this team is going to be very scary. It's going to be something worth seeing."