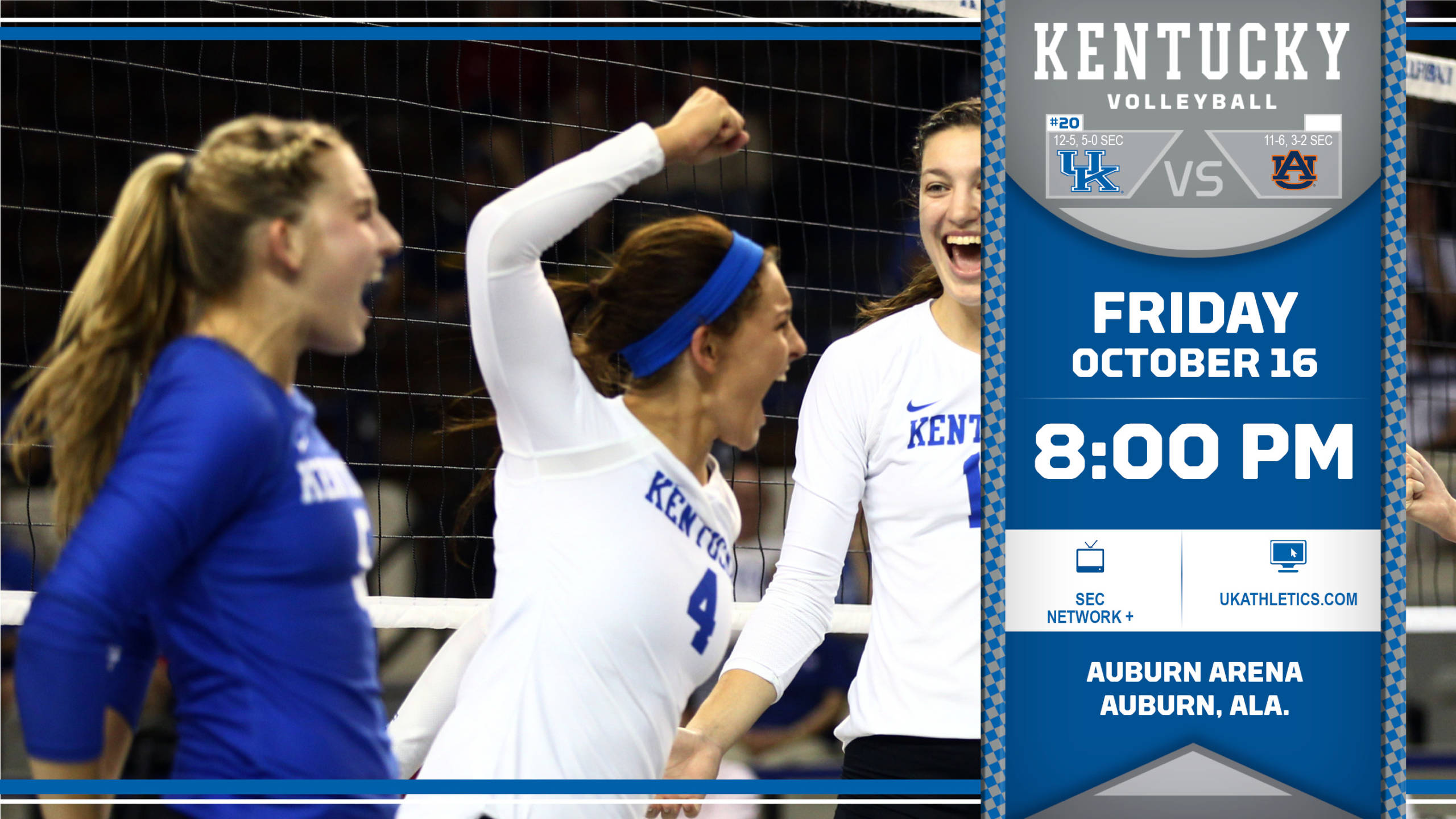 October 15, 2015 - 11:02 AM
No. 20 Kentucky Travels to Auburn for Friday Night Matchup
LEXINGTON, Ky. – The 20th-ranked Kentucky volleyball team returns to action on Friday evening, where the Wildcats will face the Tigers of Auburn University in Auburn Arena at 8 p.m. following a nine day hiatus from Southeastern Conference play. 
Last time out, a balanced effort paved the way for a 3-0 (25-23, 25-12, 25-21) sweep of No. 22 Arkansas for the 20th-ranked Kentucky Wildcats on Wednesday, Oct. 7. Six players posted five or more kills, while five more had seven or more digs in the winning effort which pushed Kentucky to 12-5 overall record on the year and a perfect 5-0 in Southeastern Conference action.
<="" td="">
="">
#20 Kentucky at Auburn
Fri., Oct. 16 – 8 p.m.
Auburn Arena
Auburn, Ala.
Match Notes: UK

 | AU 
Coverage
TV: SEC Network +
Radio: UKAthletics.com
Live Video via Watch ESPN
Live Audio
Live Stats
Text Updates
Live Updates @KentuckyVB on Twitter
Senior setter Morgan Bergren registered a double-double effort with 32 assists and 11 digs. She distributed the ball at an expert level with five players notching five or more kills on the night. Bergren also had five kills of her own. 
Junior Anni Thomasson and freshman Brooke Morgan posted nine kills apiece. Thomasson added 10 digs, while Morgan was in on four of UK's eight blocks. Sophomore Emily Franklin added eight kills – including six in the opening frame. Classmates Darian Mack and Kaz Brown had six and five, respectively. Brown paced the defensive effort with seven of UK's eight blocks to help limit the Razorbacks to a .128 hitting clip. 
Auburn enters Friday's match winning two of its last three matches, as the Tigers took down LSU in five sets and swept South Carolina before falling in straight sets to the Florida Gators last time out. The Tigers find themselves in the middle of the league table at 3-2 in SEC play this season. Auburn has a balanced attack, with Brenna McIlroy, Courtney Crable, Emily Klitzke and Breanna Barksdale each registering over 140 kills this season. 
For more information on the first match of the weekend, check out the information below:
Bergren, Morgan Earn SEC Weekly Honors
Bergren and Morgan were named Southeastern Conference Players of the Week on Oct. 12 for the previous week's play. Bergren was the league's top performing player and setter, while Morgan hauled in Freshman of the Week accolades. 
Bergren helped guide the Kentucky offense with 32 assists on 42 of the team's kills. She registered her second double-double of the season with the 32 assists and 11 digs. Bergren found a way to get everyone involved in the offense, with five different players recording five or more kills. Bergren contributed five kills as well. She also assisted at the net with three of UK's eight blocks.  With the 11 digs, she led the team for the most in the match. 
Morgan had nine kills and four blocks in the win over the Razorbacks. She averaged 3.00 kills per frame – well above her season average of 1.94. She utilized a .353 attacking clip in the win, and also added 1.33 blocks per set en route to her second career Freshman of the Week honor
Defense Wins Championships
The Wildcats, currently the only undefeated team in the Southeastern Conference at 5-0 in SEC play, are living up to the old adage "Defense wins championships." The Wildcats have held every in-conference opponent below its average hitting percentage this season. Over the season, UK has only allowed three opponents (Little Rock, Southern California and Wichita State) to hit better than their average. 
Brown in National Top 25
Following another solid week of play, Brown finds herself among the national leaders in blocks per set. The Waterloo, Iowa, native is averaging 1.49 blocks per set, ranking No. 14 in the nation. Brown also ranks in the top 25 in total blocks, coming in at No. 15 with 91 during the 2015 campaign. Brown ranks second the SEC in total blocks and third in the conference in blocks per set, with Florida's Rhamat Alhassan leading the conference, and nation, in both categories. 
Dusek's Digs Lead Conference
Sophomore libero Ashley Dusek leads the Southeastern Conference with a staggering 4.72 digs per set. Dusek ranks 56th in the nation in digs per set, with her 288 total digs good for third in the SEC.
Still Streaking
Following the Oct. 11 weekend, the Kentucky Wildcats are ranked yet again in the Oct. 12 AVCA poll, coming in at 20. With the ranking, UK extends its ranking streak to 40 consecutive weeks, dating back to Aug. 18, 2012. The 10-week streak is the longest ranked streak under head coach Craig Skinner and the longest in program history.
Up Next: 
No. 17 Florida Gators (11-4, 3-3 SEC, 4 RPI) – Oct. 18, 1 p.m.
After a rough start to the conference slate, dropping three of their first four, the Gators look to be back on track, winning their last three outings with sweeps of Texas A&M, Auburn and Tennessee. Rhamat Alhassan still looks to be the focal point of UF's offense, averaging 2.98 kills per set while adding a nation's best 1.91 blocks per set. Last time the Cats faced Florida they left Gainesville, Fla., with a 3-1 win over the Gators.
Kentucky's Memorial Coliseum will play host to the NCAA Regionals Dec. 11-12. UK is one of four sites selected for the Sweet 16 and Elite Eight matchups with one team advancing to the Final Four in Omaha, Neb., from the Lexington Region. This marks the third time in five seasons Memorial Coliseum will host this premier volleyball event.