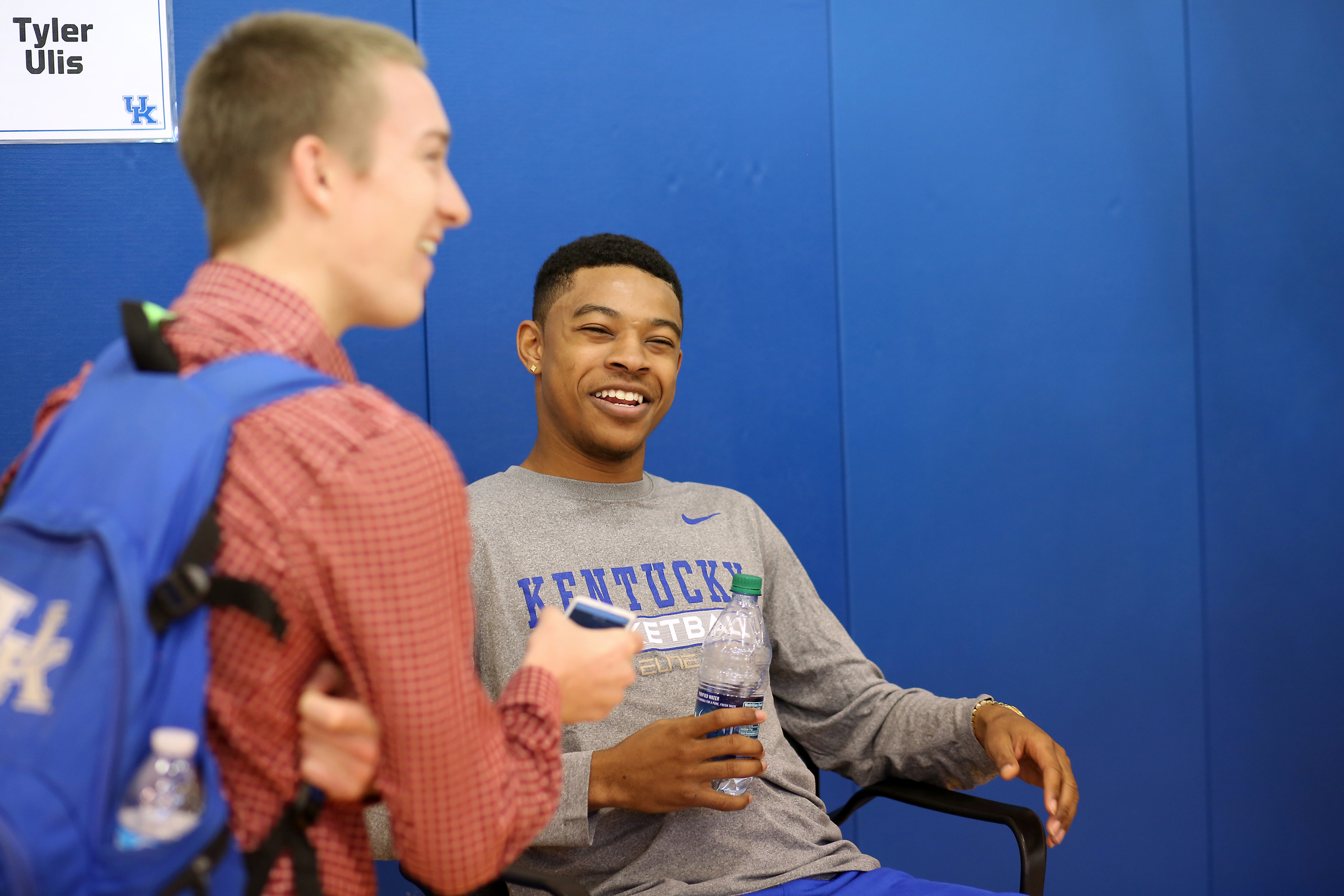 October 14, 2015 - 05:45 PM
Ulis Taking on Heavy Load as UK's 'Floor General'
In a literal sense, Tyler Ulis has the slightest shoulders on UK's roster. The 5-foot-9 point guard is listed at 160 pounds, a solid 25 pounds lighter than any other scholarship Wildcat.
But figuratively speaking, no one is more capable of carrying the weight of the Kentucky basketball world on his shoulders than the confident sophomore.
"I'm asking him to do a lot of things that are probably not fair, but he understands why I'm asking," John Calipari said.
Coach Cal is asking because he has little choice in the matter.
UK lost seven players to the NBA off last year's team that came within two wins of a 40-0 season. The only other two players to return who were originally members of Calipari's 10-man platoon are Alex Poythress – limited to eight games by injury – and Marcus Lee, who played double-digit minutes just six times over the final two months of 2014-15.
"It's strange, especially walking in the locker room with our picture from last year and none of those guys are here anymore," Ulis said. "So it's just different. It just shows you what Cal does with his program. He just made everyone's dreams come true last year so we have a different team."
With teammates whose talent is matched only by their youth and inexperience surrounding him, Ulis is being counted on in a big, big way.
"He is our best player, can I tell you?" Calipari said. "And it ain't close."
The days of Ulis being the tiny fan favorite playing second fiddle to Andrew Harrison at point guard are long gone. Instead, Ulis – who averaged 5.6 points against 3.6 assists and one turnover as a freshman – is the standard bearer for a team expected to contend for the national championship.
"He's playing, he's doing things he didn't do a year ago," Calipari said. "He's way more comfortable doing stuff. You see runners now. He understands I can drive in there and still get lobs, but me, I've got to stop a little shorter. He's shooting the ball way better, he's healthier."
The importance of Ulis' health probably cannot be overstated.
Throughout last season, he contended with painful shin splints that at times had him playing at 80 percent, Calipari estimated.
"Last year was tough," Ulis said. "Coming into halftime I could barely walk and I just had to play through it, gut it out. Helped me out a lot that we had 10 guys to play a lot of minutes. This year—over the summer I took a month off and made sure I got some rest. It healed over time and now I'm feeling healthier than I have been in a while."
Ulis' body sound, Calipari expects the first point guard he's gotten to coach for a second season in years to thrive. And there's another way Coach Cal says Ulis is unique even among a group that includes an NBA MVP and last year's All-Star starter for the Eastern Conference.
"He really—he may be the best floor general—I'm not saying the best guard but the best floor general I've ever coached," Calipari said. "And I'm not saying he's Derrick Rose, and he's John Wall and he's Brandon Knight and he's—you could go on and on, all the point guards I've had. Tyreke Evans. They're all different. This kid is a floor general."
What does that mean exactly?
"Because he just moves people," Calipari said. "I can do less coaching, let him do more. I let him call the plays. It's like having a quarterback; he's not getting signals from the sidelines. You do what you think you need to do."
That's where Coach Cal's feelings come in that the demands he is placing on Ulis are unfair.
"I need you to be a coach, too, I need you to do more than just play," Calipari said. "I need you to lead, ready for this? Not only on the court, I need you to lead off the court."
The on-the-court stuff comes naturally to Ulis. It always has. Just ask his teammates
"On the court, he leads, puts you in the best position to score, to win games, win drills, everything like that," Poythress said.
"He's great," said freshman Charles Matthews, who played with Ulis in AAU. "He really understands what Cal wants going on and he really helps us transition into this process better."
The off-the-court stuff is a little tougher.
Last season, Ulis could almost always be found with Devin Booker. The two were nearly inseparable, and through the summer Ulis found himself falling into a similar routine with a new teammate before Calipari asked him to broaden his horizons.
"So this year I was kind of hanging around Isaiah (Briscoe) a lot, but he wanted me to interact more with the team, become friends with everybody," Ulis said. "I've been doing that a lot."
That's how Ulis can take his leadership to the next level.
"They all look at him when he tells them to do stuff, they listen and that's really powerful for me as a coach because there will be times in huddles and I'll say, 'Tyler, what do you think we should be doing?' " Calipari said. "And he'll say, 'Let's do this.' You guys got that, everybody good? OK, let's go. They'll make it work because it came from him versus me."
It's lucky the player with those skinny shoulders can handle so much.
"So I can do that, I can give this kid a lot," Calipari said. "Really intelligent, really smart. And then it's just a grind, it's a long season and that's why I'm saying when you're asking somebody that's a sophomore to be that guy and he kind of wants it, I don't think he shies from it, he's good with it."