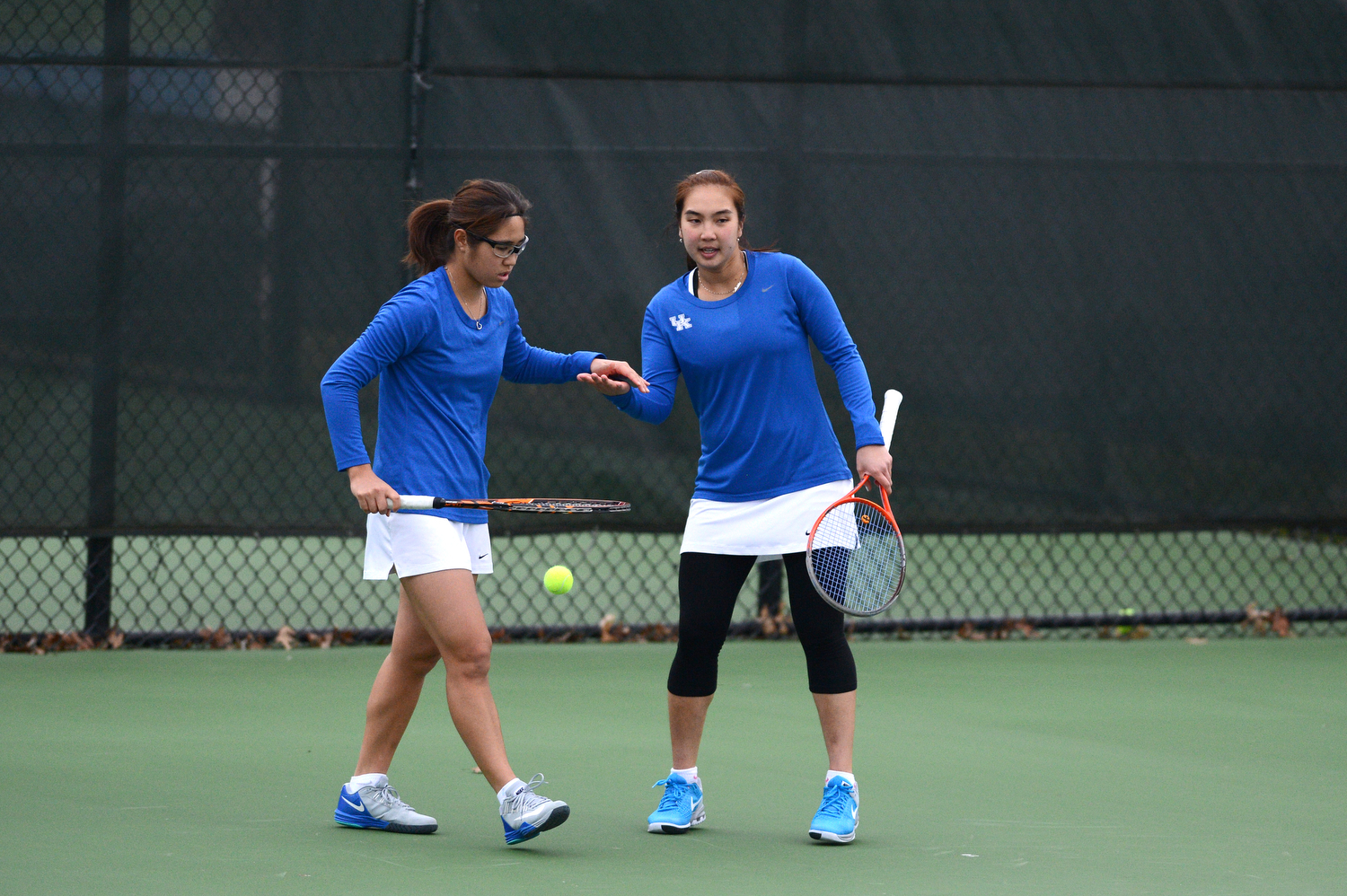 October 10, 2015 - 06:20 PM
Wildcats Wrap Up First Two Days of Washington Invitational
SEATTLE, Wash. – The Kentucky women's tennis team wrapped up the first two days of the Washington Invitational on Friday and Saturday, taking on competition from Oregon, Pepperdine, and Washington's programs.
Throughout the first two days, Mami Adachi and Aldila Sutjiadi held an unblemished record in both singles and doubles, as the No. 9 doubles pair picked up two wins in doubles to go along with two individual victories apiece. 
On Friday, the Wildcats started out with a strong performance in doubles over Oregon, sweeping all three sets against the Ducks.  The freshman Lithuanian team of Justina Mikulskyte and Akvile Parazinskaite had a dominating performance over the rookie pairing of Daniela Nasser and Micheline Aubuchon, with a 6-1 win.  The team also saw a pair of 6-4 sets thanks to Adachi and Sutjiadi defeating Alyssa Tobita and Shweta Sangwan, while Kirsten Lewis and Morgan Chumney took down the No. 56 pairing of Marlou Kluiving and Kennan Johnson.  During the Pepperdine-Washington matchup, the pair of Nadia Ravita and Kate Lanier stepped in to take on Washington's Miki Kobayashi and Sophia Bott, dropping the set in a 6-3 decision. 
When UK squared off with Pepperdine, the team took the opportunity to shuffle the lineups.  The most successful pairing was that of Mikulskyte and Ravita, who took down the Waves duo of Apichaya Runglerkriangkrai and Danielle Feneridis, 6-4. Lewis and Chumney teamed up to take on Dzina Milovanovic and Laura Gulbe, but suffered a 6-3 setback.  To close out doubles for the day, Parazinskaite and Lanier went up against the Washington doubles pair of Grace Ysidora and Paloma Gomez. 
The Wildcats took on host Washington in singles action to close out Friday, winning three of the matches and also had an extra match against Pepperdine in which Mikulskyte took down Feneridis, 6-0, 6-3.  The three victories against Washington came from Adachi, Parazinskaite, and Sutjiadi.  Adachi handled Kenadi Hance, 6-2, 6-3, while the remaining two victories came by way of three-set contests.  Parazinskaite went up against Kobayashi and came away with a 7-6, 4-6, 6-4 victory, and Sutjiadi had a 6-4, 4-6, 6-3 win over Bott.  In the remaining matches, Chumney fell to Elianne Douglas-Miron (6-2, 6-2), Lewis was taken down by Tami Grende (7-5, 6-3), Mikulskyte lost at the hands of Stacey Fung (6-3, 6-0), and Lanier was defeated by Ysidora (6-2, 6-1).
Saturday opened up with UK facing the host team once more in doubles action, winning one of the three sets against the Huskies.  Adachi and Sutjiadi handily edged out Kobayashi and Bott with a 6-3 decision for the lone doubles win of the day.  Parazinskaite and Mikulskyte paired up again to take on Fung and Douglas-Miron, falling 6-3 to the Washington duo.  Finally, Lewis and Chumney had a close set with Grende and Hance, dropping a 7-6 set with a 7-4 tiebreaker.
The afternoon continued with a singles slate against Oregon, while Mikulskyte and Lanier also filled in on the Pepperdine side to take on athletes from Washington.  Against the Huskies, Mikulskyte defeated Bott (6-2, 6-1), while Lanier fell to Kobayashi (6-2, 6-0).  In the scheduled matchup against Oregon, the Wildcats swept all six of their matches.  The most dominating wins came from Lewis and Ravita, with Lewis defeating Johnson, 6-1, 6-3, and Ravita taking down Gomez in matching 6-2 sets.  Adachi went up against Kluiving, winning the match 7-5, 6-2, and Chumney had a similar outcome against Aubuchon with a 7-6, 6-4 win.  Sutjiadi had a slow start against Sangwan, dropping the first set, 2-6, before bouncing back to win the final two sets, 6-3, 6-2.  Another three-set match was seen in the tussle between Parazinskaite and Nasser, with the young Wildcat coming away with a 6-2, 4-6, 6-2 win. 
Kentucky will close out the Washington Invitational tomorrow, with the Wildcats taking on Pepperdine in singles at 9 a.m. PT. 
Visit UKathletics.com for the most up-to-date information on the Kentucky women's tennis team and all 22 varsity sports. For additional info, notes, and behind-the-scenes updates, follow the team on Twitter at @UKWomensTennis and on Facebook.
Day One Results
Doubles
#9 Adachi/Sutjiadi (UK) def. Tobita/Sangwan (OR), 6-4
Lewis/Chumney (UK) def. Kuiving/Johnson (OR), 6-4
Mikulskyte/Parazinskaite (UK) def. Nasser/Aubuchon (OR), 6-1
Kobayashi/Bott (UW) def. Ravita/Lanier (UK), 6-3
Milovanovic/Gulbe (PEPP) def. Lewis/Chumney (UK), 6-3
Mikulskyte/Ravita (UK) def. Runglerdkriangkrai/Feneridis (PEPP), 6-4
Ysidora (UW)/Gomez (OR) def. Parazinskaite/Lanier (UK), 6-2
Singles
Mikulskyte (UK) def. Aubuchon (OR), 6-0, 6-3
Douglas-Miron (UW) def. Chumney (UK), 6-2, 6-2
Grende (UW) def. Lewis (UK), 7-5, 6-3
Adachi (UK) def. Hance (UW), 6-2, 6-3
Parazinskaite (UK) def. Kobayashi (UW), 7-6, 4-6, 6-4
Fung (UW) def. Mikulskyte (UK), 6-3, 6-0
Sutjiadi (UK) def. Bott (UW), 6-4, 4-6, 6-3
Ysidora (UW) def. Lanier (UK), 6-2, 6-1
Day Two Results
Doubles
Fung/Douglas-Miron (UW) def. Parazinskaite/Mikulskyte (UK), 6-3
Grende/Hance (UW) def. Lewis/Chumney (UK), 7-6(4)
Adachi/Sutjiadi (UK) def. Kobayashi/Bott (UW), 6-3
Ysidora (UW)/Lanier (UK) def. Gomez/Aubuchon (OR), 7-6(3)
Singles
Lewis (UK) def. Johnson (OR), 6-1, 6-3
Adachi (UK) def. Kluiving (OR), 7-5, 6-2
Sutjiadi (UK) def. Sangwan (OR), 2-6, 6-3, 6-2
Parazinskaite (UK) def. Nasser (OR), 6-2, 4-6, 6-2
Chumney (UK) def. Aubuchon (OR), 7-6, 6-4
Ravita (UK) def. Gomez (OR), 6-2, 6-2
Mikulskyte (UK) def. Bott (UW), 6-2, 6-1
Kobayashi (UW) def. Lanier (UK), 6-2, 6-0