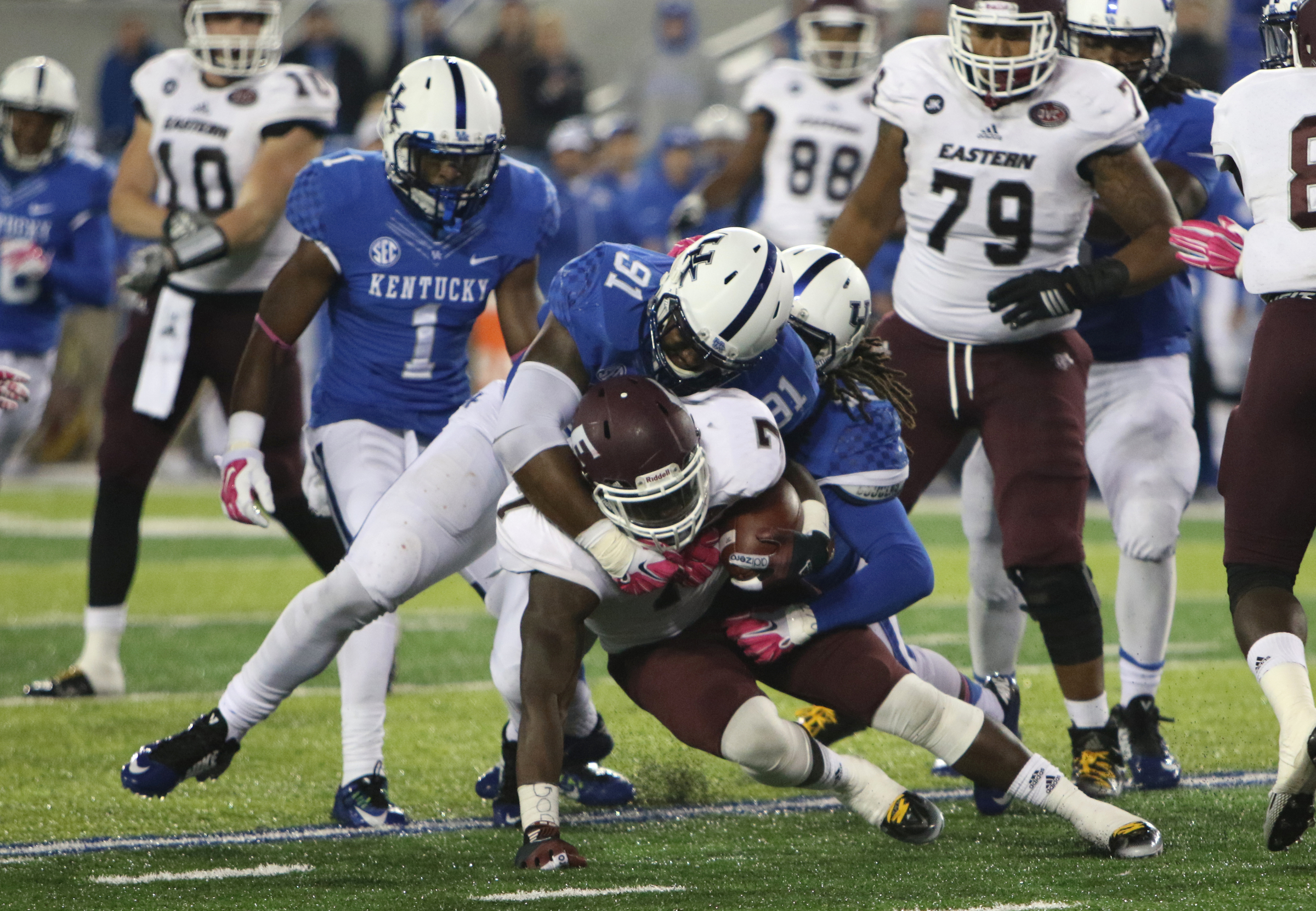 Playing its first Thursday primetime game in program history, Kentucky is taking advantage of an extra five days to prepare for Auburn.
After a day off on Monday, the Wildcats returned to the practice field on Tuesday. On Wednesday, they turned up the physicality.
"We had a full-padded practice," defensive coordinator D.J. Eliot said. "Anytime we're in full pads we're emphasizing being physical. Getting off blocks and tackling, working on those things. Good competitive plays against the offense today, which we encourage that in these full-padded practices."
With a game not bearing down on them as quickly as in a normal week, the coaches also moved some of UK's younger redshirt players into more featured roles.
"We had an opportunity to do some reps at the end with some of our younger players," Eliot said. "Got a chance to see some of the guys that are on the scout team compete within our defense and that's always good to continue to develop those guys too."
Eliot – understandably given his positional responsibility – was focused on UK's linebackers during that period. He was impressed.
"I think Courtney Love (a Nebraska transfer sitting out this season) is a good player and he's doing some good things," Eliot said. "I think (true freshman) Eli Brown has a bright future at linebacker. Those two guys stick out to me."
For the players who will be on the field when Auburn comes to town on Oct. 15, a primary focus has been on bringing the quarterback down. UK has had ample opportunity for sacks, but has only made 10 in five games.
"When you come clean, like we have a lot this year where no one is blocking you, then the quarterback can see that," Eliot said. "It's harder to get him down, so we're emphasizing that those guys come under control and get him down when no one blocks them."
What should help on that front is the return of Regie Meant, who is expected to be available after missing the last two games due to injury. He'll be competing with C.J. Johnson for playing time. Considering Johnson had 19 tackles last time out and has 30 combined in his last two games, depth at defensive tackle should be no issue.
"I think it's a good problem," Eliot said. "It's a good problem to have. Both of those guys will play."