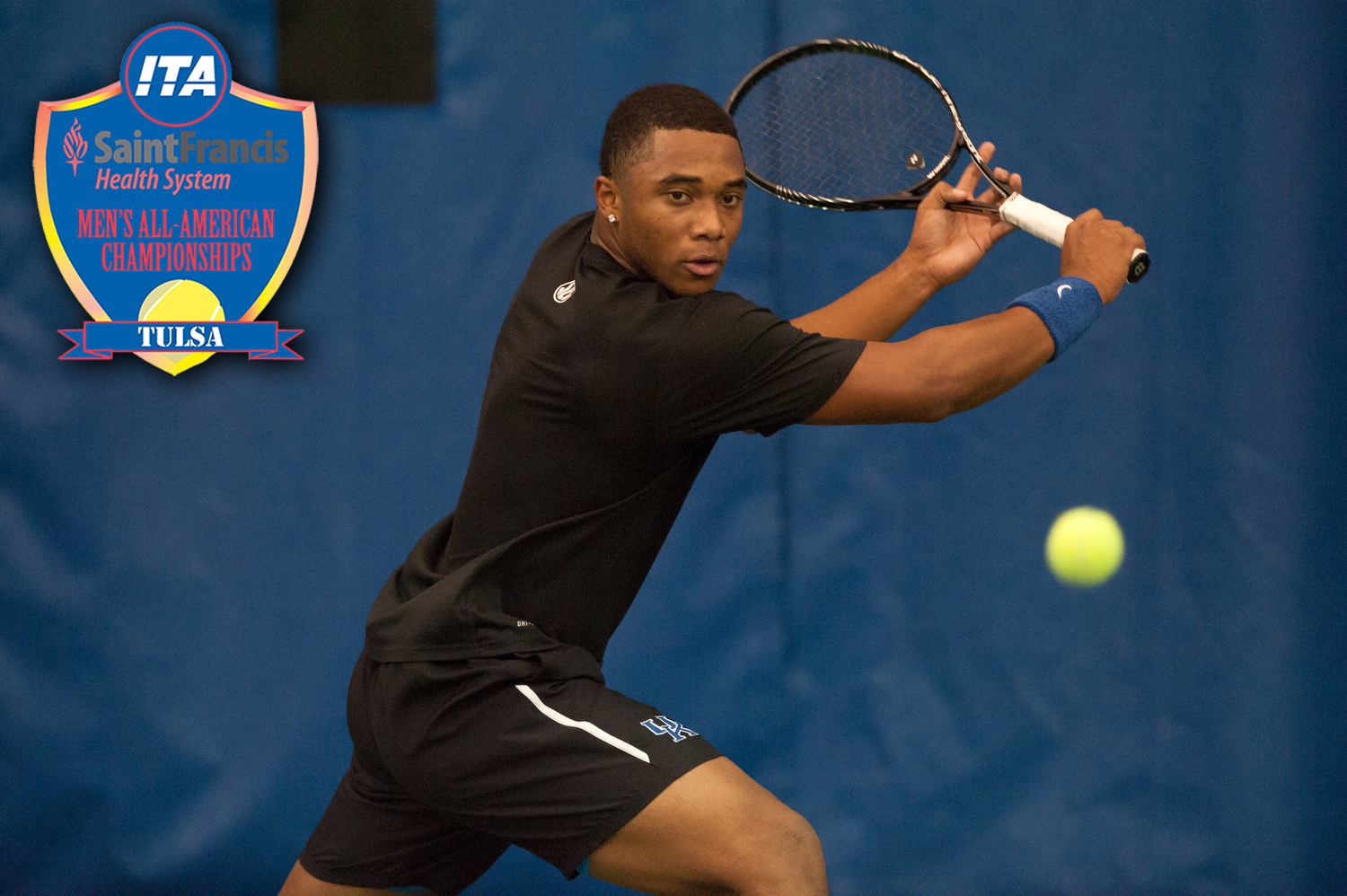 October 7, 2015 - 04:11 PM
Pennington, Bushamuka to Compete in ITA Men's All-American Championships
All-American Draws |Qualifying
Draws | Pre-Qualifying
Draws
TULSA, Okla. – The 2015 Saint Francis Health System ITA Men's All-American Championships gets under way on Thursday, Oct. 8, at the Michael D. Case Tennis Center on the campus of University of Tulsa, with Kentucky men's tennis senior Beck Pennington and sophomore William Bushamuka qualifying for the event. 
Bushamuka prepares to compete in the All-American following exceptional play in the qualifying rounds. The sophomore won both of his qualifying matches with straight-set victories. He opened play with a 6-2, 6-2 win over Texas' Liam Caruana, followed by a 6-1, 6-4 win over Pacific's Miguel Diaz. He solidified his spot in the championship with a 6-1, 6-2 win over Southeastern Conference opponent Max Hinnisdaels of Auburn.
Pennington opened the season ranked No. 39 in the nation and automatically qualifies for the event as a part of the main draw. 
"Will, from where he started last fall to where he is now, is night and day," said fifth-year head coach Cedric Kauffmann. "He's learned how to handle his business on the court and during practice, and it's exciting to see him playing well. This weekend should provide him a great experience, playing some of the top competition in the country."
"We have high expectations for Beck this weekend," Kauffmann continued. "Beck's a great player who had a rough opening weekend last time out in Virginia. He should bounce back in a big way this weekend taking on top 16 opponents."
Sophomores Trey Yates and Jake Stefanik also competed in pre-qualifying matches, each earning 1-1 records during the outing. Yates opened play with a straight-set 6-3, 6-4 win over Joakim Pinola of Hawaii-Manoa before dropping a hard-fought three-setter to Ohio State's Matt Mendez, 5-7, 7-6(5), 6-4. Stefanik fell to Temple's Santiago Canete 6-3, 6-4 in his first round match before taking down Memphis' Chris Patzanovsky in three sets, 5-7, 7-6(7), 6-2.
"I'm proud of how Jake and Trey played this weekend as well," Kauffman said. "I think that Jake's nerves got the best of him in the first match. We've worked on controlling the center of the court in practice and he's done that well. We're going to need him to step up this year, and he knows it. For Trey, it was a tough loss in his second match against an opponent who's qualified for the All-American. He's practiced and competed better this year, but he's still giving up more points than we'd like. We're still working with him on making less errors, but overall we're proud of both Jake and Trey this weekend."
The 2015 Saint Francis Health System ITA Men's All-American Championships span from Oct. 8 – Oct. 12. Live stats and live stream of All-American play is available through University of Tulsa athletics here. Following UK men's tennis' play in the All-American Championships, the team will head to Knoxville, Tenn. to compete in regional play. 
For more information on the Kentucky men's tennis team, follow @UKMensTennis on Twitter or Kentucky Men's Tennis Team on Facebook.