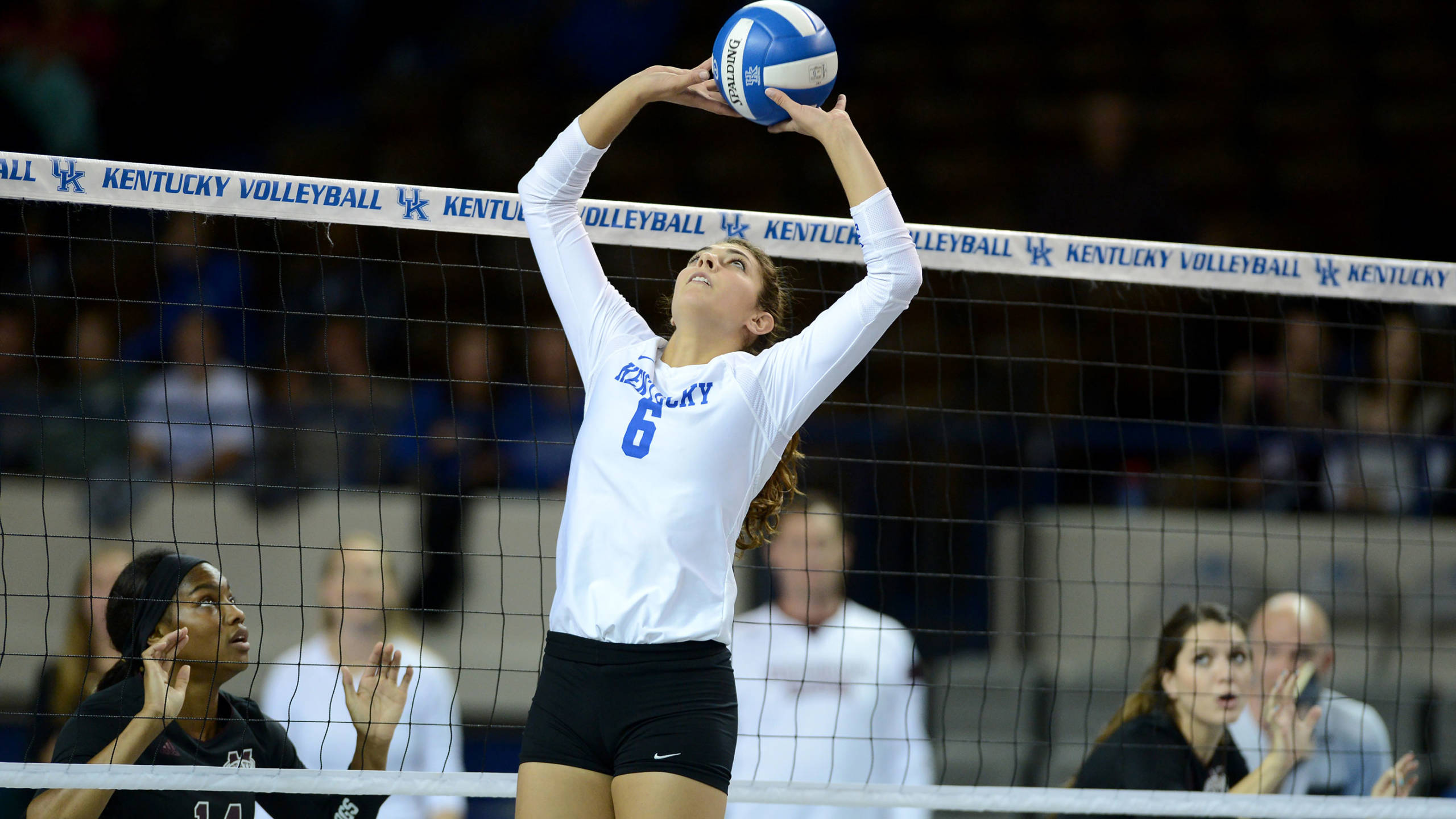 There will be a homecoming of sorts on Wednesday night at Memorial Coliseum when the Arkansas volleyball team visits Lexington to battle Kentucky. 
When the Razorbacks arrive in Lexington, they will bring with them two people who are very familiar with the Wildcats' program. Arkansas head coach Robert Pulliza was an assistant coach under Craig Skinner at Kentucky from 2004-07 before taking the head coaching job in Fayetteville. Pulliza played a role in building the Kentucky program into the top-25 program it is today.
"We played together in college at Ball State and have known each other for 23, 24 or 25 years," said Kentucky head coach Craig Skinner. "When I first got the job at Kentucky, he was the first person I thought of and I asked him to be my assistant and we had a great three years getting the program going."
During his time in Lexington, Pulliza helped recruit one of the greatest players in Kentucky history: setter Sarah Rumely. This season, Rumely has joined Pulliza on the Arkansas coaching staff and will make the trip back to Lexington, this time as an opponent.
"Sarah was one of our first big recruits, the first setter we landed," Skinner said. "She was a great player and made a big impact in our program and in the SEC."
Rumely had a storied career as a Wildcat, earning SEC Freshman of the Year honors in 2006 and SEC Player of the Year honors in 2008. Rumely is the only Kentucky player to ever win either of those awards. She is Kentucky's career leader in assists (5,703) and service aces (165). But on Wednesday, she returns to Lexington as an opponent.
Kentucky's current setter, Morgan Bergren, happens to know Rumely very well.
"We played for the same club and we come from the same background, both being setters," Bergren said. "I started visiting (UK) when she was a senior here. She has continued to mentor me through different situations, especially when I was younger. We've had a really awesome relationship."
But Bergren and Rumely will be on opposite sides on Wednesday. Bergren knows it will be different.
"It will be pretty weird, but we're all competitors," Bergren said. "But after the match, we'll get to say hi and talk a little."
Aside from the homecoming, this is a very important match for both teams. Kentucky currently leads the SEC standings with a perfect 4-0 mark in league play, but Arkansas is right behind the Wildcats in the standings, as the Razorbacks will bring a 3-0 SEC record to Lexington. Kentucky has won seven matches in a row, while Arkansas has won five in a row, including victories over nationally ranked foes Wisconsin and Florida.
"It is a big match and our team knows that," Skinner said. "But from Aug. 10, we have wanted to try to get a little bit better every day, and that's been our focus." 
Skinner knows Kentucky's defense and effective hitting have been important lately.
"Defensively, we have held opponents to hitting percentages that are lower than they are used to," he said. "And we are killing the ball at a high rate. Morgan is doing a good job of setting the right hitters at the right time."
Kentucky has stepped up to previous challenges this season. When on a big stage, the Wildcats have excelled, posting a 3-0 record in nationally-televised games, and a 2-2 mark against Top 25 opponents. Wednesday's match against No. 22 Arkansas will be nationally-televised on the SEC Network beginning at 8 p.m. ET.