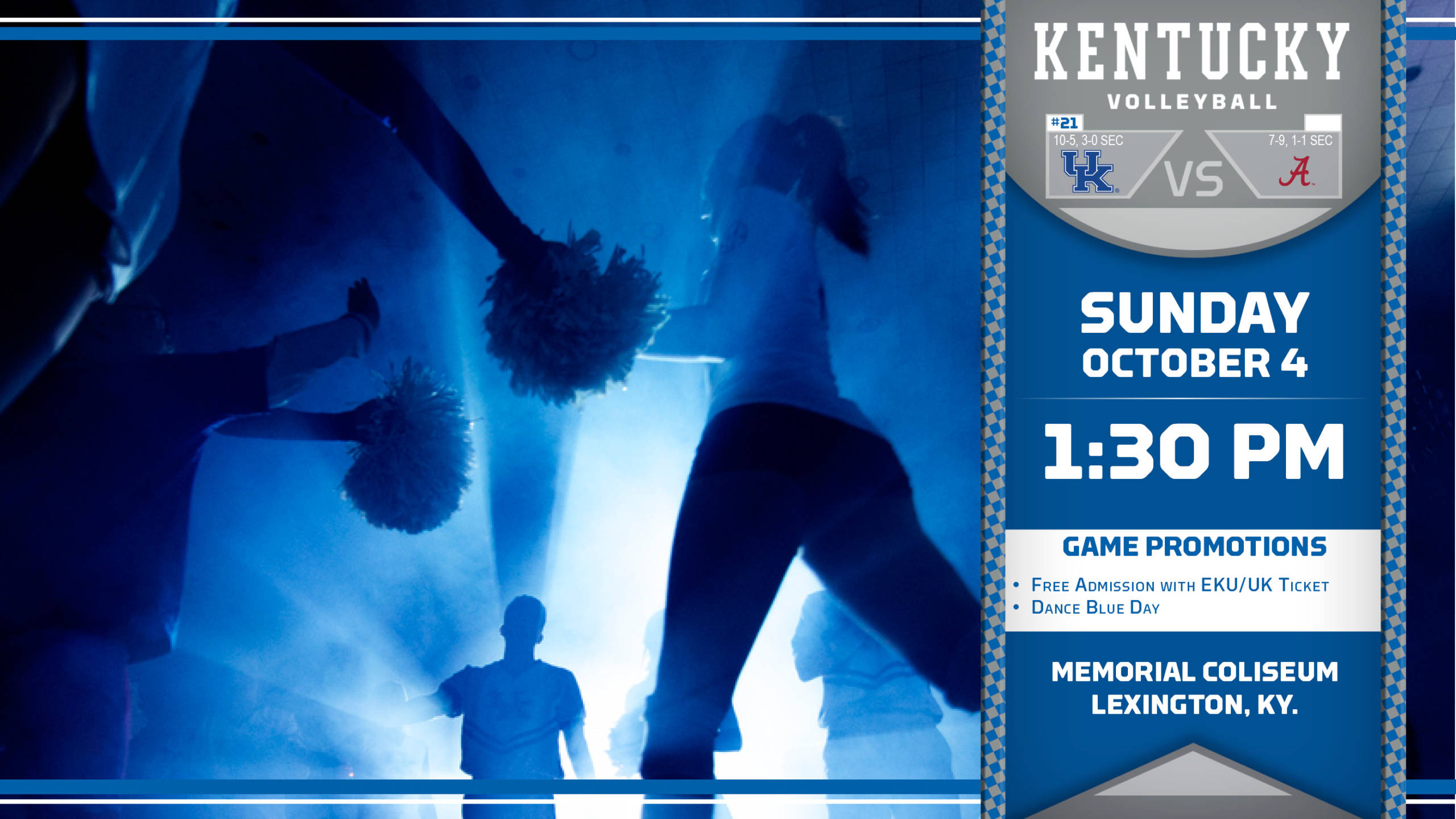 October 3, 2015 - 12:19 PM
No. 21 Kentucky to Face Alabama Sunday Afternoon
LEXINGTON, Ky. – The 21st-ranked Kentucky Wildcats look to remain undefeated in Southeastern Conference play on Sunday afternoon, where the team will play host to the Alabama Crimson Tide at 1:30 p.m. in Memorial Coliseum. The match will also be broadcast on the SEC Network +, viewable via the Watch ESPN app.
Kentucky enters Sunday's match winning six-straight, following a 3-0 sweep of Mississippi State on Friday evening. Senior setter Morgan Bergren led the Kentucky offense to a pair of sets in which the Cats utilized a hitting clip of .394 or better. She notched 32 assists, moving into sixth place all-time in the career standings for assists in program history, passing Irene Smyth (1993-1996). The sophomore duo of Kaz Brown and Darian Mack benefited from Bergren's distribution, as Brown notched 12 kills on a blazing .429 hitting clip with Mack contributing 11 kills on .333 hitting.
<="" td="">
="">
#21 Kentucky vs. Alabama
Fri., Oct. 2 – 7 p.m.
Memorial Coliseum
Lexington, Ky.
Match Notes: UK


| UA 
Coverage
TV: SEC Network
Radio: UKAthletics.com
Live Video via Watch ESPN
Live Audio
Live Stats
Text Updates
Live Updates @KentuckyVB on Twitter
For Alabama, the team looks to right the ship, most recently coming off a loss to Tennessee in four sets. Kat Hutson, Brittany Thomas and Krystal Rivers all play a large role in the Alabama offense, each averaging more than three kills a set. 
For more information on Sunday's matinee, check out below:
FREE Admission with UK/EKU Ticket: 
Fans can gain free admission to Sunday's match with Alabama! Fans should bring their ticket stub from Saturday's UK vs. EKU football game to earn free admission to Sunday's match. 
Dance Blue Match: 
UK Athletics will be selling miniature volleyballs to be signed by the team after the match with all proceeds going to Dance Blue. The department will also be auctioning off two regulation volleyballs signed by the team and head coach Craig Skinner. Dance Blue will also be recognized and will perform at the intermission between sets two and three. 
Don't Forget Your Chance to Win a FREE Moped: 
Upon arrival, fans should head to the marketing gazebo upon entry to Memorial Coliseum and fill out a form for a chance to win a free moped. Anyone can enter to win the moped and additional prizes throughout the match. Fans must register the barcode located on the back of the key tags given away at the marketing gazebo. In order to be placed in the drawing, fans must attend at least seven matches. For each additional match attended, that fan will earn one extra entry into the drawing. The moped winner will be selected at the Auburn match on the Nov. 27.
Gameday Parking: 
We are pleased to offer new parking opportunities this season. In addition to the E lots around the Craft Center and Coal Lodge, fans have the option of parking in the Linden Walk E lots which are across Rose Street from the Singletary Center for the Arts, the E/CS-7 lots near the College of Education off of S. Upper Street, and the Rose Street Garage (PS-2) located on Rose Street, south of the Coliseum with an entrance on Hilltop Avenue near W.T. Young Library. These lots are available for all matches starting three hours before first serve. For our marquee match-ups, including contests with Michigan State, Louisville, Mississippi State, Florida, and Texas A&M, the Limestone Street Garage (PS-5) will also be available. Fans are reminded to never park in lots or spaces designated R for residential and that the Student Center lot is no longer an option due to construction. Parking is limited and fans are encouraged to arrive early
Dusek, Morgan Earn SEC Weekly Honors:
The SEC announced its weekly honors on Monday afternoon, with Dusek earning Co-Defensive Player of the Week, while Morgan was named the conference's Freshman of the Week.
Dusek started the week with a strong showing at South Carolina where she notched 14 digs in three sets. She also got involved in the serving game with two aces. Dusek recorded her first kill of the year against the Gamecocks, with a set-clinching point at the end of the first frame. She continued to be a defensive stalwart against Florida where she tallied a team-high 18 digs in the match. Dusek also was perfect on serve-receive during the weekend. 
Morgan began the weekend with seven kills and two blocks against the Gamecocks on Friday night where she hit .267 on the evening. The freshman sprung to life with a career match at No. 5 Florida, registering a personal-best 13 kills against the Gators on a red-hot .500 hitting clip. She also dug up three balls in the contest.
Cats Leave Gainesville with Big Win:
The then-No. 24 Kentucky Wildcats had debatably its biggest win of the season on Sept. 27, leaving Gainesville, Fla., with a 3-1 (22-25, 55-23, 25-21, 25-21) victory over the then-No. 5 Florida Gators. It marked the first time that the Wildcats defeated a top-five team since they defeated the No. 4 Minnesota Gophers on Sept. 14, 2013. It also marked the first road win for the Wildcats in Gainesville since Oct. 2, 2009 in which the Wildcats downed the Gators in five sets.
Morgan Has Career Outing at Florida:
Morgan chose the right time to have a breakout match, stringing together a 13-kill performance against the then-No. 5 Florida Gators. Morgan found plenty of success on the slide, hitting at a .500 clip during the match – the second best of her career. Morgan has a history of playing up in big matches, as she set her career record for hitting percentage (.538) against the now No. 2 ranked Southern Cal Women of Troy.
Bergren on Track to Jump in Assists Leaderboard:
Senior Morgan Bergren is poised to jump to sixth all-time in UK history in assists, needing just 14 more to pass Irene Smyth (1983-1986) for sole possession of sixth place. Bergren has 3,182 to date, with a team-high 528 this season.
Kentucky's Memorial Coliseum will play host to the NCAA Regionals Dec. 11-12. UK is one of four sites selected for the Sweet 16 and Elite Eight matchups with one team advancing to the Final Four in Omaha, Neb., from the Lexington Region. This marks the third time in five seasons Memorial Coliseum will host this premier volleyball event.