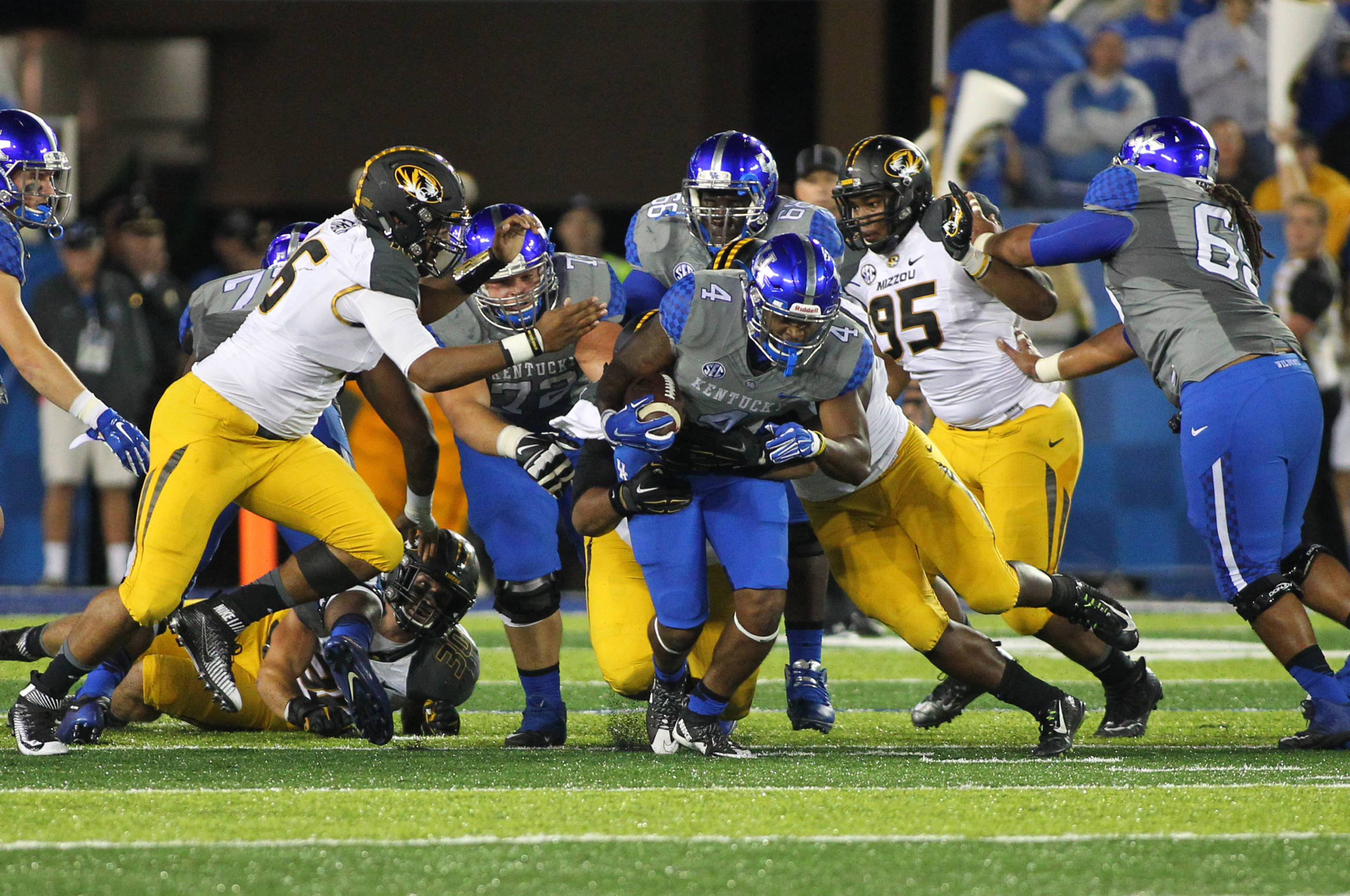 A month into the season, Kentucky has dived headfirst into the Southeastern Conference.
The Wildcats have played their last three games against league foes, toppling South Carolina and Missouri and dropping a close contest to Florida.
But now, UK steps away from conference play for a week. In-state foe Eastern Kentucky is coming to town.
"We welcome them and look forward to another hard-fought game in bringing them to Commonwealth," Stoops said.
EKU (2-1, 1-0 Ohio Valley Conference) enters Saturday's 7:30 p.m. matchup boasting a No. 17 ranking in the STATS FCS Top 25. The Colonels fell 35-0 in their lone FBS matchup of the season at North Carolina State, but easily dispatched Valparaiso and Austin Peay by a combined score of 103-23.
"I see a good football team," Stoops said. "There are a lot of plays and schemes that we see a lot from different people. Everybody gets creative and tries to do different things for certain games, but I see a good football team that's well-coached."
EKU's roster is most notable for the 12 FBS transfers it features, including star defensive end Noah Spence. Spence was a five-star prospect out of high school before going on to First-Team All-Big Ten honors at Ohio State in 2013.
"Great player," Stoops said. "Started, I think, 13 games at Ohio State. He's a five-star recruit out of high school, very talented player. He's a very good player"
Spence has 15 tackles – five for loss – three sacks and two forced fumbles through three games this season.
Even more intriguing for the purposes of Saturday's game is the presence of Dy'Shawn Mobley and Patrick Graffree. Both began their college careers at Kentucky. Graffree departed after a redshirt season in 2012, while Mobley left after a sophomore season in 2013 in which he rushed for 235 yards in UK's final two games.
"I have really great respect for those players and Eastern," Stoops said. "There are always situations and circumstances. We deal with a lot of numbers and a lot of guys. Every situation is different, why guys choose to leave or need to transfer. I respect that. We have transfers on our team that I have great respect for that came from other places. Whatever is best for them, we support. We are in this for the kids and what's best for them."
That's what makes this week so trying. Over the weekend, EKU redshirt freshman defensive lineman Joey Kraemer was killed in an automobile accident.
"The news that we lost one of our own is devastating to me, our team and our coaches," EKU head coach Dean Hood said. "We pray that God will give strength to Joey's family during their time of mourning. Joey will truly be missed by all of us he touched, not only because of what he accomplished on the football field, but because of who he was as a person and the impact he made on our lives."
Kraemer will be honored during the playing of "My Old Kentucky Home" on Saturday.
"I would like to send my condolences to Coach Hood and Eastern Kentucky," Stoops said. "Hearing about that tragedy, it is sad for all of us. Our hearts go out to him, his family and the entire program."
With the passing of Kraemer in mind, there is no room in Stoops' mind for anything but respect between UK and EKU on Saturday. In light of last January's incident involving members of both teams, Stoops will send a clear message of his team.
"It needs to be addressed and we will address it and talk about it on our end that is for sure," Stoops said. "Once the game starts I will have little tolerance. If I see any of that stuff, then they are not going to play. I am not going to deal with that stuff. That looks classless and looks sloppy and we will not play that way."
The focus will be on two teams and schools separated by less than 30 miles and the game they will play and nothing else.
"I have great respect for Coach Hood and his program and the program he is building and the history they have had and what they have done," Stoops said. "We will welcome them to our stadium. I think this can be a very good situation and a good rivalry."