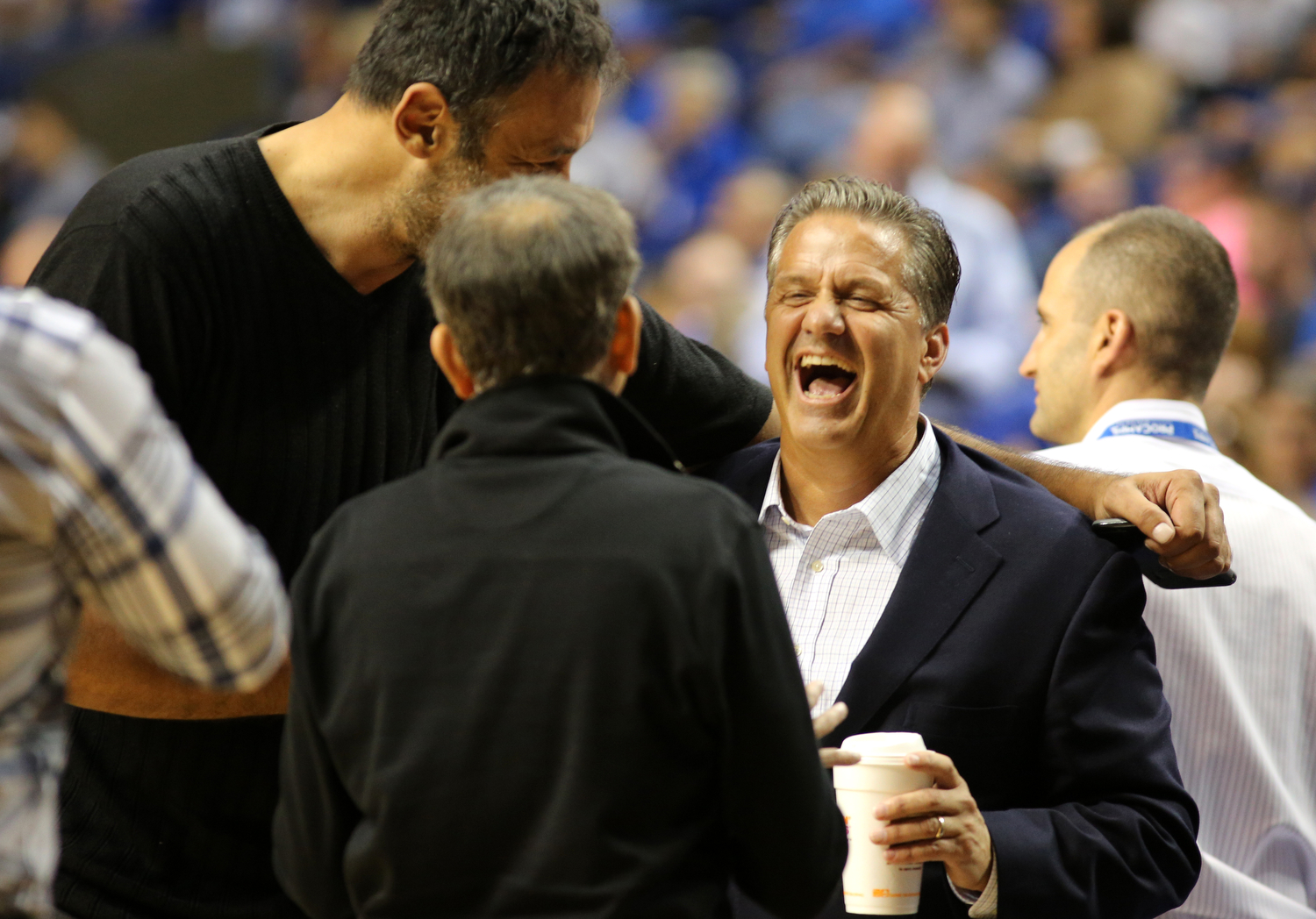 October 1, 2015 - 12:00 AM
Coach Cal Preseason Interview Transcript (Part 1)
John Calipari met with the media for a preseason roundtable interview in August. On Thursday and Friday, we will be posting a complete transcript of the interview in two parts. Today, we give you part one.
On his summer …
"Well, I wasn't coaching a team. We didn't have everyone on campus – Alex (Poythress) being hurt – so a lot of it was different stuff in what we were doing. For me, personally, and my family, kind of got away a little bit for the first time in a long time. Took some time."
On if it's a problem not having everyone on campus for the entire summer …
"You're allowed to do team stuff two hours per week. You're allowed to do individuals two hours a week. For me, I want the summer – I want them kind of working on themselves. If we take a foreign tour that's a different animal. I just think it's too early to start coaching them. For me to be doing team stuff, it's just too early. Now, our seasons are all ending, it appears, late. So, you really want to have like a nine-month season where they're hearing you and you're on them. It's just a long, long time.
"I imagine there are some teams that this summer they spent their two hours and maybe more on team stuff to try to get ready for the early season. They have a new team. We have a new team every year. It's nothing – this is what we go through. It means we'll probably be slow early. We're not going to be – that November and probably early December schedule we'll probably struggle some.
"Last year, that foreign trip was huge for us. It really got us off in the direction we went because we were ahead. That's why I've said I think all of us should have 10 days of practice or more in the summer. If you want to bring a team in or go – I don't understand why we wouldn't do it every year. You have 10 days with your team. You bring teams to you and play, bring foreign teams in. If you want to take a foreign trip, take one. But then there's no advantage. I mean, we had an advantage last year. Big advantage."
On the praise Tyler Ulis has received this summer …
"I hope they're right. I have a lot of faith in him. The last time we went through this where we lost this many guys, the issue we had was we didn't have any guards. You come back and you're trying to figure this out with all guys who have no experience. Well, we've got a couple with experience, and we have a couple really skilled guards that are there. I feel pretty comfortable because of that. And I think that Tyler should be that guy. What he went through last year and how he was."
On Isaiah Briscoe and Ulis' close relationship …
"It all depends on how you are. When I had John Wall and Eric Bledsoe, everybody said, 'How will they coexist? How will that work? That won't work. They're two of this. They're the same.' Well, first of all, we play positionless is what I've said this summer. We don't really – we can play with three point guards. We can play with three centers, as long as you can play basketball. Guys like Tyler and Isaiah and Jamal (Murray), and those kids who are comfortable in their own skin, they're not in competition with the guy on their team. They are, but they're not. Good kids like that, they're not worried about the other guy. They're comfortable in how good they are."
On if he's happy to hear his guys are putting in work at the gym at all hours …
"It's a bunch of guys. You still have guys that are behind. Coach (Joe B.) Hall and I were talking yesterday, he says, 'You don't remember where Karl(-Anthony Towns) was at the begging of last year.' Karl was rated, if you looked at the McDonald's game, I think they rated him the ninth best player in the class. I believe that's what it was. Coach Hall is telling me, 'You don't realize. He wasn't what he was at the end of the year.' But Karl had a fight in him. Skal (Labissiere's) not there yet. Coach is telling me Skal's further along than Karl. I don't believe so, but I can't remember. But he's got a ways to go.
"Isaac (Humphries) conditioning. Isaac is a 7-foot Josh Harrellson. Really skilled – I'm not talking Josh Harrellson my first year, I'm talking Josh Harrellson my second year. He is that, but again, physically, he's 17 years old. He's got the body of a 17-year-old. You got guys like that.
"Alex, yesterday, had his first workout with Kenny (Payne) and Kenny was really like, 'Wow, he's going to be alright.' The kid was pretty happy. He's going to be, of what we do, it'll certain around Alex I believe. Tyler and the guards are going to be what they are. Charles (Matthews) and Mychal (Mulder), Derek (Willis), one of those guys is going to step up and break through a little bit. You got Marcus Lee is way better, way more confident. Skal, 7-foot and really – and then the other, Isaac is 7-foot and skilled, but you don't have a beast, and that's Alex. A lot of what will happen for us and our team is going to be how quickly can he start being who he is?"
On what he means by what they do will 'center' around Poythress …
"You don't have anybody like him. You have no one that's that physical, that tough, the ability to just go get balls and make plays. We have no one like that on the team. If he does what he can do, the rest of the guys will kind of fall into what they are. You don't want guys having to be uncomfortable. I'm not trying to – when a guy's uncomfortable he doesn't play well. You want him to be in his comfort level, and then challenge that and stretch that out a little bit. But I think Alex is going to be, like I said yesterday, he and I sat down, I said, 'This is your time now to go do what you do.' And I think he'll be able to play in a spot, in a position that he'll be comfortably playing, which means he'll be more confident.
"When I recruited him three years ago there was no question I had to prepare him to be a three. He wasn't ready for that. Just didn't have the skillset for that. He had the body and all that, but he just wasn't ready. Well, what's happened to the league (NBA) in those three years? (Reporter says "smaller.") He can be a four now. That's exactly what he can play and play well, and be a skilled four, and be a beast four. I sat there and grabbed his hand. Literally, his hand is that long. I mean, his hand is like – I'm looking at his feet like, 16s, I'm like 'Oh my God, this kid.' And again, why I did what I did three years ago and how I played him and what I tried to do, is because I believed his success was going to be based on being a three-man in that league. They're playing fives at his size now. Who would have ever thunk that three years ago? Literally, they're five-men and they're his size. They're physically strong and able to do it."
On if he sees Poythress as an in-your-face type of leader …
"He'll never do that, but he'll lead. The guys are going to listen to him. They respect him."
On what Poythress could have done against Wisconsin in the Final Four had he been healthy …
"The year before he was good in that game and made plays that they couldn't stop. I just want for him, you're talking about someone who has grown as a person. He graduated in three years. He's grown as a player, and then he gets hurt and is set off track. Now, you just want this to work for him. Obviously, I want our team to win, but I want this to work for him that he walks away knowing that even though this happened and that happened …"
On if he had to stay with Poythress as other guys made their NBA decisions …
"Like I said, I just want this to work for him. He's a great kid. He'll lead this team in his own way, but he's got to get completely where he's comfortable just letting it go. Right now, he goes but you know he's still – there's going to be tentativeness. The mental part of that, for a while, will be there."
On Mulder's role …
"He's a first-year guy. You walk in this place, it doesn't matter if you're 20 or 17, 1 or 21. He's a first-year guy. What he does is he can shoot the ball. He's a catch and shoot guy. He's a good athlete, and he's got to find his way, just like Charles Matthews has to find his way. Derek, I hope, and Dom look at this and say, 'Alright, this is the best opportunity since I've been here to play. Now I got to take advantage of this.' But they have to find their way. They have to create their space. It's by what you do, not by how you act. It's what you do, how you play, how do I create that? He's one of those guys.
"I've said to them, 'This is not communism.' I'm not sitting here telling you 10 guys play. We may play six guys. I mean, if six guys are way better than the others, then I'll play six guys. I've done it before. I'll play seven. I'll play eight, but they have to find their way. They have to figure out, how do I have to play to get on that floor? What does this team need me to do? Is my value that I can make shots? Well, then I'm making shots and I'm getting in this gym.
"Charles Matthews is my ability to finish, to rebound, to defend different positions. Then that's what I'll do. I'm not going to do any of this other stuff over here because that's not going to get me on that court. So, you have some guys in that mode.
"And then, like I said, Skal's got to get more of a fight. I mean, his skill level and all that is off the charts. Karl ended up learning to fight, but he was going every day against Dakari (Johnson), against Willie (Cauley-Stein), against Marcus Lee, and there were days he was the worst of the four. Skal now going against Marcus Lee, who's quick, but that's why I said when Alex comes back and goes at him a little bit, and then you have Isaac going at him."
On why he isn't considering going back to the platoon system again …
"Because when someone deserves to play more they play more. Someone deserves to get the most shots, they do. I want everybody to eat, but this is not communism. This isn't the eighth grade league. I did what I did last year because I had no choice. Everybody deserved to play. There wasn't a whole lot of difference between guys and that's what I did. I did that for the players. Some of my best teams I've played five guys, six guys. I mean, my best teams. Last year was a good team."
On if there's anything they can do to help Poythress over that mental hurdle …
"He's going to have to do. I told him yesterday, 'You can't tiptoe shoot.' I said, 'The biggest thing Derrick Rose told me is your lift is different, which means your shot is different.' So, you can't tiptoe shoot because then you go out to shoot and it's off anyway. I told him, 'You have to extend and jump every time or shoot free throws. No tip toes because it's not a shot you're going to take in a game.' The last thing that will come will be how does he shoot the ball?"
On if they have to shield Labissiere from the Anthony Davis comparisons …
"He's not that. Believe me. Anthony Davis is a freak of nature. I mean, Anthony Davis, I'm guessing within the next few years will be the best player in the universe. Like, the universe. All these kids are different. They have different mental makeups. They have different work capacities. They have different toughness about them because of how they were brought up. They're all different. All I want him to do is be the best that he can be, and I'm not comparing him to anybody. I'm tell you, he has a ways to go. He knows it though. He'll be the first to tell you. But he's a great kid. He really is. He's trying to find his way.
"Now, for us to be what we can be, as a team, he's got to have a presence. People have to know, 'Oh man, look at this kid.' And then he makes a jump hook, he makes a jump shot. He's really skilled. Then you start saying, 'This kid's for real.' But, he's basically like Karl (in that) he's learning how to run. How about that? You don't run right. Let's teach you how to run. That's where we're starting.
"Isaac's the same thing. Isaac played – and Tyler came in yesterday – in a pick-and-roll, because he's so skilled, he's 7-foot, Tyler I guess put him on the baseline like eight or nine feet doing pick and rolls, and anytime his man left he threw it to him and the kid made that shot. Tyler's like, 'This guy's really going to help us!' Yeah, he's going to help your game in a pick-and-roll because if you don't have a lob man then you throw to him and he can make the shot. But he's not physically near ready to play in a game where, 'OK, go get balls, go defend, fly up and down the court.' He's not ready for that."
On how significant of an addition it was to get Humphries late in the class, including for practice purposes …
"That's the biggest thing is he gives you some depth at big. God forbid Alex doesn't come back the way he needs to, we didn't have enough guys. We just didn't. But, Jamal played with him and Jamal told me what he was. I see him and the kid is really skilled. Like, he can make 15 footers, he'll make his free throws, anything around the goal, five footers, he makes. And if he shoots it, you're thinking it's going in. Now, we've had a lot of guys that shoot that shot and shoot airballs. They're skilled and running and all that, but they can't make that play. Sometimes we forget we're playing basketball. That's what we're playing. That is what makes him what he is."
On how difficult it is to get these guys bulked up …
"Skal's body has changed, but he was here. Isaiah has lost like 12 pounds. He's lost like four percent body fat. Each guy is different in what they have to do, but between now – again, I just want them ready for October. I don't want them to be in December shape in October because the season's too long. I've always done this and hopefully that's why my teams historically have played well down the stretch. I'm not doing much with them right now. They'll see me Oct. 2. I have a great staff of people. We have everybody we need from conditioning to weight strength, they can do all this stuff. I don't need to be on top of everything even though I know everything that's going on. I'm just not there. They all know. We started this week (Sept. 2) with the conditioning and training. Some of this stuff we have to do because we're going to do the combine again. The combine, you need to get them ready for the agility stuff, so that's good because that stuff's also conditioning."
On Jamal Murray having to "choose" between playing for Canada and enrolling at Kentucky …
"He didn't have to choose. He knew he had to be here. The question was: Could they work it out? There was never a choice. It was not like, 'Alright, I'll either go to college or play (for Canada).' That wasn't his choice. (Reporter says, "Or that he couldn't do both.") Well, they could have had him do both, I thought, but he would have had to come here, miss some games and then join back up with the team and I don't think that the national team was comfortable with that, which is fine. The kid can still be on – he has to hope they play well down there. (Reporter says, "Because he can still be on the Olympic team.") Yeah. And, if they play well enough, even if they don't finish one or two, or Brazil finishes one or two, then that means there's two other teams that can make it. If not, they still, if they qualify, which I think they will, there's another opportunity which he can play in, which would be next summer, or before the Olympics."
On how long he had been interested in Humphries …
"He was at La Lumiere in Indiana and I flew in to watch him because I had heard about him. It was the worst snow storm. I mean, it was awful. And I almost didn't go, but I went. I remember because I called Digger (Phelps) when I landed. I called (Notre Dame head coach) Mike Brey when I landed. I'm like, 'You guys told me it never snows here. I mean, it was like, literally, the worst snow storm. And I ended up fighting and getting to the gym. And I watched him and I said, 'He's Josh Harrellson. He's a 7-footer who's skilled, built with the same kind of body, only a little bit bigger than Josh.' I knew he was a young kid. I just wanted to catch a glance at him because I had a day, and I'm glad I did it because then when they said, 'Hey, he's thinking about reclassifying, he's doing this and this,' I said, 'Wow, well, that'd be good for us.' "
On if Murray had talked to Calipari at that point about Humphries …
"I don't think so. I think I talked to Jamal and Jamal told me, 'Look, this is what he is. This is what he's not.' He had 40 (points) and 20 (rebounds) on their team (with Australia)."
On if there's anything unique or challenging with so many international players …
"I don't really care where they're from, if they have a tattoo, what color they are. None of that ever – you saying that gets me like, huh? I went into a home one time, 'How many white players do you have?' 'Let me think. I don't know. Is he white? Is he black? I don't know. Does that matter?' When you say that to me, I don't think so. They're players."
On Matthews being compared to DeAndre Liggins as a defensive-minded player …
"That's a pretty good comparison. And then DeAndre ended up being a pretty good scorer for us too, but it took him time. Charles could be one of those finishers where, we're all making plays and he's the guy getting the ball in the basket. His midrange is not bad. His ability at the basket is good, offensive rebound and as a defender and energy guy."